News
Ian Poulter calls Scottish Open weather the worst in his career, and that's saying something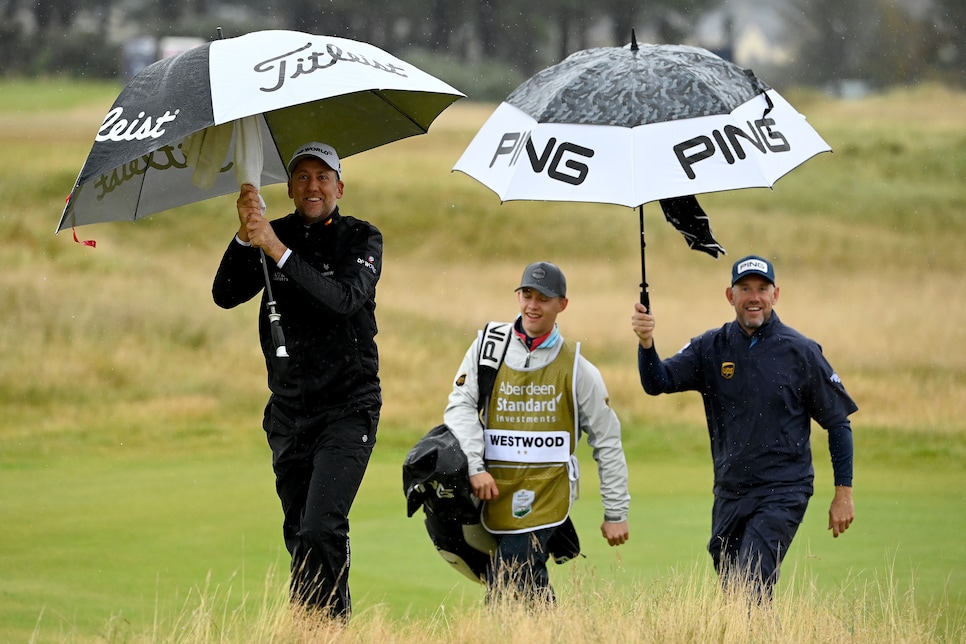 Ian Poulter and Lee Westwood walk to the third tee before the heavy rain started to come down in the Scottish Open.
Ross Kinnaird
NORTH BERWICK, Scotland — It's like this, folks. Always has been, always will be. If you're going to venture out onto a Scottish golf course in October, days like this are going to happen now and then. Or even then and now. So it wasn't exactly unprecedented when the third round of the Scottish Open started off wet, veered into torrential, then descended steeply downhill into monsoon-like.
The last groups got the worst of it all, with a couple of extra obstacles thrown in. The halfway leaders finished in near darkness as the greenkeepers swept water off the 18th green at the close of what might loosely be termed "play."
Still, it wasn't quite impossible. As an elderly Scotsman who knew a thing or two about the game once said you need three things to be a good golfer: "Big hands, big feet and a big heid (head)." Fair enough, but on this day at the sodden Renaissance Club he might have added, "and a bit of experience helps too." It is perhaps not a coincidence that three of the top-five places on the leader board are filled by men—Robert Rock, Ian Poulter and Wade Ormsby—of a more, ahem, mature vintage. Old heads more than big heads.
Then again, at least in Rock's case, "hot head" might be more accurate. Despite shooting a commendable one-over-par 72 that has him nine under par and two shots clear of Poulter, Ormsby, Marcus Kinhult and Tommy Fleetwood (whose late 69 was not the lowest score of the day, but had a strong claim to being the best), the 43-year-old Englishman declined to speak to any of the assembled media.
One can only speculate why Rock went straight to his car from the recording area, although on two occasions on the back nine he was denied free drops from a couple of pretty dire spots in the clinging rough. There was also a somewhat heated discussion with officials on the 17th tee when it appeared as if the leader wanted to stop play for the day.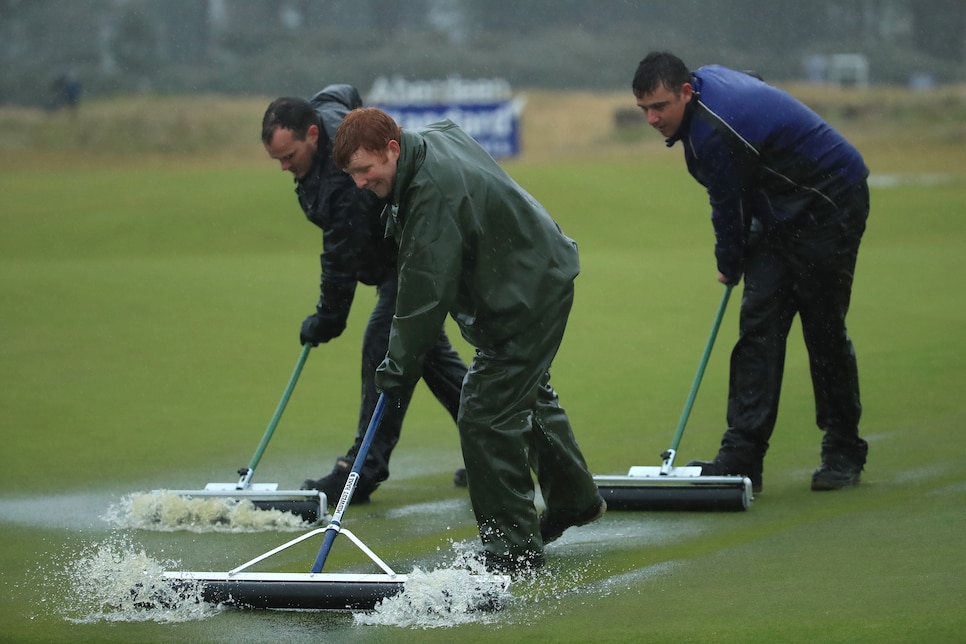 Greenkeepers clear water from the 18th green during third round of the Scottish Open.
Andrew Redington
As ever, Poulter was more that forthcoming when discussing his 73, despite dropping four shots over the final seven holes in the rapidly deteriorating weather.
"I think that's a pretty good score," he said. "I would have taken that at the start of the day if you said that was what the weather was going to give us. I thought when I played in the Open at [next door] Muirfield in 2002 that was some of the worst conditions I've ever seen. But this was as tough a day as I've seen on a golf course in 21 years as a pro. It was just a shame towards the end. It just got unmanageable really. You're trying to hold onto a golf club, not trying to hit golf shots. I burned through five gloves out there. You're doing everything you possibly can not to let a club come out of your hands."
Poulter's back-nine 39 wasn't the worst either. Lee Westwood needed 40 shots coming home, a flurry of bogeys sending the 47-year old Englishman from strong contention down into a 12-strong tie for 10th, five shots off the pace. Indeed, not surprisingly given the sharp deterioration in the weather as the day wore on, the field compressed markedly. As many as 30 players will tee up for the final round within six shots of the silent pacemaker.
One last thing. More rain is in the forecast. Welcome to Scotland.