News
Scottie Scheffler says it 'stunk' missing the U.S. Open, but he's moved on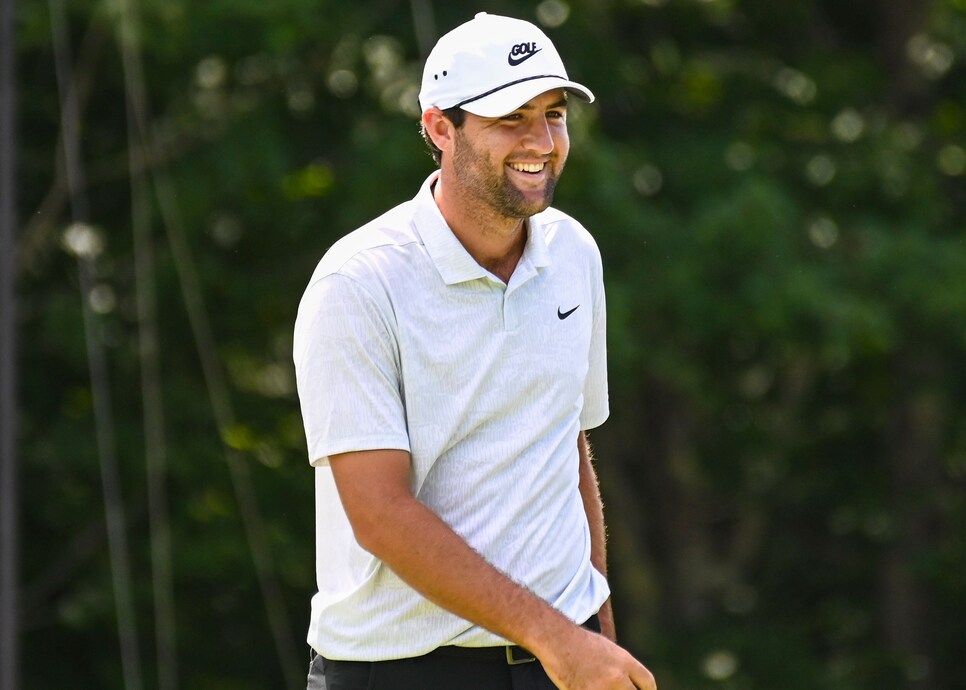 Scottie Scheffler smiles after making a birdie putt to card a 59 during the second round of The Northern Trust in August.
Keyur Khamar
Scottie Scheffler didn't have the opportunity to celebrate his selection as PGA Tour Rookie of the Year in the manner he would have preferred. He didn't get to celebrate it at all, frankly.
He was at home, isolated from friends and family when he should have been in New York preparing for the U.S. Open at Winged Foot. After finishing fifth in the final FedEx Cup standings with a season that included seven top-10s, a tie fourth in his first PGA Championship and the 12th sub-60 round in tour history, Scheffler found out the Monday of U.S. Open week that he was selected by his peers as the top rookie of the abbreviated 2019-'20 season.
But the day prior he had to withdraw from the year's second major because he tested positive for COVID-19. The Dallas resident became the first tour player to test positive after six consecutive weeks without a positive case. The only consolation was that he was asymptomatic.
"That obviously stunk," Scheffler, 24, said Wednesday at the Sanderson Farms Championship in Jackson, Miss., where he is making his first start since the Tour Championship. "I felt all right, and only one person I knew was also infected, and so we kept our circle pretty small, and it paid off. It was obviously scary for my coaches and the few people I was around that week, but everybody was feeling all right. We're all recovered now."
But he's far from recovered from the disappointment of being at Winged Foot, despite it being a relative scoring nightmare for almost everyone not named Bryson DeChambeau.
"It definitely stunk sitting at home all week watching the U.S. Open, especially the way I was playing leading into it," Scheffler said. "I felt like I had a good chance of winning. It stunk, but it's the world we live in. I felt OK so very blessed to have felt good through all of it and came out on the other side recovered. So all good."
But it stunk. In case there's any doubt how he feels about sitting out.
And that bit about watching it, well, he didn't do much watching to an appreciable degree. "Not a huge golf watcher when I'm not playing, especially during COVID week … or during when I had COVID I was trying not to pay attention," he said. "It kind of bummed me out watching everybody on TV."
Scheffler had reason to feel confident about his chances of winning the U.S. Open. In his final six starts of the season, he finished no worse than his T-20 at the BMW Championship. And during that stretch he fired a second-round 59 at TPC Boston in The Northern Trust, the first playoff event. The former Texas Longhorn two-putted from 90 feet and sank a four-foot birdie putt on the 18th hole to complete the round.
"Yeah, it seems to come up a decent amount," he said. "With my friends at home, they told me 'good job' and then kept making fun of me after that, so there wasn't too much discussion there."
Scottie Scheffler impressed when he held his own with Dustin Johnson in the final pairing on Sunday at the PGA Championship in August.
Christian Petersen/PGA of America
Scheffler comes to the Country Club of Jackson as the betting favorite. He is making his third start in the tournament, with finishes of T-45 and T-16, respectively, the previous two years.
The forced layoff gave him time to reflect on his successful rookie campaign, of which he is mostly satisfied. "If you had told me that was going to be my results going in, I would have been pleased. I would have liked to have had a win last year, but I feel like that's coming on the horizon.
"I feel my game is still in a good spot," Scheffler added. "I think there's still a few areas that are a little rusty just from taking—having not played tournament golf in the last three weeks. A little different feeling coming into this week. I'm not as in rhythm as I usually am, but hopefully I'll pick back up soon, but like I said, my game feels like it's in a good spot."
Thankfully, so is his health.