Takeaways
Scott Piercy's unexpected resurgence, Callum Tarren's 'old faithful,' Tony Finau's team effort and Chris Gotterup's resilience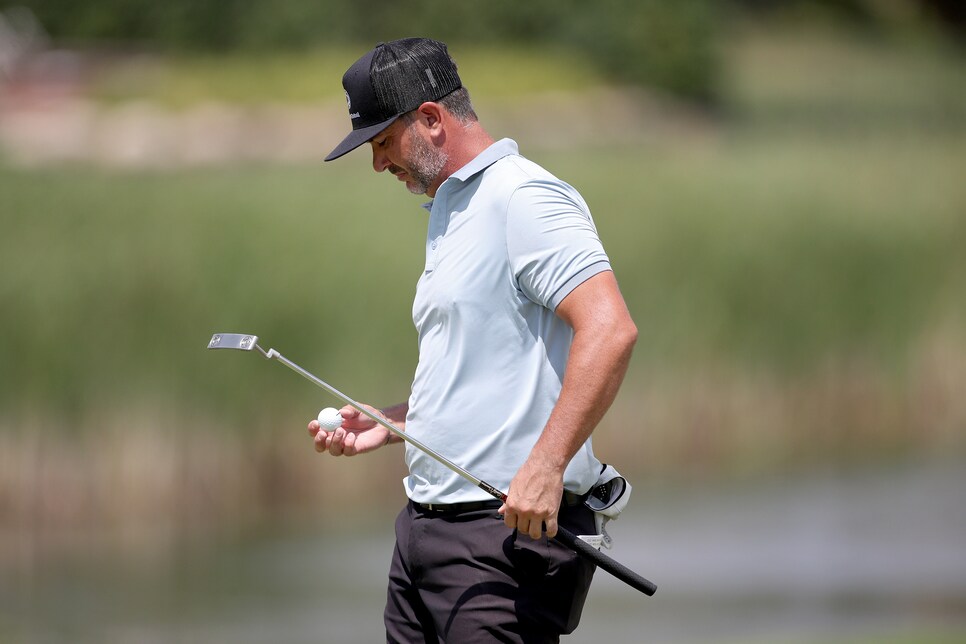 Golf sure is full of surprises. Even though we're not really supposed to be surprised when fill-in-the-blank puts his name on the leaderboard—and then, more astonishingly, decides to keep it there. We are talking about professionals here, right.
So we'll only raise one eyebrow at Scott Piercy's play through 36 holes of the 3M Open. The four-time PGA Tour winner followed up an opening 65, which was his low round of the year, with a bogey-free seven-under 64 at TPC Twin Cities to break out to a three-stroke lead over Emiliano Grillo at 13-under 129.
Piercy, 43, can use a good finish this week. He's kind of been struggling. "Oh, really, you noticed," he retorted when the subject was broached on Thursday. He ranks 138th in the FedEx Cup standings with an equal number of cuts made, 12, as he has missed and he has not registered a top-10 finish. Yet.
But everything old is new again. Or in Piercy's case, everything is just new. Which only adds to his surprising run. Just last week he changed his swing coach—and with that move has made swing adjustments—and also his caddie, his driver and his putter. (Though not all new putters behave. More on that later.) He filled in a bunch of blanks here.
"It's been a little bit since I've played like I feel like I should play," said Piercy, who holds a share of the course record at TPC Twin Cities with an opening 62 in 2019. "To kind of prove it to myself again, I know it's in there, it's just like, 'OK, how do we get it out of me?' There's a lot of business to take care of this weekend, but to come out the first two days and do what I did gives me a lot of confidence going into the weekend."
Piercy admits he has "a lot going on" with his numerous adjustments. Kind of makes you wonder, though, why he didn't think of all this sooner. Actually, he was asking himself the same question. But he's used to the drama. He had to make a late push last year to qualify for the playoffs for the 13th time in his career.
"I know where I'm at. I was kind of in the same situation last year, [but] finished third in Reno and I think 16th at Greensboro," he said. "So, I've been out here a long time, I know what I need to do. Just wishing I'd have done it earlier in the season."
Tee times have been moved up Saturday due to the threat of inclement weather. Here are three other takeaways from the second round before the quick turnaround: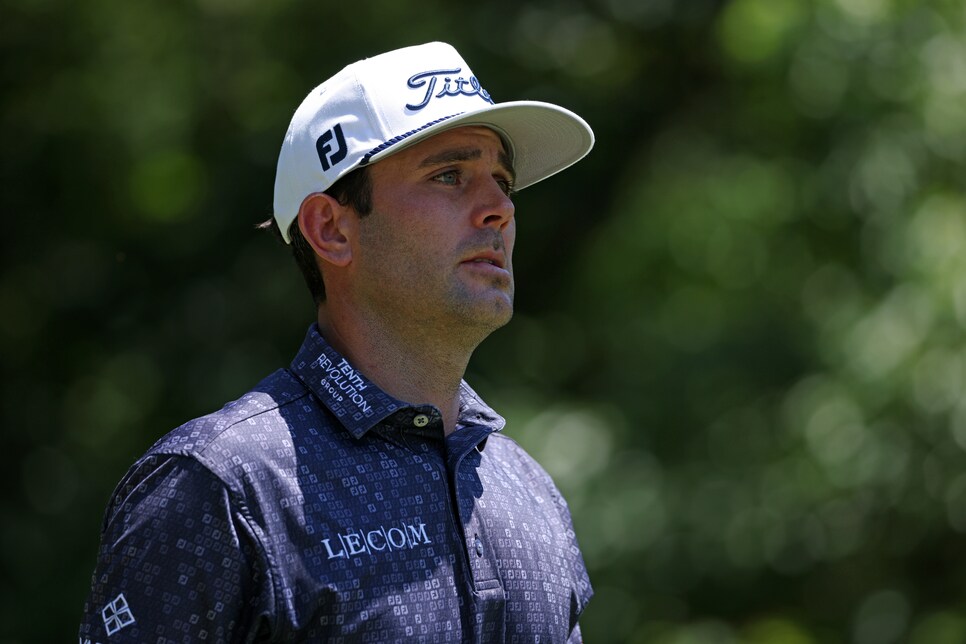 After trying out a new putter during an opening 71, Callum Tarren decided to go back to his "old faithful" on Friday, an Odyssey No. 7 he's had in the bag since he played on the PGA Tour China in 2016. The change resulted in an eight-under 63, one stroke off the course record at TPC Twin Cities. It didn't hurt that the English golfer hit all 18 greens in regulation, but he gave most of the credit to the club he spurned just a day earlier.
"Sometimes it just needs to be benched just to fire itself back up, so it worked," said the 31-year-old PGA Tour rookie, who is making a push to keep his card after beginning the season by missing the cut in seven of his first eight starts and getting disqualified in the other. Tallum, who made an early appearance on the leaderboard at the U.S. Open before finishing T-31, is 144th in the FedEx Cup standings, but he's given himself some hope after a T-6 at the John Deere Classic and T-22 at the Barracuda Championship, which account for two of his three top-25 finishes.
At eight-under 134, Tarren is solidly in the top five on the leaderboard and only four behind leader Scott Piercy. Interestingly, he claims there's no pressure keeping his tour status.
"I'm in a good spot mentally, physically, my game's good, so I've got nothing to worry about," he said. "Caddie keeps saying to me you should be in contention every week. It's literally the game is in a very, very good spot. I don't know what it is, but I feel calm, I feel chilled, I feel confident. Yeah, I know the position I'm in, but like I've said, got everything to gain, nothing to lose, so I'm just going to keep rolling with that."
And keep rolling old faithful.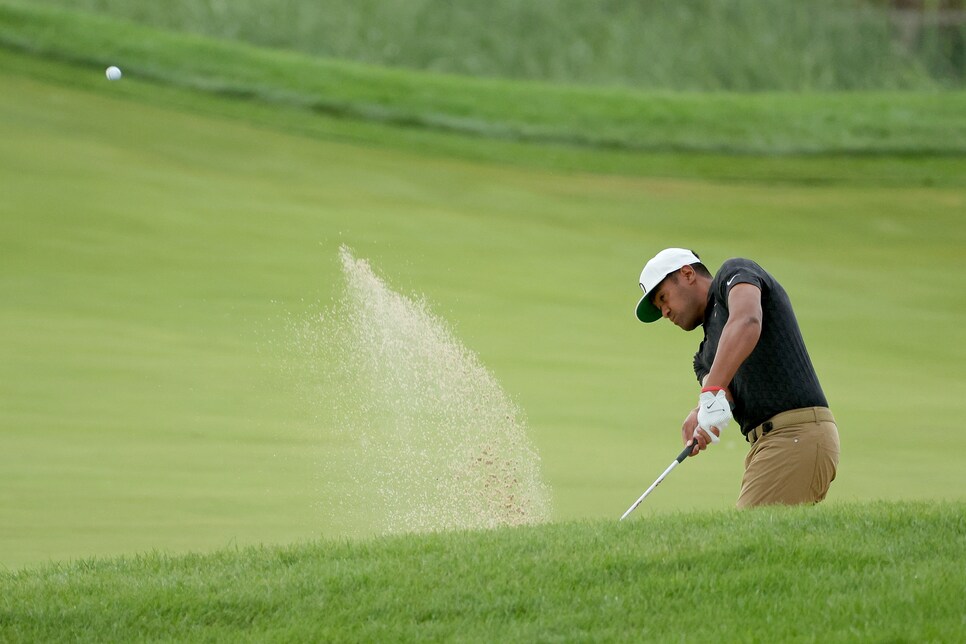 A final-round six under 66 at the Open Championship at St. Andrews on Sunday lifted Tony Finau to a somewhat palatable T-28 finish, but it did more to lift his spirits and confidence heading into the 3M Open.
"I just kind of ran with some of the feels and the thoughts from St. Andrews and applied it into the week so far, and it's working and it's been good," said Finau, whose three-under 68 on Friday lifted him into the mix at TPC Twin Cities.
Ranked 17th in the world, Finau has been knocking on the door the last few months with runner-up finishes at the Mexico Open at Vidanta and RBC Canadian Open, which has put him on the doorstep of his goal to play for the U.S. team in the upcoming Presidents Cup in Charlotte, N.C. Finau, 32, has played in the last three team events between the Ryder Cup and Presidents Cup, and is eager to keep the streak alive. He currently sits 11th on the U.S. points list.
The Utah native said he doesn't want to look ahead—that can be self-defeating—but it's on his radar.
"It means everything, everything to your career," he admitted. "The best experiences I've had in this game have been in those team events. Whistling Straits [a record U.S. victory last year in the Ryder Cup] is going to be hard to top; it was a really cool team to be a part of. But what it does is it keeps you hungry to want more, that's all it does. The more experiences you have like that, the more you want to be a part of those teams. That's definitely a motivating factor."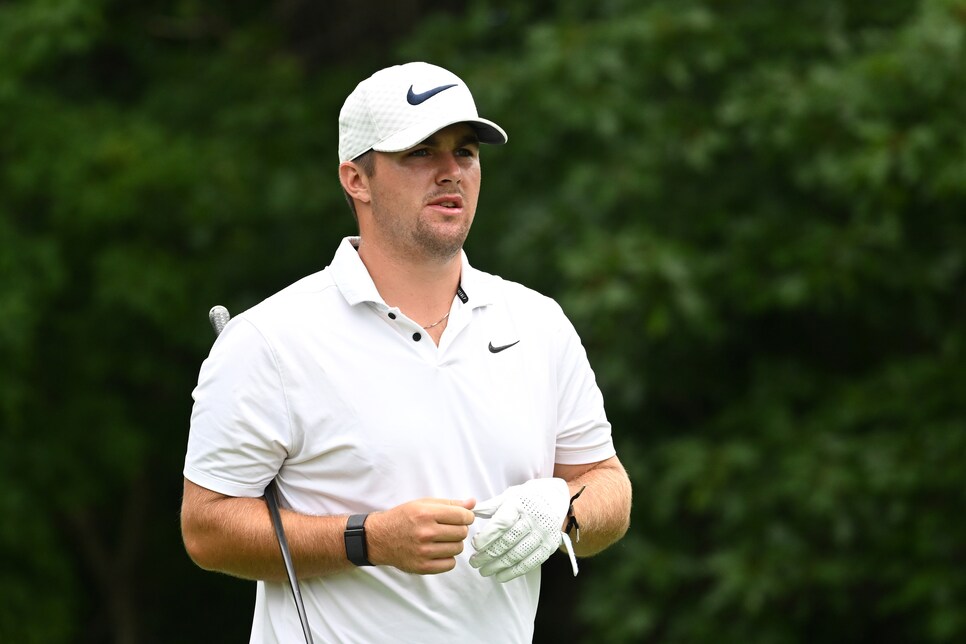 Big-hitting rookie pro Chris Gotterup sure appears to have promise as a tour player. That's our take after watching the youngster display some resilience by rallying to make the cut with a four-under 67 that left him at even-par 142.
The top collegiate player out of Oklahoma by way of Rutgers, Gotterup didn't look like a candidate for a weekend tee time at TPC Twin Cities when he opened with a 75 and then bogeyed the first two holes of his second round to stand six over par. He proceeded to play mistake-free after that, however, with four birdies and an eagle at the par-5 sixth when he knocked his second shot onto the green from 269 yards to set up a five-footer. He finished off his round with an eight-footer for birdie at the tough par-4 ninth after a 50-foot birdie putt on the previous hole lipped out.
"Yeah, it was just a weird couple days, honestly," said Gotterup, 23, who finished T-4 earlier this month at the John Deere Classic. "Yesterday it was pretty tough in the wind in the afternoon and I just wasn't sharp at all, no birdies in the round. Then today, started off with two quick bogeys and I'm sitting there at six over ready to head home. I made a nice bomb on 12 and it kind of got the momentum going in the right direction, then obviously the really good back nine to finish it off."
He didn't sound like a guy just happy to be on the tee sheet the next two days. "Obviously making the cut this weekend's big," he said, "and hopefully I can catch on fire on the weekend and hopefully sneak inside the 125 with the next couple events."