The Loop
Scott, McIlroy improve outlook of a possible summer without Tiger
The long-range forecast for professional golf at the outset of the week, according to Tiger Woods' meteorologist, also known as his back, was gloomy, a summer without Tiger.
The outlook became notably sunnier by the end of the week, however, when two of golf's brighter lights delivered statement victories from different continents.
Sunday began with Rory McIlroy, disentangled from a relationship and commitment with which he apparently had grown uneasy, coming from seven strokes behind to win the BMW PGA Championship at Wentworth.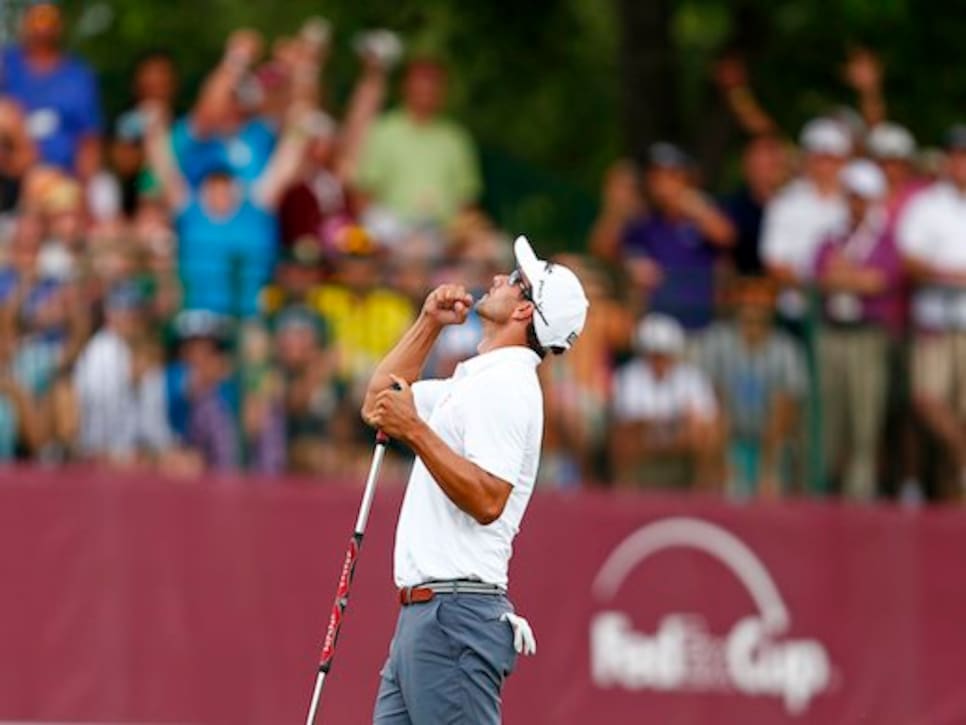 It ended with Adam Scott (shown above), days after ascending to No. 1 in the Official World Golf Ranking, emphatically stating that he intends to stay there by beating Jason Dufner in a playoff to win the Crowne Plaza Invitational at Colonial.
And while that was going on, Michelle Wie, Lexi Thompson, Charley Hull and Jessica Korda were part of a six-way tie for the lead late in the final round of the Airbus LPGA Classic that eventually was won by Korda.
Tiger isn't the alpha and the omega of golf, after all, notwithstanding ratings that no doubt will continue to argue otherwise. But his declaration at the beginning of the week that he had no idea when he might return from the back surgery that has shelved him since March was less disturbing by the end of the week.
Victories on the same day by two of the 17 players to occupy No. 1 in the World Ranking since its inception in 1986 dampen the impact of Woods' hiatus.
McIlroy's win was more unexpected, coming days after announcing that his engagement to Caroline Wozniacki had ended and they had departed ways. "I can't explain it," he said. "It's obviously a week of mixed emotions. I am looking at the trophy saying How the hell did it happen?' I was asked in an interview how I feel and I don't know. I feel happy that I've won but it's been a weird week."
Scott's week was odd as well, though he was coming at it from an emotional high, not low. He was idle the week before, yet still supplanted Woods as No. 1 because of the World Ranking's convoluted formula.
"It's just the way the system works," Scott said early in the week, "and sure, it would have been awesome to win a tournament and jump to number one like some guys have, but it wasn't the way. Hopefully I can get on and try to win a tournament this week or next week and start trying to keep myself up on top of the list."
He stepped up and made his case at Colonial, only hours after McIlroy's timely reminder that his own talent has proven capable of landing him at No. 1. It was golf's good fortune that they did so less than three weeks before a U.S. Open that likely will go forward without Woods.