The Loop
Scott finds magic with the long putter
AUGUSTA, Ga. -- By almost winning at Augusta National GC, Adam Scott also nearly became the first player to win a major using the long putter.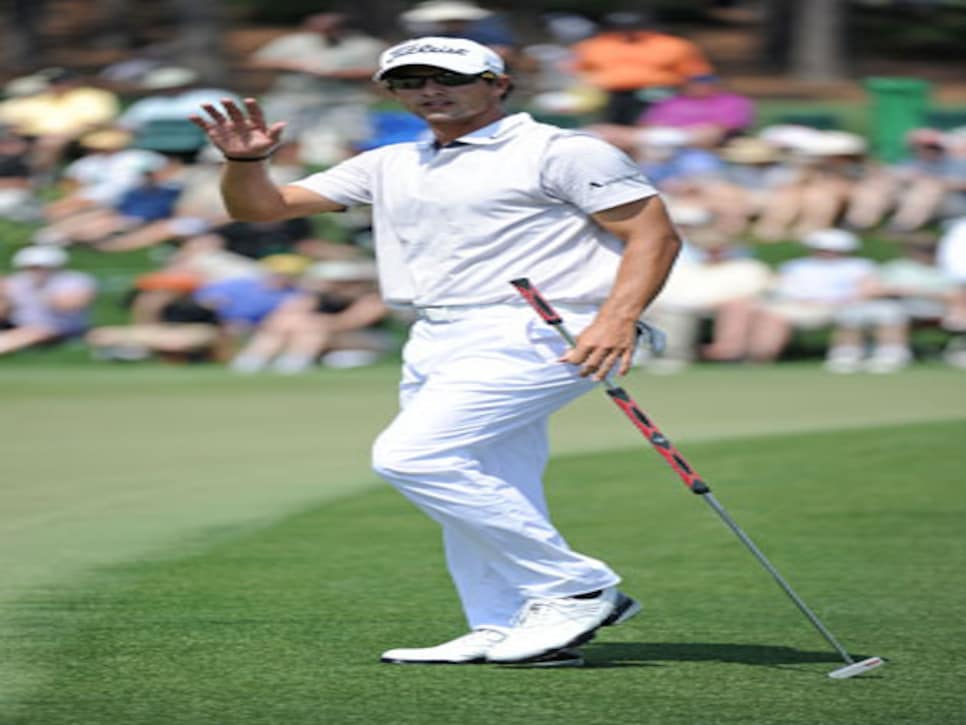 Now before folks get all worked up, this means one of the Grand Slam events. There have been senior majors won with the long putters (Charles Coody, Bruce Lietzke and, most recently, Bernhard Langer) and Angel Cabrera won the Masters in 2009 using a belly-length putter (although he did not stick it in his stomach).
Scott went to the long putter at the suggestion of his instructor, Brad Malone, after a session in Australia in February. "I hadn't really thought about it at all," Scott said at the Masters. "I got home from Hawaii and my coach had a long putter and he had been practicing with it to see and he said, 'You should have a go' because he thought it would do good things for my rhythm and short stroke. The rhythm with the long putter is very nice, and that's something I was fighting in my putting with the short putter."
The Aussie put the putter in play at the Match Play and now his near-win with a 49-inch Scotty Cameron by Titleist Kombi at Augusta National may help remove a stigma that has long hounded those using longer-than-normal putters. Ernie Els once said in reply to Trevor Immelman winning an event with a belly putter that "Nerves and the skill of putting is part of the game ... take a [pill] if you can't handle it."
Of course, Paul Runyan started this whole thing. In the 1936 Belmont Open held in Boston, Runyan used a forebear of the belly putter by sticking his putter in his stomach and widening his stance for balance in the wind. When he found after a while that he couldn't find the touch on longer putts, he lengthened his putter. Runyan later wrote in Golf Digest something that seemed to side with Els' point of view that broomsticks should be swept away because they provided an advantage for those feeling nerves on the greens.
"An advantage I hadn't expected is that this system minimizes the adverse effect of nervous tension," Runyan wrote in the magazine.
Of course, that is exactly why the club has, at various times, been dubbed "a crutch" and a "cheater stick." Rocco Mediate, who nearly became the first player to win a big one with the long one, knows the blows to the ego all too well.
"I was the anti-Christ," said Mediate of using the longer putter in the 1990s. "Guys were busting on me. I'd tell them, 'Why don't you leave me alone? I'm just trying to earn a living.' "
Along with Mediate, the long and belly putter has had other close calls in majors. Sergio Garcia wielded the belly at the British Open at Carnoustie in 2007, losing to Padraig Harrington in a playoff; and Fred Couples was bearing down on Masters title No. 2 in 2006 with the belly before faltering down the stretch. That year's runner-up, Tim Clark, used a long putter. Now Scott joins that group of near-winners. Still, Scott feels he has found something.
"You know, after I saw some putts going in, it wasn't really hard to change," said Scott. "I did a lot of practice with it before the Match Play. I felt fairly comfortable right from get-go with it.
Judging by the plethora of clutch putts he made at the Masters, it appears so.