Courses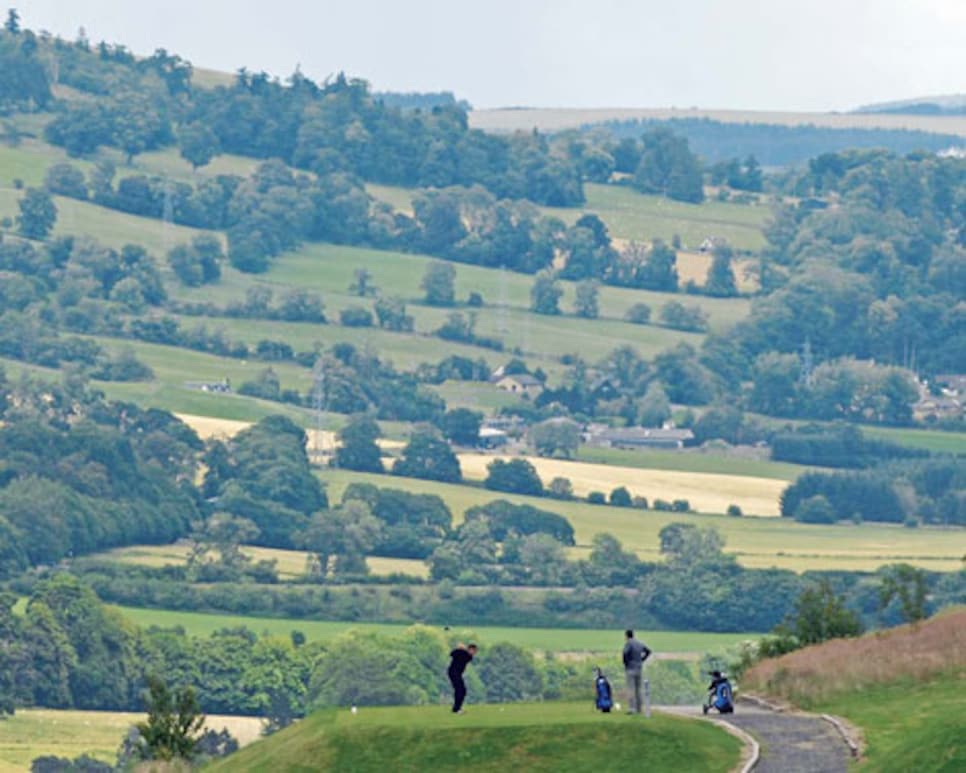 Wonderful golf can be found anywhere: The hills loom above the 18th at Strathpeffer Spa Golf Club.
In 1992, when I was new to the game, I took my first golf trip to Scotland. You can probably guess at least part of the itinerary. I played at Turnberry, Gleneagles, St. Andrews, Carnoustie and Dornoch, and I finished at Tain, an Old Tom Morris course at the inland end of Dornoch Firth. That last round went by so fast that it left me with most of a day to fill, so I asked my playing partners, who were Tain regulars, if they could recommend a course on the long road to the airport -- any course at all. They suggested Kingussie, just off the A9, about a third of the way between Dornoch and Glasgow, in what is now Cairngorms National Park. So that's where I went.
My expectations were neither high nor low; I just wanted one more chance to swing my clubs. But during the decade and a half since then I've probably thought about Kingussie as often as I've thought about Carnoustie. You could never hold a British Open there -- among other reasons, the course is almost 2,000 yards too short for a major championship -- and golf-tour operators rarely send American travelers to play it. Nevertheless, it stuck in my mind. The course (which was expanded and redesigned by Harry Vardon in 1908) is set in and around the elevated valley of the River Gynack, in the rocky hills above the village. The first hole is a long, semi-blind par 3, the sixth is a short par 4 that plays past the ruin of an old shieling, or shepherd's hut, and the 14th, called the Dyke, runs along an old stone wall. It was a memorable finish to a memorable trip.
No American golfer would travel to the birthplace of the game to play a course like Kingussie -- but, well, why not? Scotland has almost 550 golf courses, and therefore has the highest golf-to-golfer ratio in the world, yet the vast majority of American pilgrims pick and choose among the same 10 or 20 names -- all of them worthy destinations, several of them British Open venues, a few of them nearly as sacred as the Holy Land, but by no means a representative sampling of "Scottish golf," if such a thing exists. There's more to the country than St. Andrews, just as there's more to the United States than the Grand Canyon.
This past spring, I decided to take a different kind of Scottish golf trip, to spend 10 days traveling the country avoiding any course I'd ever heard of: no Old Course, no Prestwick, no Troon, no Machrihanish, no Kingsbarns. In fact, no itinerary. I'd rent a car at the airport, throw my clubs in the back, ask strangers for recommendations, search my road map for blue pennants and see where serendipity took me.
Scotland's population is concentrated in the country's slender southern waist, between greater Glasgow, in the west, and greater Edinburgh, in the east -- a girdle of suburbs and traffic congestion transected by the M8 motorway. Most of the most famous golf courses are within 30 or 40 miles of that short band, so American golf travelers tend to see the country through a very narrow window. If you break free of the populous axis by driving north or south, though, the cities quickly give way to villages, the highways turn into winding roads, and the pubs become less likely to be filled with quartets of middle-age American men wearing Bandon Dunes windshirts.
I began my back-roads journey where I had ended my first Scottish golf trip, at Kingussie, a couple of hours northeast of Glasgow. My memory had placed the village on the wrong side of the highway, but I recognized the clubhouse, which is painted white and green and was built in 1911, 20 years after the founding of the club. The green fee was £24 -- about $48 at the exchange rate. (I could have bought a weekly ticket for £70, or, for that matter, joined the club for £200.) I played with three young Scots, two of whom were on holiday from the Orkneys, a cluster of small islands north of the Scottish mainland, and I was happy to find that I recognized many of the holes.
When we had finished, we had a drink with a group of regulars sitting at two picnic tables outside the clubhouse. One of them told me, "Kingussie has more left-handed and cross-handed players than any other golf club in the world" -- a consequence, he said, of the town's intense devotion to shinty, a bruising Highlands stick game that is similar to the Irish sport hurling (from which it evolved) and to field hockey, and in which there is a tactical advantage to playing from the wrong side of the ball, apparently. No, no, another member insisted: There are more left-handed golfers in Newtonmore, Kingussie's principal shinty rival, three miles to the west. The conversation then veered into a discussion of Newtonmore's golf course, which my new friends unanimously dismissed as too flat to bother with.
That evening (after a second 18), I drove over to Newtonmore and watched a youth shinty practice, the only form of the game available locally that evening. I stood with a group of shinty moms in a parking lot filled with Scottish minivans and saw that grade-school shinty players, unlike the adult shinty players I had heard about in the stories at the picnic table at Kingussie, wear helmets and still have their teeth.
When I asked the regulars at Kingussie where I should play next, their top recommendation -- after "Not Newtonmore" and "Why not just stay here?" -- was Boat of Garten, about 20 miles northeast, the best known within the boundaries of the national park. I set out the next morning after breakfast at my hotel, the Osprey, on Kingussie's charming main street.
The village of Boat of Garten (population 700) was named for a nearby river ferry, long since put out of business by a bridge. The region is a major summertime destination for bird watchers, among others; Loch Garten, a nearby lake, is part of a nature reserve. The golf course -- known locally as "the Boat" -- was designed in the early 1900s by James Braid, who also designed the wonderful Kings and Queens courses at Gleneagles. There are four clocks on the wall above the counter in the golf shop; they give the time in Boat of Garten, Pebble Beach, Augusta and the United Arab Emirates. I paid £32 and, because no one else was around, teed off by myself.
The Boat's first hole, which runs past a station of the Strathspey Steam Railway, is a so-so par 3, but the second is a terrific par 4, and many more terrific holes follow. On the fourth, I caught up to Andy and Pat, a retired couple from Aberdeen, and played the rest of the way with them. Andy had lured Pat to the course by assuring her that it was flat, and he did penance for this significant untruth by helping to pull her trolley up the steeper hills, of which there were many. (He had already lightened his load by leaving about a third of his clubs at home.) We had to wait on the 11th tee for a slow group ahead of us, and as we did an old man on a tiny, one-person motorized golf cart came into view behind us. He was wearing a broad-brimmed hat, leather boots, a green jacket, brown plus fours and long, yellow socks. "That may be Willie Auchterlonie himself," Andy said, and when the old man caught up to us I asked him how long he'd been a member. "Fifteen years," he said -- a deeply disappointing answer, Andy and I agreed later.
Although spontaneity was an important theme of my trip, I did cheat a little. During a work-avoidance Google session at home, before I left, I came across the website of a remote Scottish golf club called Askernish, on the island of South Uist, in the Outer Hebrides, a wind-swept and sparsely populated archipelago off the country's west coast, and decided that I ought to visit it. I learned from the website that Old Tom Morris had designed the original Askernish course, in 1891, but that the holes had later been abandoned. Locals still play golf on the site, a stretch of pristine linksland on the island's Atlantic coast, but no photograph or record of the old layout has survived. In fact, the connection with Morris had largely been forgotten until a few years ago, when the club's chairman, a storekeeper named Ralph Thompson, found a reference in an old golf publication. (The course is also mentioned in A School in South Uist, a good book by F.G. Rea, an English schoolmaster who taught there between 1890 and 1913.) Thompson is now leading an effort to restore the "ghost course," remnants of which have been discovered among the dunes.
I communicated with Thompson by e-mail before I left the United States, and the day after I played Boat of Garten (as well as a nearby course, called Grantown-on-Spey, which Andy and Pat had recommended), I took off for the Outer Hebrides from the little airport at Inverness, near the northern end of Loch Ness. The only other passengers were two bank couriers, who were accompanying a shipment of currency. The plane's remaining seats were occupied by storage compartments loaded with the islands' consignment of that morning's newspapers.
Thompson -- who is 52, and had accurately described himself to me as the largest man I was likely to encounter in the Outer Hebrides -- met me at the airport in Benbecula, the island just north of South Uist, to which it is connected by a causeway. We waited there for two other visitors: Martin Ebert, a golf architect from England, and Gordon Irvine, a course consultant and master greenkeeper, who grew up in Turnberry. Ebert and Irvine are in their early 40s and are links specialists, and the fact that their trip coincided with mine was a lucky accident. They had come to walk the course, which they had been working on for more than a year, and to take GPS readings of tee and green locations. "This project is the absolute chance of a lifetime," Irvine told me later. "The course has never been butchered, and it's an example of how golf really did start. It's the first exhibit in the golf museum, really." Everyone working on the Askernish restoration is a volunteer, except for Ebert, who, for symbolic reasons, is being paid the same fee Old Tom Morris received for designing the original course: £9.
I spent two nights on the island, and very happily played three rounds on Ebert and Irvine's proposed layout while carrying just four clubs. None of those clubs was a putter: The course didn't really have putting surfaces (or fairways) when I played it, and I had to hit around several dozen grazing cattle and sheep. Fifteen of the holes did have tee boxes and flags, though. All 18 holes had names, because Thompson and half a dozen other Askernish regulars had named them a few months earlier, during a beer-assisted meeting in the bar of the Borrodale Hotel, just down the road from the course. They had decided, for example, to call the seventh hole Cabinet Minister, the name of a wrecked ship in Whisky Galore!, a late-1940s British comic novel and movie. (In the United States, the movie was released as "Tight Little Island.") Whisky Galore! is based on the true story of a World War II supply ship (real name: S.S. Politician), which ran aground near South Uist while carrying a cargo that included more than 250,000 bottles of whisky. Islanders rowed to the wreck and salvaged the booze, then hid the bottles in chimneys and rabbit holes, and stayed drunk for months. I played one of my Askernish rounds with a local man who said that his father was 10 years old at the time of the wreck and was given a bottle of whisky by his (thoroughly inebriated) father, who told him, in effect, to bring himself up.
Before I left the Hebrides, Thompson gave me the names of a number of courses he said I ought to play, among them several to the east of Inverness, within an hour or two of the airport. During my trip back to the mainland, though, I read an article in the Highland Airways in-flight magazine that said John Lennon, as a child, had spent several summers in the town of Durness, on Scotland's northern coast, and that the Beatles song "In My Life" had been inspired in part by his memories of that area. I looked up Durness in a book I'd bought called Scotland's Golf Courses, by Robert Price -- which is not a travel guide so much as a golf-history book and graduate-level introduction to Scottish geology -- and learned that Durness has a nine-hole golf course, built on grazing land in 1988 and still shared with sheep. I also learned that Reay Golf Club, 60 miles east of Durness, is called the northernmost links in the United Kingdom, and that golf has been played there since 1893. (Reay's latitude is 58 degrees north, approximately the same as that of Juneau, Alaska.) I decided to go north.
The Scots, like all people who live on islands, have a compressed sense of distance. Back in 1992, when I mentioned to a waitress in Perth that I would be driving that night to Dornoch, about 150 miles away, she was flabbergasted that anyone would even contemplate such a journey. Reay is about two hours beyond Dornoch, and 2 1/2 hours from Inverness, so by Scottish-waitress standards I was traveling past the edge of the visible universe. I loved the trip, though, even at roughly $8 a gallon for gasoline. (Europeans laugh when Americans complain about pump prices in the United States.) My route wound along the breathtaking cliffs of Scotland's northeast coast, near villages named Lybster, Ulbster, Camster, Badlipster, Bilbster, Scrabster, Mybster and Shebster.
There was no one in the Reay clubhouse when I arrived, in mid-afternoon, so I put £25 in the "honesty box" inside the front door, and signed the register. A car pulled into the parking lot just as I was about to tee off by myself, so I waited for a moment and was able to join Doug, who described himself to me as Reay's "oldest living member." He was a good guide to the course, which I loved. He said that he lived nearby, and that before retiring he had worked for many years for the region's only significant employer, a nuclear-power facility just down the road. When I asked him whether his wife played golf, too, he said, "No, but we have an understanding."
An evening clinic for juniors was getting underway at Reay when I finished my second 18 (without Doug), and while I changed my shoes and stowed my clubs I chatted with a few of the parents, who were waiting in the parking lot. When I explained the purpose of my trip and asked where they thought I should play the next day, one of the fathers suggested skipping Durness and going instead to Tain, back down the road toward Inverness. I said that Tain was probably too well known to qualify for my itinerary and that, besides, I had played it 15 years before. "In that case," he said, "you should go to Tarbat, just a few miles farther on."
Tarbat Golf Club, in the microscopic village of Portmahomack, was founded in 1909. It's a links course on a sandy promontory on the southern side of Dornoch Firth, and on a clear day you can look across the water to Dornoch. The course has 10 holes. To make an 18-hole round you play eight of the holes twice and substitute a different par 3, a 155-yarder, for the 125-yard seventh on your second time around. I played with members, both of whom worked in the oil industry. They were competing in a club tournament but had no expectation of winning any prizes and so didn't mind having me along. My favorite hole -- in fact, one of my favorite holes of the trip -- was the ninth/18th, a short par 4 that plays either around, over, alongside or into a cemetery, depending on the shape and length of your tee shot.
My playing partners did not doubt where I should go next: Strathpeffer Spa Golf Club, about 40 miles southwest. I took their advice, naturally. Strathpeffer's designers, I discovered, included Willie Park Jr., who laid out the original nine in 1888, and Old Tom Morris, who expanded the course to 18 holes in 1900. The course is quirky in the extreme. The first hole, a 317-yard par 4, plays down a vertiginous hill, and if you make a smooth swing, as you almost can't help doing at that altitude, you can drive the green. The second hole, a 244-yard par 4, plays straight up a different hill, and it's followed by four consecutive par 3s. The terrain is severe -- the course is very literally not for the faint of heart -- but the scenery is spectacular, and the holes, though unusual, are fun to play. I followed a junior match, in which the competitors' caddies -- of whom there were five -- were frequently unable to agree on which of them was supposed to be carrying what.
After my round, I had a drink in the clubhouse bar with the club captain, who gave me a Strathpeffer ball marker and green-repair tool and introduced me to several of his friends. When I told him that I was going to drive east that night, he shook his head and said that my next stop had to be Gairloch, a nine-hole links course in an isolated village on the west coast -- an hour and a half in the opposite direction. But he insisted, so I went.
I'm glad I did, in part because the drive -- through the desolate mountains of Wester Ross and along the western shore of Loch Maree, on a road that sometimes narrowed to a single lane -- was beautiful. I got a room at a small hotel on Gairloch's harbor and was awakened during the night by what sounded like a hundred-year typhoon lashing against my window. In the morning, the BBC said that the weather that day would be pretty good in all of Scotland, except in the part where I happened to be, for which the forecast was "heavy rain" and "gales." I drove through both on my way to the course, a short distance down the coast road, and found the parking lot empty and the clubhouse locked. So I zipped up my rainsuit (a Sun Mountain RainFlex, my favorite of the many I've owned), let myself through the gate, and teed off alone.
Gairloch is just nine holes, and six of the nine are par 3s, and you have to go around three times to push your golfometer past 6,000 yards, but it's a wonderful course, and I'm not a bit sorry I went out of my way to play it, even in driving rain. (How's that for a recommendation?) To get to the tee on the eighth/17th, the course's sole par 5, you climb a slippery path up the rocks to a spot from which you can see the course, the clubhouse, the village, the mountains, the harbor and (I think) the Isle of Skye, among other stirring sights. And the hole's a corker, too.
A club employee had arrived by the time I finished my first nine. I watched her raise the Gairloch flag in a wind that was almost strong enough to rip it from the pole, then made breakfast of a couple of candy bars from the golf shop. I played nine more holes, returned to my hotel to take a hot shower and check out, and, at last, headed east.
My destination was Cullen, in Morayshire, on the southern coast of the Moray Firth. A number of golfers I'd met had recommended Cullen, along with several other courses in the same general area, and I had found a tantalizing photograph in Scotland's Golf Courses. The book describes the terrain at Cullen as "not typical linksland because on several holes the golfer has to negotiate abandoned sea-cliffs and stacks. These upstanding rock ridges cause the player to make blind shots on the 12th, 13th and 14th holes, and if the golf ball hits any of the almost vertical rock faces, it can fly in almost any direction." Who wouldn't want to play there?
When I got to Cullen, late that afternoon, the sky was brilliantly blue, but the wind was blowing so hard that it not only knocked over my golf bag if I left it standing but once actually rolled it on the ground. I loved the course, though, and eventually joined (as the fifth player) a lively, welcoming group of older golfers from a club called Hopeman, about 30 miles west. This was their second round of the day, and they were playing a scramble, in competition with three other groups from their club. Most of them were carrying flasks, from which they were sipping a mixture of something and Drambuie -- I couldn't quite make out the recipe -- and their golf bags were so full of empty beer bottles that they clanked when the wind knocked them over. Toward the end of the round, one of the men asked, in a slurry brogue, "Wha hoe wah noo?" and only I could understand him: "What hole are we on now?" (It was the 17th.)
The next day I played a quick round at Hopeman, the course where 1999 British Open champion Paul Lawrie played as a junior. Hopeman has one truly great hole, the 12th, a downhill 137-yarder that can require as much as a 3-wood from the tee, depending on the wind. From there I drove south through the mountains for several hours, on tiny, winding roads, to Forfar, a club that two Hopeman members had recommended. Part of my route coincided with Scotland's Malt Whisky Trail, and took me past the Glen Moray, Glen Grant and Glenlivet distilleries. (A whisky trail is like a wine trail, but with longer naps and more car accidents.) I arrived in Forfar at 5:30 in the evening. I wasn't really planning to play but suddenly found myself in the golf shop, handing my credit card to the wife of the head pro. On the course, I soon caught up to and joined three members: Brian, a local builder, who sounded a little like Sean Connery and carried his golf bag by the handle, like a suitcase; Gavin, a retired local cultural administrator; and Michael, a jeweler. Here's the sort of golfers they were: All three, despite having played the course regularly for many years, were surprised to learn that the round blue marker in the center of each fairway was 150 yards from the green. Gavin told me that the three of them played together almost every Monday evening because "then there's no one in front and no one behind." They took lots and lots and lots of swings, although we still finished in just about three hours.
The next morning, I played a second round at Forfar. A ladies' medal competition was going on just ahead of me so I had plenty of time to admire the course, which is well inland and is surrounded by farms but feels very much like a links course, in part because most of the fairways have distinctive undulations, like gentle ocean rollers -- remnants of ancient flax furrows, Brian had told me. I also had time to think about something I'd noticed while studying my road map over dinner the night before: I wasn't that far from St. Andrews.
For more than a week, I had happily avoided Scotland's big golf names. I hadn't been disappointed by any of the courses I'd played, and, in fact, I had found quite a few that I'm determined to play again, including Forfar, Cullen, Askernish, Boat of Garten and, of course, Kingussie. Now, though, as the end of my trip approached, I felt tempted. Mightn't it even be considered a golf sin to come so near the Old Course and not at least try to play it?
I wrestled with my conscience for the rest of the round. Then, as soon as I'd finished, I called the St. Andrews Links Trust, to see if there might be some possibility of getting on the Old Course that afternoon from the singles line (the best strategy for a lone golfer without a tee time). A nice old lady answered the phone and said no, she was terribly sorry, but that wouldn't be possible, because the Royal & Ancient Golf Club had exclusive use of the Old Course until Friday.
I was disappointed, of course. In another way, though, I was almost relieved. At any rate, there was nothing to do about it. So I cheerfully went around Forfar again.