The Loop
FARMINGDALE, N.Y. -- Before every major championship there are attempts by the so-called experts among us to pick a winner --  calculations that factor in everything from a player's experience; to his ball flight; to whether he maybe won a junior tournament an hour away a dozen years before.
Sometimes it works -- like when everyone picks Tiger Woods to win and he obliges. And then there are times when a ball kicks off a marshal's foot and into the fairway, or when a band of thunderstorms roll in at the worst possible time, and it's apparent we have no idea what we're talking about.
The truth is we don't. Or at least not this week. For all the preparation and hand-wringing that goes into golf's biggest events, what's often overlooked is how the role of luck can make major-championship golf as predictable as roulette. This week look no further than the tee-times, with the half of the draw occupied by Tiger Woods likely play to two rounds in crummy conditions while the wave of players that includes Ricky Barnes (in the house at eight-under par after a 65), Lucas Glover and Mike Weir have had a chance to play 36 holes in relative calm.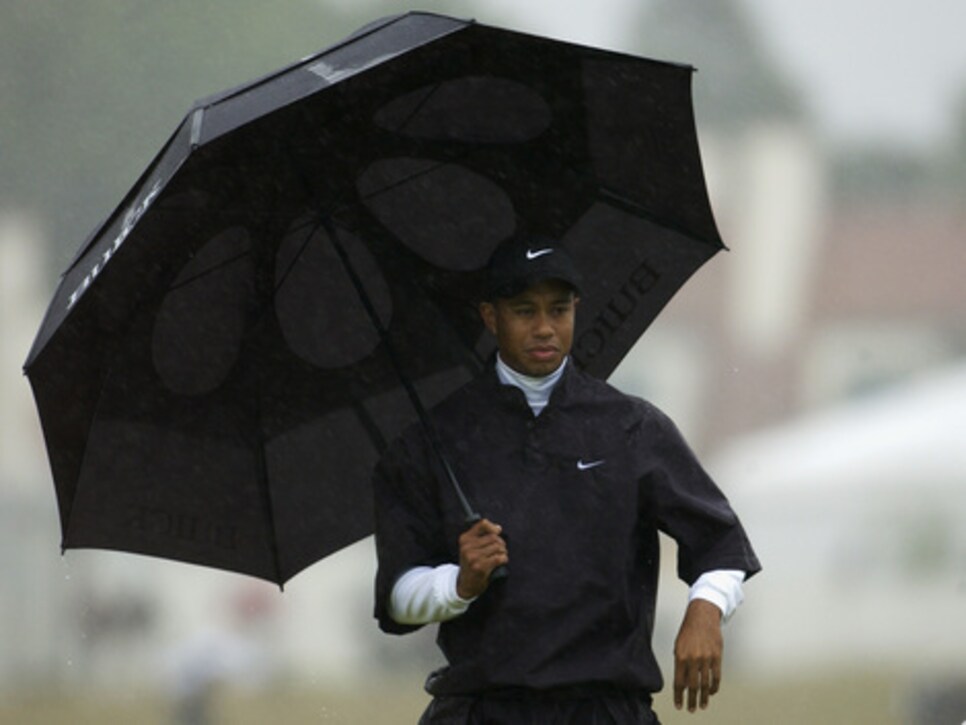 Seven years after his Grand Slam hopes were washed away over 81 strokes in a monsoon at the Muirfield British Open, Woods already knows how a simple pairing sheet can dictate his fate. And not always adversely: It was en route to his win at this same venue in 2002 that Woods drew an early tee-time Friday morning, escaped with a 68, then watched everyone get pelted with rain (that afternoon, many observers will tell you, is when Sergio Garcia went from lovable spitfire to petulant brat, complaining after an afternoon 74 that USGA officials would have stopped play had Woods been playing).
But in golf, luck is more than timing. Luck is Lee Janzen's tee shot in the final round of the 1998 U.S. Open winding up in a tree, then mercifully falling out, enabling him to save par. That same day, a seemingly perfect drive by Payne Stewart landed in a divot on the 12th hole, leading to a bogey and a one-shot loss.
Luck is Fred Couples' ball in the 1992 Masters catching the slope descending into Rae's Creek on the 12th hole and somehow, improbably, not rolling in. The list goes on.
The point, of course, isn't that the golf shots themselves are irrelevant. Couples didn't just win that Masters because of a few stray blades of grass, just as Barnes has more than soft greens to account for his clubhouse lead. But what this wacky Open reminds us is that tournament predictions are about as worthwhile as an extended forecast. As it happens this week, we may be talking about the same thing.