News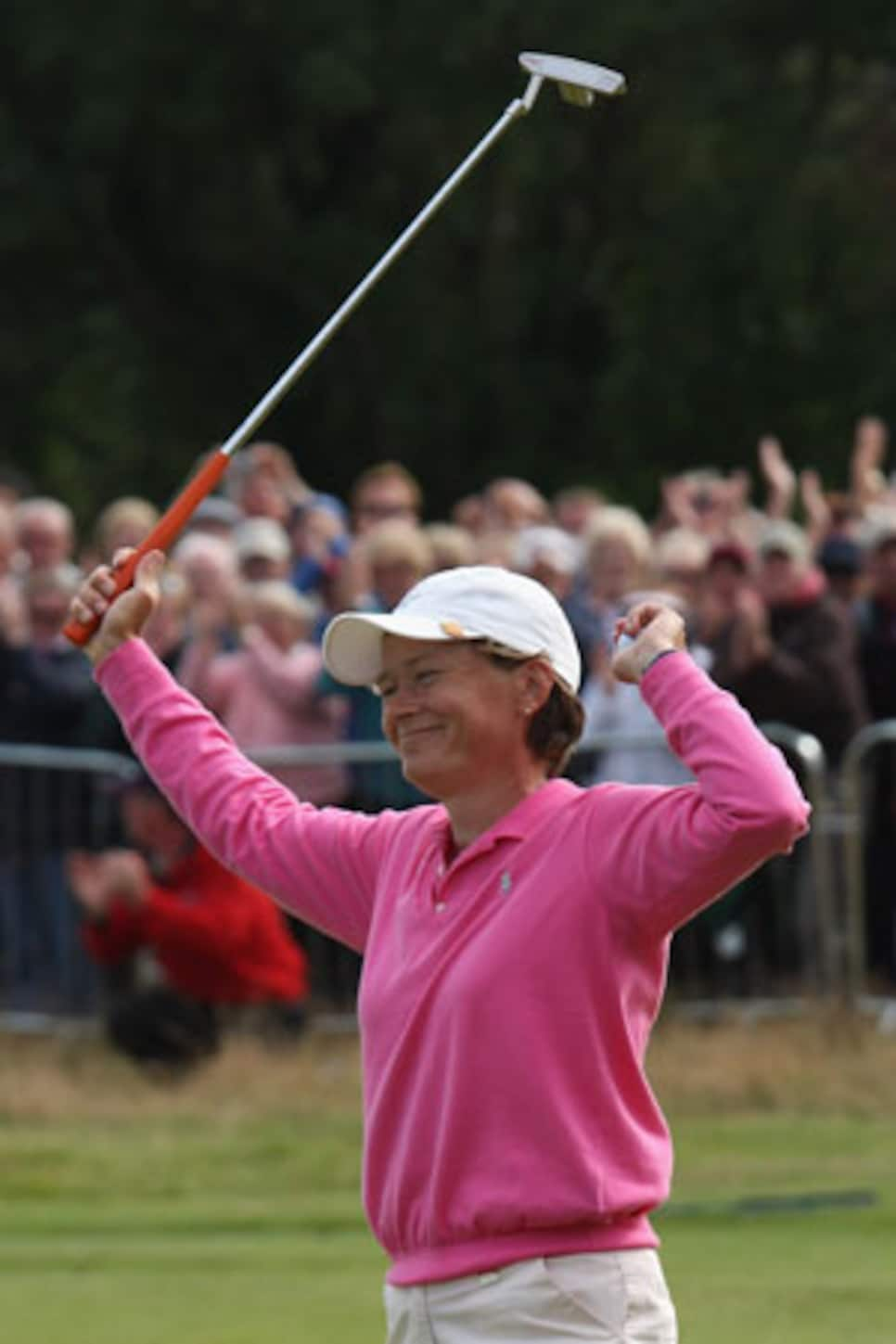 Countless LPGA Tour moms before Matthew have testified to the positive impact pregnancy can have on a player's golf game. I remember Laura Diaz saying she was hitting the ball better than ever late in her 2005 pregnancy with son Cooper. Karen Stupples professed she'd gained at least 10 yards on her drives after giving birth to her son Logan in 2007. And Juli Inkster, who's won 31 titles in 27 years on tour while having and raising two daughters, provides the ultimate proof that mixing family with a playing career can be a very successful combination.
Still, capturing your first major title less than three months after giving birth is practically bizarre. Matthew, who took most of the spring off to prepare for the arrival of little Sophie, her second daughter with caddie and husband Graeme, played in one LPGA tournament before arriving at Lytham -- last week's Evian Masters. She finished T30 there after posting a solid three-under 285; a very respectable result for a brand-new mom, especially considering she and her hubby just barely escaped perishing in an apartment fire during tournament week.
Most players in Matthew's situation (no doubt sleep deprived, sore, and with hormones raging) would have been happy with the Evian result, but Matthew knew she could do better. She felt good about her game, was under zero pressure (other than, perhaps, to get back to her hotel room after each round to relieve her babysitting parents) and knew she could play the snot out of Royal Lytham (she won the British Amateur there 16 years ago). After a remarkable eagle/hole-in-one/birdie stretch that resulted in a seven-under back nine on Friday's second-round scorecard (Matthew called it "the best nine holes I have ever played"), she took the lead and never let up. With all due respect to Tom Watson, who came this close to winning his sixth British Open on replaced hips at age 59 two weeks ago, it must be one of the most remarkable physical feats in the history of the game.
What's the deal with golfers playing better during/after pregnancy? When we did a Golf For Women instruction story on the subject with Century CC teaching pro C.J. Reeves in 2001, she said it has a lot to do with the body's lower center of gravity, and the newfound balance many players experience. For an amateur like myself, who suffers from the typical woman-golfer overswing syndrome, pregnancy made my swing more compact, which resulted in both longer and straighter shots. I also found a strange improvement in my putting, probably because it's tough to be too wristy when you're maneuvering around a big belly. I really enjoyed playing while pregnant, and certainly felt like I hit the ball better than I had in a long time. But if anyone had tried to get me out on the golf course 10 weeks after giving birth, I would gladly have punched them. For Matthew to not only go out there and compete, but to win the British Open, is truly mind-blowing.
--Stina Sternberg(Photo by David Cannon/Getty Images)