The Loop
Schwartzel prevails at a Masters that had everything
AUGUSTA, Ga. -- The reason we love sports is because it is improvisational theater that exposes the full range of human emotions, from shouts of joy to heartbreaking pain. Just when you think you have seen everything, there is something else. This Masters had everything -- and more.
And the reason the Masters holds such a special place in the hearts of all golf fans -- and all professional golfers -- is because it is contested on the same magnificent golf course year after year, now on 75 different occasions. The stories are always played upon familiar floorboards of Augusta National Golf Club and that adds so much to the drama. The holes -- especially the back nine -- are burned into our memories.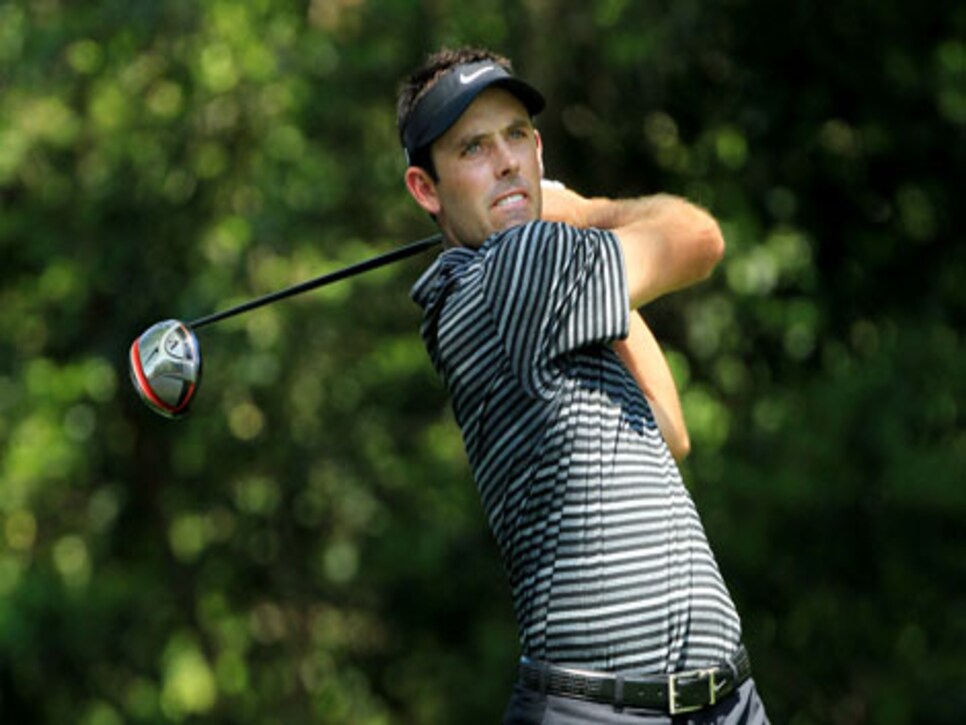 But precious few Masters -- or any other tournament for that matter -- have been as memorable as what we experienced Sunday as Charl Schwartzel birdied the final four holes -- something that had never been done -- to shoot 66 for a 14-under-par 274. That earned the South African a two-stroke victory over Jason Day, who closed birdie-birdie to match Schwartzel's 32 on the back nine, and Adam Scott, who closed with a 33. Both Day and Scott were trying to become the first Australian to win the Masters.
That Tiger Woods played a role in this drama, finishing tied for fourth with Geoff Ogilvy -- who made five consecutive birdies on the back nine -- and Luke Donald, added to the electricity. But clearly evident on this day in which as many as nine players had a chance to win deep into the back nine was that the production is just as stirring when Woods is in the chorus line as when he is the leading player.
"There are so many roars at Augusta, especially on the back nine," Schwartzel said. "Sometimes I looked at the leader board and it didn't even register for me, which was probably good. I've never experienced anything like that."
Few have. This was a Masters that had elements of four of the greatest. There was 1975 when Jack Nicklaus held off Johnny Miller and Tom Weiskopf to win by one. There was 1996 when Greg Norman squandered a six-stroke lead with a closing 78, a tragic ending replicated Sunday by Rory McIlroy, who came into the final round with a four-stroke lead and lost all feel for the game in an 80, an outcome made even more painful by the fact he's only 21 years old.
There were also elements of 1997 when Woods, also 21 at the time, won the first of four green jackets by 12 strokes. On this day however, as he sought redemption and his first major win since the 2008 U.S. Open and first Masters since 2005, Woods went out in 31 to jump to the top of the leader board but came home in 36, again missing crucial putts when he needed them most.
But most fittingly, this memorable mad scramble to the finish line came on the 25th anniversary of the historic win by Nicklaus in 1986 when he shot 65 in the final round -- 30 on the back nine -- to win the last of his record 18 major championships at the age of 46 by holding off Tom Kite, Greg Norman, Seve Ballesteros and Nick Price -- all members of the World Golf Hall of Fame.
The names on the leader board on Sunday were not as prestigious as they were then, but the play was no less impressive. The top six finishers all shot in the 60s in the final round and combined to make an astounding 22 birdies on the back nine alone. Fittingly, Schwartzel is from South Africa, homeland of Gary Player, the first international winner of the Masters, which has become golf's most international tournament.
Schwartzel, 26, began the final round at eight under par, four strokes behind McIlroy and tied with Day, Ogilvy and K.J. Choi. He set the tone for the day by chipping in for birdie on No. 1 and holing a sand wedge from 114 yards on No. 3 for eagle.
"This morning I felt surprisingly very calm," Schwartzel said, wearing his green jacket and a sheepish smile. "From the word 'go' on the first hole things started going for me. I don't think I've ever heard a roar that loud around me," he said about the reaction to the nifty bump-and-run 6-iron he holed for birdie on the first.
Schwartzel, who has won six times on the European Tour and once on the Sunshine Tour in Africa, played his first Masters last year and finished a very respectable T-30. And in case you think a great tournament was spoiled by a fluke winner, that's far from the case. Last year, he finished T-16 in the U.S. Open, T-14 in the British Open and T-18 in the PGA Championship.
Like any smart person long on talent and short on experience, Schwartzel picked the brains of a couple of great players much more experienced than him. Nick Price, a three-time major winner from Zimbabwe, told Schwartzel to practice the fastest putt he could find on every hole. "That's what I did and I putted well all week," Schwartzel said.
And last year, through a friend, Schwartzel asked Nicklaus for tips on playing Augusta National. "He took me through all 18 holes," Schwartzel said. "I had never seen Augusta, only on TV. Fortunately, my friend took good notes."
Now the four major championship titles are held by names most Americans have trouble pronouncing: Schwartzel at the Masters, Graeme McDowell of Northern Ireland at the U.S. Open; Louis Oosthiuzen, also of South Africa, at the British Open; and Martin Kaymer of Germany at the PGA Championship.
But those are names with which golf fans had better become familiar, especially Schwartzel and Kaymer. They are going to win more majors. It is doubtful, however, than any major very soon will be as good as this one -- at least not until next year's Masters returns to the greatest theater in golf.