USGA
Golf academy roommates become upset winners of U.S. Women's Amateur Four-Ball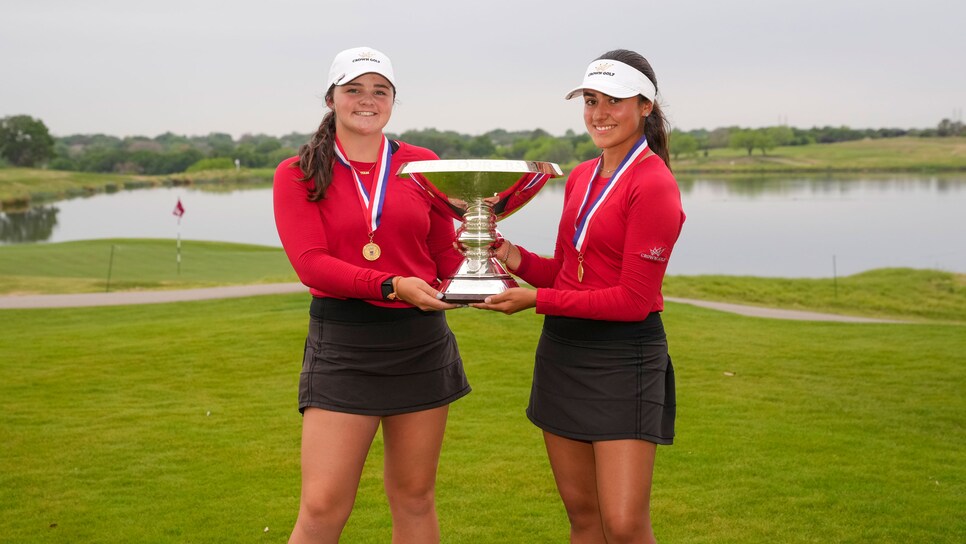 Savannah Barber, left, partner Alexa Saldana hold the trophy after winning the 2021 U.S. Women's Amateur Four-Ball at Maridoe Golf Club.
Darren Carroll
There was nothing predictable about the way the final of the U.S. Women's Amateur Four-Ball played out Wednesday at Maridoe Golf Club in Carrollton, Texas, outside Dallas. Both members of the winning team—17-year-old Savannah Barber of Fort Worth and Alexa Saldana, also 17, of Mexico—sit outside the top 1,500 on the World Amateur Golf Ranking. The roommates at Crown Golf Academy, 30 minutes away from Maridoe, finished stroke-play qualifying as only the 26th seed (out of 32 teams advancing) and faced the far more experienced pair of Casey Weidenfeld and Jillian Bourdage, 2019 runners-up in the championship, in the finals. They hardly looked like winning material.
But after Weidenfeld and Bourdage took a quick 1-up lead on the first hole of the 18-hole final, Barber and Saldana settled down. They halved five straight holes with pars until suddenly, shockingly seizing control of the match by winning six of eight holes starting at the par-5 seventh. A birdie on the 14th closed out a lop-sided 5-and-4 victory.
"We've been preparing for this for a few weeks," Saldana said, "and we [thought we] had a good chance of winning."
It showed when the duo got to match play, as they posted lopsided wins in the first three rounds. It wasn't until Wednesday morning's semifinal match, taken to 20 holes by the youngest pairing of the week in Gianna Clemente and Avery Zweig, that they were truly tested, only to get past the scare. Then in the afternoon, despite falling behind early, the duo remained confident.
"As soon as we started getting to know the course better, we started hitting better and better shots," Barber said, "and it just created more momentum going into the other matches."
With the victory, Barber, who plans to play college golf at Oklahoma in the fall, and Saldana, undecided on college, are exempt into the next 10 Women's Amateur Four-Balls and each get exemptions into this year's U.S. Women's Amateur and U.S. Girls' Junior.