Voices
Saudi-PGA Tour deal: No one knows anything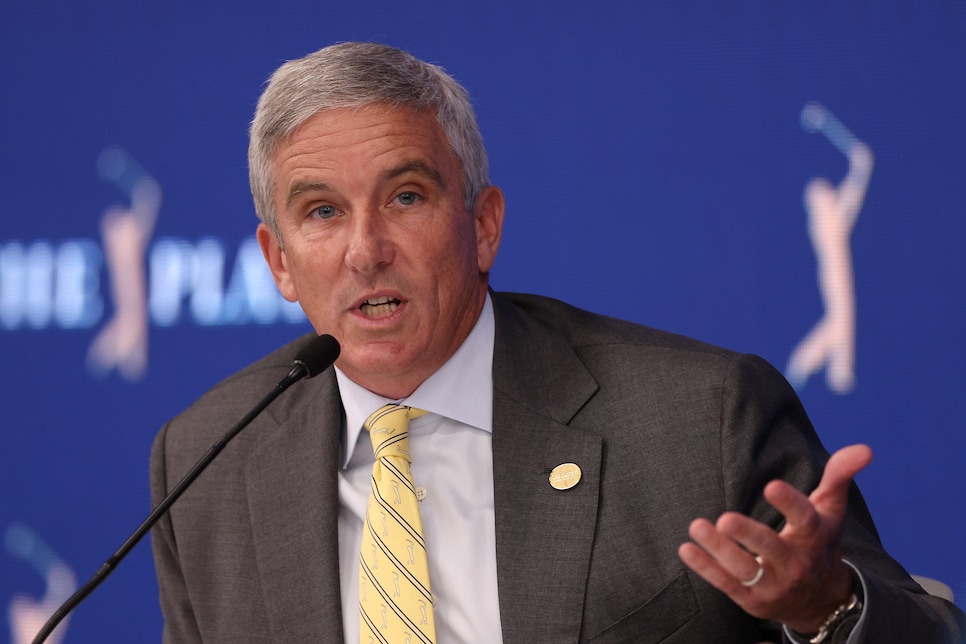 We don't know. That's the boring answer. The answer that leaves us unfulfilled, the answer you're not supposed to have in this immediate hot-take culture. But it's the right answer to what to make of this week's seemingly paradigm-shifting announcement in professional golf and where this is ultimately going to go: We just don't know.
We've talked to staff members inside the PGA Tour regarding the pending partnership with Saudi Arabia's Public Investment Fund and heard from those at LIV Golf and folks that have advised the fledgling circuit. We've listened to everyone's thoughts and definitely their opinions. The one hard, unassailable and incontrovertible takeaway is this: Four individuals changed the sport's civil war on the fly, and those four people don't seem to know what any of this will ultimately look like. So anyone who says with any authority that they know what will happen is, well, full of it.
Does that sound unenlightened? Jimmy Dunne, one of the four who orchestrated the partnership, has given his version of the events to the Associated Press, USA Today and Sports Illustrated, and those answers are not exactly copacetic. His interview Thursday on Golf Channel about golf's Treaty of Versailles was emotional, passionate and, occasionally, bizarre. Dunne is a smart man and was under no obligation to talk, so although he could be obfuscating, it's more likely his responses speak to the fact this remains a work in progress. PGA Tour commissioner Jay Monahan said he can't envision LIV Golf events running concurrently next year, and LIV Golf says it most definitely will. Confused? So are we.
Why did the PGA Tour agree to this partnership? Occam's Razor points to the tour needing money, and multiple sources have told us the tour had burned anywhere from $150 million to $200 million in legal fees, new bonus pools and designated event purses. Yet Dunne and Monahan have said the tour was in a good financial position until 2027. Both could be true, although the truth is probably somewhere in between. But, and we cannot stress this enough, no one really knows.
What about who controls golf's future? Dunne, Monahan and those with the tour assert they have total control, citing the new structure and the amount of board votes they maintain. Those with LIV Golf point to PIF governor Yasir Al-Rumayyan as the new entity's chairman and the not-so-insignificant fact that if PIF is pumping in billions, you better believe they're in control. Use whatever "Succession" meme or quote you want to explain what you believe is right, and you'll be right because no one is wrong. You can't be wrong if there's no answer.
Put money and power aside, why did the tour capitulate—out of worry with the lawsuits? That's certainly a consideration except for the fact that the tour and the DP World Tour have won almost all of the early court battles against LIV and Saudi Arabia, and to this point PIF and Al-Rumayyan have not complied to discovery requests, which would have given the tour an almost assured victory. But did the tour worry about what could be found in its own discovery? It's a fair question.
There are so, so many more questions. Why did the tour keep Rory McIlroy in the dark about the future that McIlroy almost single-handedly worked to save? What punishments will the defectors face who want to return to their respective former tours? Are we sure they want to return? How will the tours make its loyalists financially whole for not jumping at the Saudi money? Even by acquisition standards, why were so few people brought into a decision that essentially affects everyone? Could antitrust laws squash the merger? Do both sides secretly hope the merger is squashed, with PIF deciding to end LIV Golf and instead funnel its funds to the tour? It's all a true "Who's to say?"
By the way, this is not new. No one knew, at least with 100 percent certainty, what was going to happen in early 2022 when the then-Saudi Golf League was about to launch, or when it was seemingly dead in the water, or when it resurrected, or when players who said they definitely weren't leaving the tour ultimately left the tour, or when FOX was absolutely going to air LIV events then didn't, or when Monahan said he would never, ever work with PIF, or ... you get the gist. Because if there's a lesson to be had from this incredibly bananas schism that has swallowed the game whole, the only thing we know is this entire damn story has been cloaked in smoke, and the haze isn't clearing anytime soon.