The Loop
Saturday primer at the Open Championship
ST. ANDREWS, Scotland -- Some questions to ponder as the third round of the Open gets underway.
Will Louis Oosthuizen still be the leader at day's end?
It doesn't say much about a player when he has a five-shot lead in a major championship and the expectation is still for him to disappear before long. But that seems to be the case with the 27-year-old South African, who until this week had a miserable record in the majors, and whose 12-under par score has been largely dismissed as a result of favorable conditions.
Perhaps that's a bit harsh seeing how plenty of other players were on Oosthuizen's side of the draw and had nothing to show for it. But put it this way: while the majors have produced their share of unheralded winners in recent years, it has rarely, if ever, had an unheralded player who grabbed the lead early and held on right to the end.
Can Tiger Woods make up enough of his deficit to contend?
One can only wonder. Give Woods credit for holding on in the most trying of conditions on Friday -- to the extent, even, that his second-round 73 was in some ways better than the 67 that preceded it. But while Woods' ball-striking has been increasingly sharp, his putter has prevented him from making a serious run. Until we see evidence to the contrary, we're not holding our breath.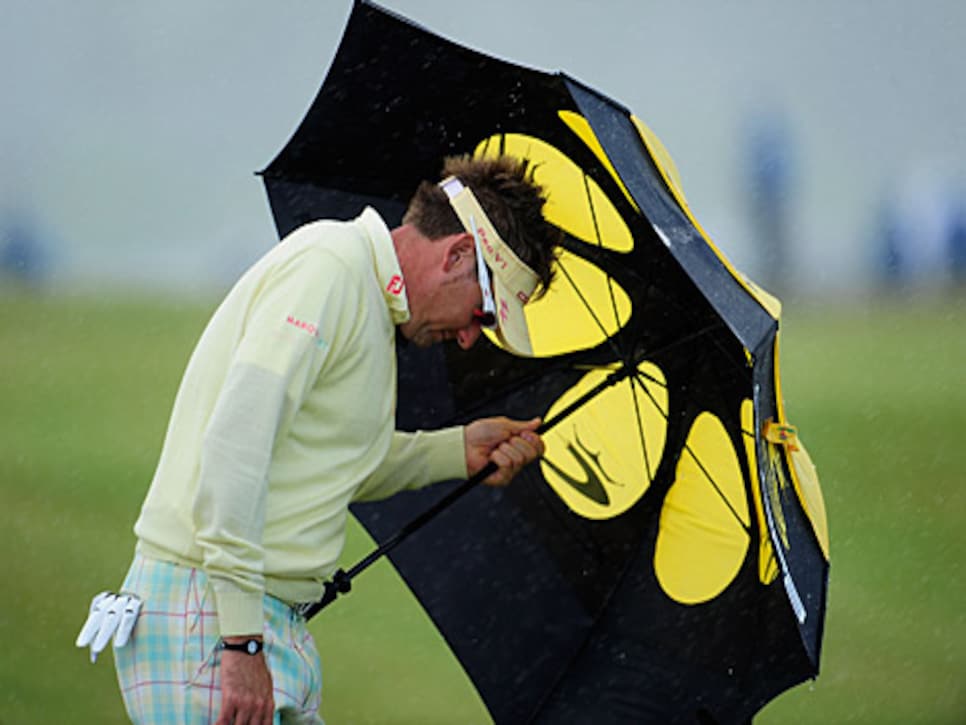 *(Photo by Getty Images) *
__What can we expect from the Saturday conditions and who does it favor?
Does anyone really know around here? Already at St. Andrews, we've had sun, clouds, rain, wind. And that was all before breakfast. The official forecast calls for variable clouds and sun, but with the occasional gusts of up to 30 mph. As for who this favors, one would think it would be a player who could play early and avoid the most severe weather. But other than a few players who managed to move their way into the middle of the pack -- Stephen Gallacher of Scotland, for instance, is four under for the tournaement through 13 holes, and England's Robert Rock shot 67 to get to three under -- it appears all of the real contenders will be playing in roughly the same conditions.