The Loop
Saturday Morning Tip: Breaking 100-90-80
Today just might be your day to meet your goal of breaking your target score. For the next few weekends, the Saturday Morning Tips will be devoted to the theme of Breaking 100, or 90, or 80, depending on your current scoring level. I will give you one tip from Golf Digest's unprecedented lineup of teachers and players to help you meet your scoring goals. This weekend we start with advice from Golf Digest Teaching Professional Randy Smith, coach of Justin Leonard and Gary Woodland, who won the Transitions Championship last week. Here are Randy's thoughts on driving the ball better.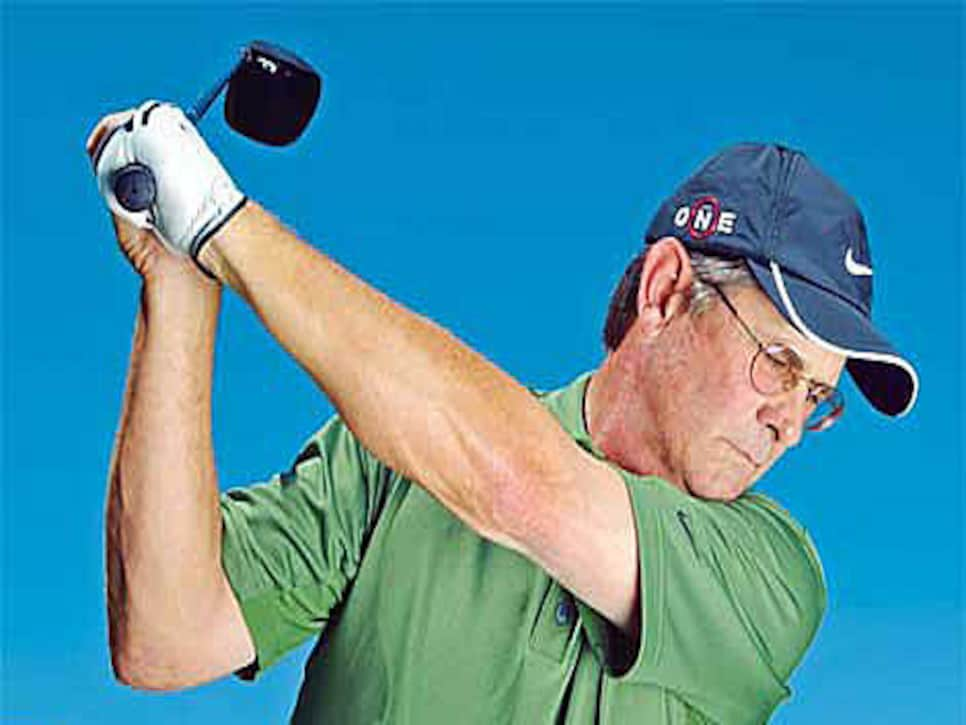 Smith pictured in an instruction article from the November 2009 issue.
One simple way to get more control over your swing path is to keep your back knee in place during your backswing. Your knees should be bent in an athletic position at address. At the
top, feel your right knee in that same position, almost as if it were in a cast.
__Point the crease at impact
__ The way to release the club for maximum distance is to use the crease between your thumb and the side of your palm on your right hand as an indicator during your swing. At impact, you want that crease pointing right down at the ball. Your hands will be slightly ahead of the ball at impact when this happens. If you restrict the club from releasing, the crease will point behind the ball. If you flip your hands, it will point in front of the ball before the club reaches impact.
__How you finish your swing is a good barometer of what's happening when the club is actually moving. I want you to be able to swing to a full finish and hold that position until the shot lands. If you can't do that without tipping over or shuffling your feet, you're out of balance or shifting your body incorrectly. You'll be amazed how much your tempo and transition improve when you start focusing on the finish this way.