Playing on tilt
Does this tour pro owe royalties to Phil Mickelson for playing his patented over-the-shoulder flop shot?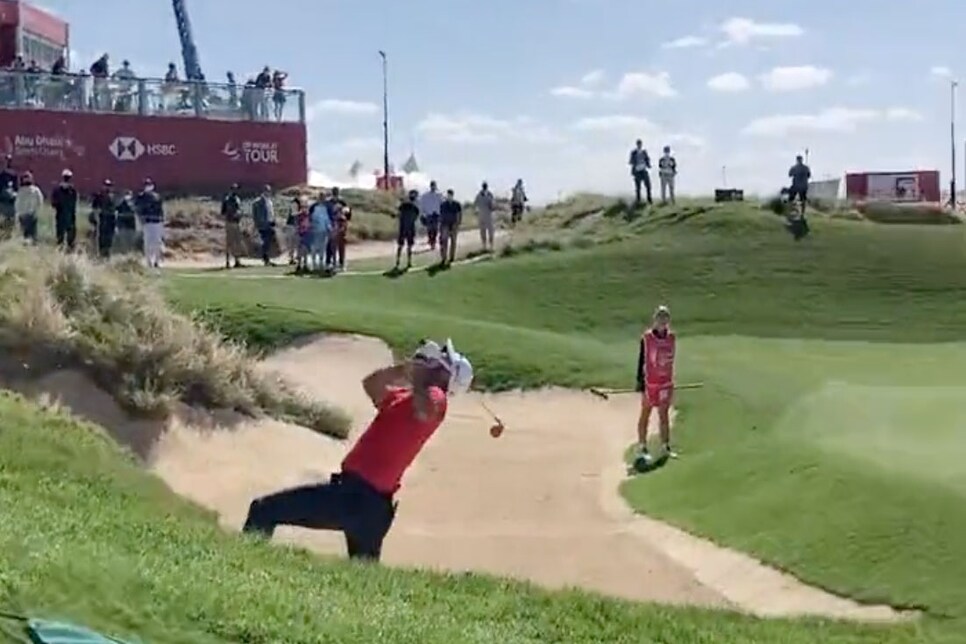 Santiago Tarrio isn't a household name in the United States, but the 31-year-old Spaniard sits 106th in the World Ranking. He's made 10 cuts in 11 career starts since 2020 on the DP World Tour, and did so again this past week at the Abu Dhabi HSBC Championship.
Tarrio struggled some at Yas Links on the weekend, however, shooting 75-75 to finish T-68. Still, he'll have a shot on the 71st hole of the tournament that he can fondly remember if for nothing other than the remarkable absurdity that he actually managed to pull it off.
Tarrio's tee shot on the par-3 17th hole found the right rough adjacent to the greenside bunker. It presented an extremely awkward shot as the downward slope made taking a traditional stance facing the green and trying to get a club to slide under the ball difficult, the possibility of skulling the ball through the green and into the water left of the hole very real.
Perhaps given his place in the tournament, Tarrio decided there was another, less orthodox but potentially less risky play for the shot. So he set up with his back to the green, taking out a wedge to play the ball over his shoulder, a la Phil Mickelson and the famed flop shops he's shown in practice over the years.
Impressive for sure. Unfortunately for Tarrio he missed the six-footer for par. But let's not let that small detail get in the way of the otherwise awesome display of moxey.
And for nostaglia's sake, we figured we'd unearth one of Phil's original versions of the shot.