The Loop
Sang-Moon Bae has 'mixed emotions' as Korean military service puts his golf career in limbo
Among students of the game, Sang-Moon Bae is admired for having one of the best swings in golf. Among his South Korean countrymen, the two-time PGA Tour winner is known for a dry sense of humor. But there wasn't much for the 29-year-old silky-smooth swinger to laugh about last week at the RBC Canadian Open.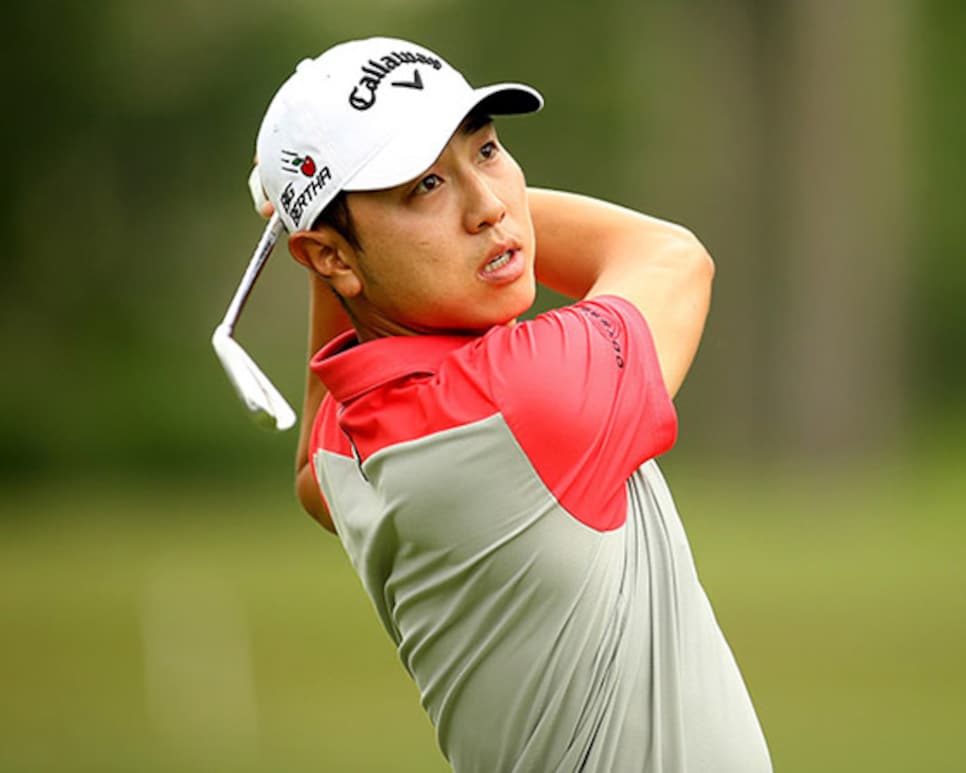 Bae's dream to represent his country in the Presidents Cup this fall in Seoul and the Summer Olympics next July in Rio de Janeiro was dealt a harsh blow when he learned South Korea's Military Manpower Association (MMA) had rejected his appeal seeking exemption from military service. It means that like all able-bodied Korean men 18 to 35 -- including athletes, actors and other celebrities* -- *Bae is obliged to serve nearly two years in the military. K.J. Choi did so when he was 21, working the night shift at a National Guard station and practicing golf during the day.
"I feel mixed emotions now," Bae conveyed to me in a text message.
Who can blame him? Bae has made more than $2 million this season alone. His victory at last October's Frys.com Open backed up a win at the 2013 Byron Nelson. He then registered three more top-10s through late February, when he was charged with violating Korea's military service regulations.
Bae's rhythmic game immediately suffered. His best finish since is T-30. In Canada, he started the week ranked 23rd in the International team Presidents Cup standings and 107th in the world, then shot 73-72 to miss the cut.
International captain Nick Price has been hoping for a strong South Korean influence on his roster since Seoul was named the host. Currently, the only Korean in the top 10 of the International team standings is Byeong-Hun An, the 2009 U.S. Amateur champion and recent winner of the European Tour's BMW PGA Championship, who is ranked 57th in the world. The top-60 players in the world as of July 11, 2016 will be eligible for the Olympics in Rio.
Bae told manager Thomas Lee months ago he was mentally prepared to put his career on hold to fulfill his duties, but the most recent court decision was still unsettling. His mother traveled from South Korea to be with him at Glen Abbey Golf Club in Ontario.
Upon entering the military, according to Reuters, Bae will make $130 a month for whatever service he's assigned.
Bae anticipates playing every event through the FedEx Cup playoffs before his military obligation starts. He currently ranks 29th in FedEx standings and is virtually guaranteed the first two playoff events.
Despite his win at the Nelson two years ago, Bae basically played his way off the Presidents Cup team in 2013 with a poor second half that season. "It gets back to expectation and the tendency to wear himself out and I think overanalyze," said former instructor Rick Smith. "He puts a lot on himself."
When Bae returns from his service, he is expected to maintain his exempt status based on a proposed change to tour regulations that would grant exemptions for "mandatory obligations," along with medical and family crisis situations.
"You know I just hope I will play good when I come back to this tour," Bae told me. "Because I really love golf and playing on the PGA Tour."