News
Sandy Tatum was an influential voice in the world of course architecture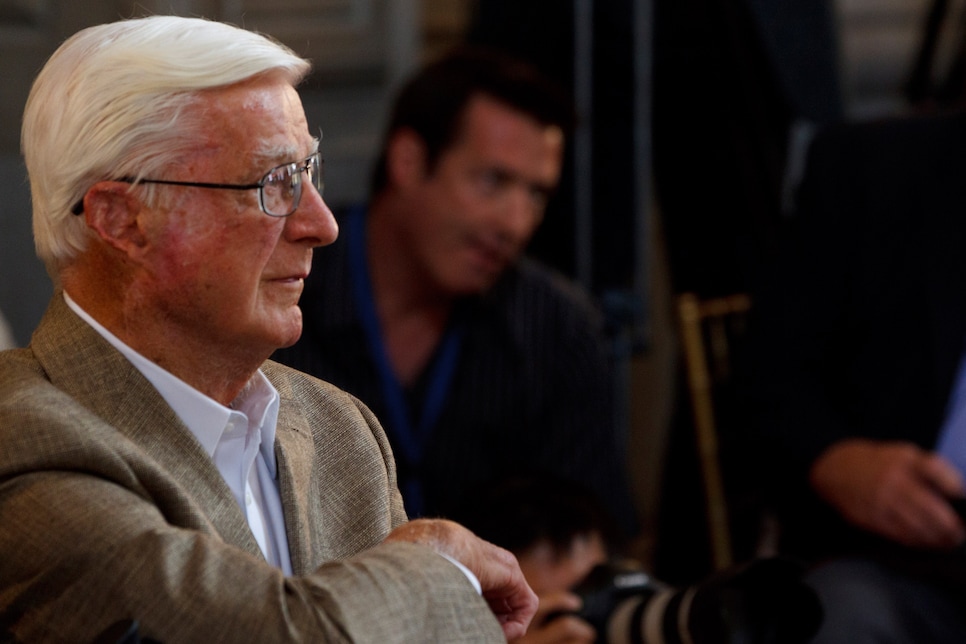 Jason O. Watson/Getty Images
I loved talking golf design and politics with Sandy Tatum, because he was so passionate about both. We first met in 1988, after Golf Digest awarded Best New Resort Course honors to the Links at Spanish Bay, the course in Pebble Beach that Tatum had co-designed with Robert Trent Jones Jr. and Tom Watson. In my Best New article that January, I had written that Spanish Bay was not a "totally authentic links" because it had some elevated greens.
Tatum wrote me that January, objecting to the observation. "The requirements of the shots played into the 7th green of the Old Course at St. Andrews and the 13th at Muirfield, for example, buttressed our view that an occasional elevated green is authentically acceptable in a links setting."
He invited me to join him at Spanish Bay sometime, an offer I soon accepted, absorbing his design knowledge and listening to his fascinating back stories during our 18. Over the next three years, Tatum was my playing companion on my first rounds at The Olympic Club, San Francisco Golf Club and Cypress Point, and I could not have had a better tour guide.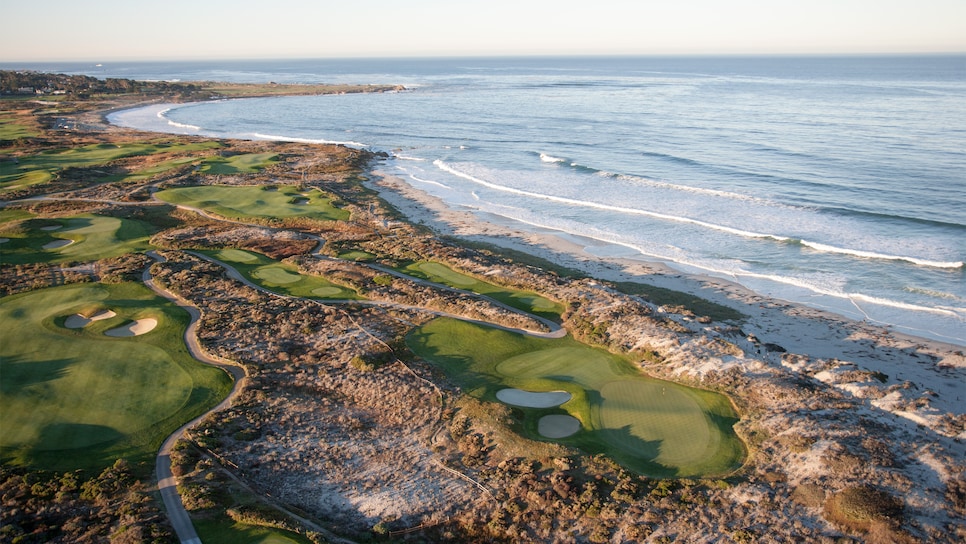 This was the early 1990s, when Tatum began devoting more time to golf design and less to his law practice. His first venture had been over 20 years earlier, when he'd tracked down Jack Neville, one of the original architects of Pebble Beach, and invited him to participate in the preparation of the course for its first U.S. Open in 1972. Neville, then in his late 70s, gratefully obliged and together they recommended several bunker changes. Tatum said working with Neville was one of the most satisfying experiences of his life.
His second foray in golf design was far less so. It occurred at Inverness in the 1979 U.S. Open. When Lon Hinkle played the 17th hole by cutting across to the eighth fairway to shorten the hole considerably, Tatum ordered a tall tree be transplanted adjacent to the 17th tee that very evening, a move that resulted in ridicule from both players and media. But not from Hinkle, who skirted a drive past the tree the next day and took the shortcut again.
Three years after Spanish Bay opened, Tatum formed a design business, not with a marquee like Trent Jones or Watson, but with little-known Jim Summers, a Chico, Calif. club pro who had previous experience in course construction and one course design under his belt. Tatum and Summers did four courses together: Mount Shasta Resort, Tierra Oaks, Lockeford Springs and StoneTree, all in northern California. I played three of the four, and wrote reviews about them. Tierra Oaks was the most impressive, a residential development course routed along gentle foothills, featuring greens positioned at existing grades and edged by scattered oaks and pines.
"I can't remember another course with so many tree trunks so close to putting surfaces," I wrote in a review. "Their goal was to have golfers pause at every hole – actually, before every shot – and mull over options and possibilities. But they didn't hammer the choices at us with extreme mounding or bottomless bunkers."
Tatum was extremely proud of Tierra Oaks. "In the Bay Area," he wrote, "there are only two courses that can match it: San Francisco GC and The Olympic Club. I hope that doesn't sound presumptuous." Alas, it did.
StoneTree was a curious triumph. Given a site that had only had enough space for nine holes on hilly, forested acreage, Tatum and Summers had to also utilize a dead flat area of bay muck for another nine. They came up with a creative solution by routing the 18 so that holes moved into forest and out onto the flat land on both nines, thus avoiding a drastically different front and back.
Tatum also worked with Mike Poellot on the routing of The Preserve in Carmel, an exclusive retreat (now on Golf Digest's 100 Greatest) later completed by Tom Fazio. He was also instrumental in convincing the PGA Tour to revive Harding Park Golf Course in San Francisco, a transformation that resulted in it hosting a past Presidents Cup and future PGA Championship. I played that one with Sandy, too, in 2003, and we talked about some of the heat he took for its pricey renovation (a reported $16 million) and modernization of its design to accommodate tour pros. Like any good lawyer, Tatum shrugged off the criticisms. After all, there's a plaque near the first tee honoring him for "his invaluable gift to The City – the renaissance of a treasured jewel, Harding Park Golf Course." His critics are now forgotten.
In 1976, two years before he became president of the USGA., Tatum addressed a meeting of the American Society of Golf Course Architects. It was something of a stern lecture. His object wasn't to humiliate the best golf course architects in America, but to motivate them.
"Artists since the beginning of time have had to cope with the lack of funds, imbecilic patrons and bureaucratic biases," he said. "The ones whose works have survived are those who have had the wit and guts to get it right regardless. None of you can be satisfied with anything less.
"Golf course architecture is failing the game. . . The overemphasis on length persists. . . What [golfers] need are courses that will make them think, that will challenge without panicking them, and will leave them with a sense of real accomplishment when they succeed in doing what the architect has challenged them to do.
"The advent of the bulldozer has been as perverse an influence on the game as the automatic sprinkling system. . . There are too many aquatic architects. . . Too much water on too many courses in this country. In many cases, it strikes me as another copout by the architect. He uses water rather than his wit to provide a suitable challenge.
"I am also distressed by what I call the arboretum syndrome. While I can accept the fact that only God can make a tree, I cannot accept the premise that every fairway in this country should be lined with them.
"I am also saddened by what seems to me to be the passing of the sand bunker from the American golf scene. We appear to be substituting in its place something we call a sand trap. They have the general appearance of a child's sandbox and are about as forbidding. I think that sand bunkers should be designed to be penal.
"I also mourn the passing of the element of chance from golf courses in this country."
Re-reading those thoughts and reliving the talks I had with him, today I mourn the passing of Sandy Tatum.