It might be hard to believe now, but Bandon Dunes wasn't a guaranteed success story. The golf course celebrated its grand opening on May 2, 1999, and it was nestled in a tiny, hard-to-get-to town that most people, at the time, had never heard of. Two years later, Pacific Dunes opened, then Bandon Trails, then Old Macdonald, then Bandon Preserve, then the Punchbowl, and who knows what might open next.
On May 2, 2017, exactly 18 years after Bandon Dunes opened for play, Sand Valley celebrated its grand opening. Like Bandon Dunes, Sand Valley is located in a small, off-the-beaten-path town called Rome, which is almost exactly in the middle of Wisconsin. And like Bandon Dunes, Sand Valley is the first course of what will soon be a multiple golf course destination.
My boyfriend, Jeff, and I drove up from Chicago, which is four hours by car. Milwaukee is Sand Valley's nearest big city, and it's three hours away. With about 10 minutes left in our trek, a harsh, gravel road that had just been created led to a newly-paved road that brought us to a 12-room cottage. The rooms there sit along the left side of the 18th fairway and offer an unobstructed view of Sand Valley's stunning par-5 18th, providing a nice preview of our impending round.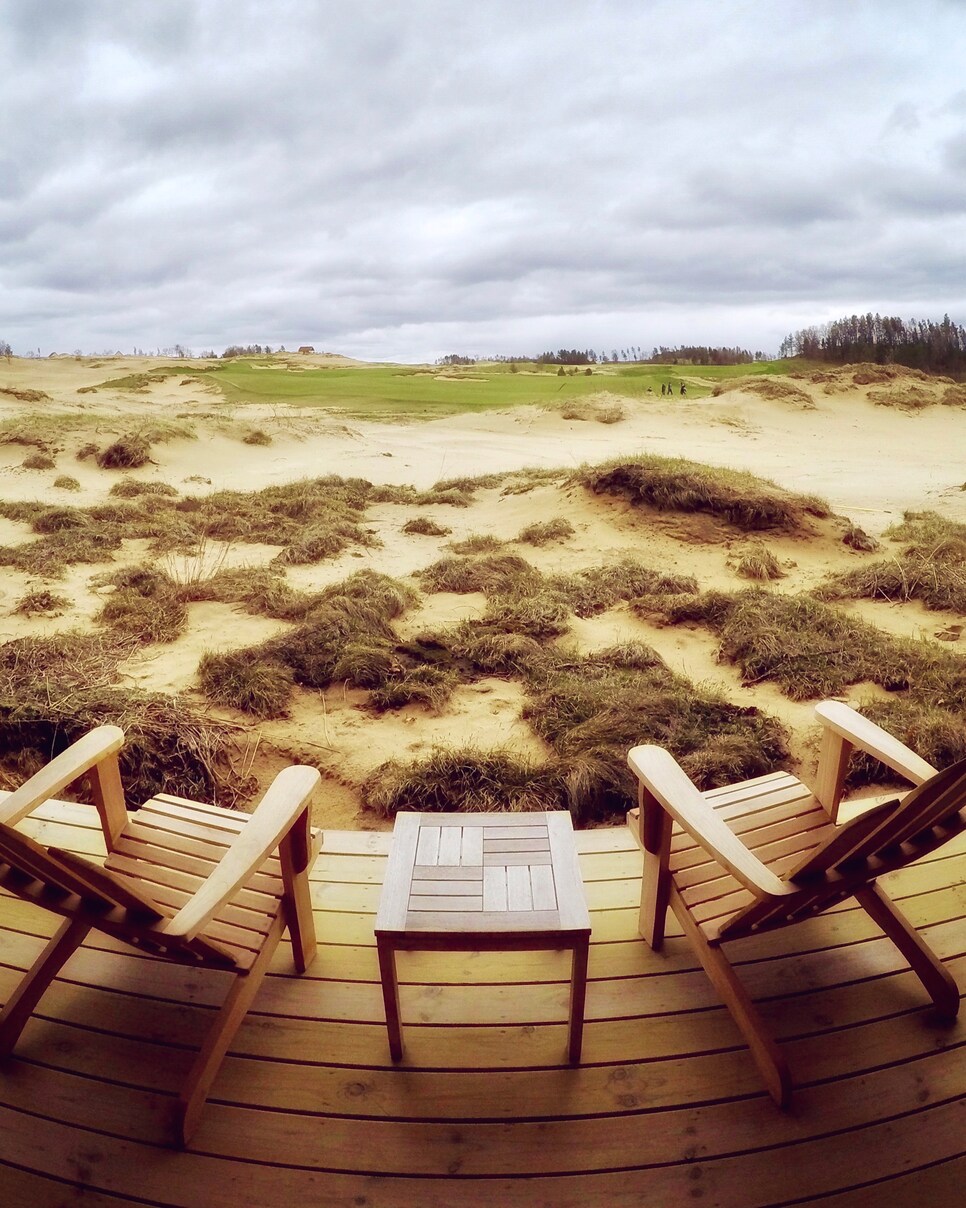 Mike Keiser, a golf course developer who made his fortune in the greeting cards business, took a gamble on Bandon Dunes and is banking on similar success in Sand Valley. Keiser is also the brain behind Cabot Links, a 36-hole oasis that sits on the coast of Nova Scotia. The developer has instilled a similar ethos at all three of his major golf resorts in North America—accommodations are always nearby and, while perfectly designed, are rarely over-the-top lavish; and his courses, which are designed for walkers, celebrate natural beauty and blend peacefully into their surroundings.
Soon after checking in, Jeff and I grabbed a few clubs and walked up to Craig's Porch, a snack shack located on the second-highest point on the property (the highest point is at Mammoth Dunes, Sand Valley's second course, which I'll get to later) and named after Craig Haltom, a landscape architect who, while hiking with his wife, discovered the 5,000 acres of glacial sand dunes that Sand Valley sits upon. Craig's Porch overlooks the first, 10th and 18th holes and offers an array of delicious sliders and brisket tacos for just $1.50 a piece, as well as Spotted Cow, a well-sought-after Wisconsin-only beer.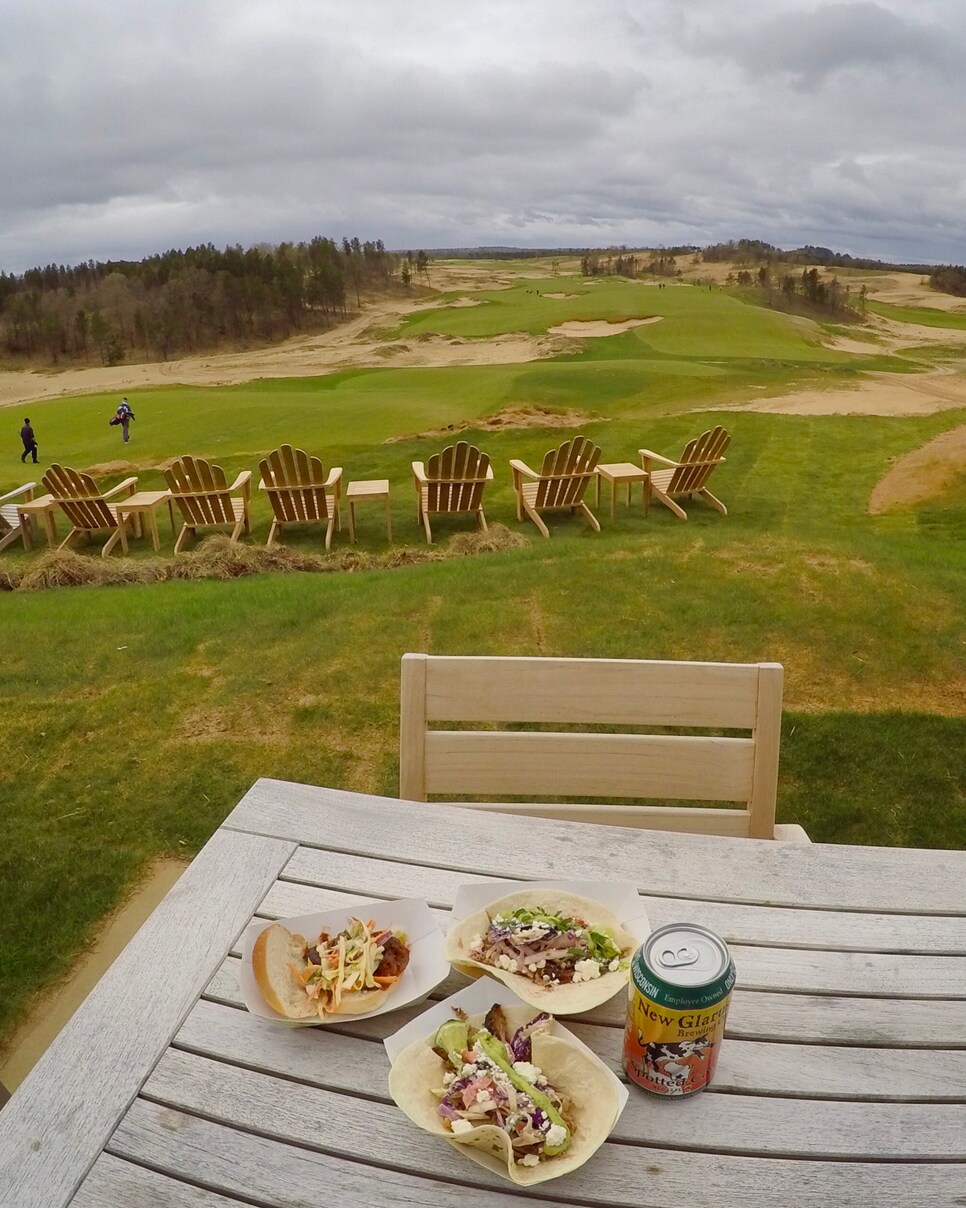 After enjoying a pulled-pork slider and a brisket taco, Jeff and I played hole nos. 10, 16, 17 and 18 before a rainstorm and darkness forced us back into our room. What we saw, in those four holes, represents what the course as a whole offers—the downhill par-5 10th has a large fairway protected by massive bunkers; the uphill par-4 16th doglegs left and requires a mid- to long-iron approach into a small, elevated green; the long par-3 17th has a huge punchbowl green surrounded by a gnarly bunker and a massive mound; and the uphill par-5 18th has an enormous bunker running alongside the right side of its fairway that leads you to a big green that bends around a greenside bunker.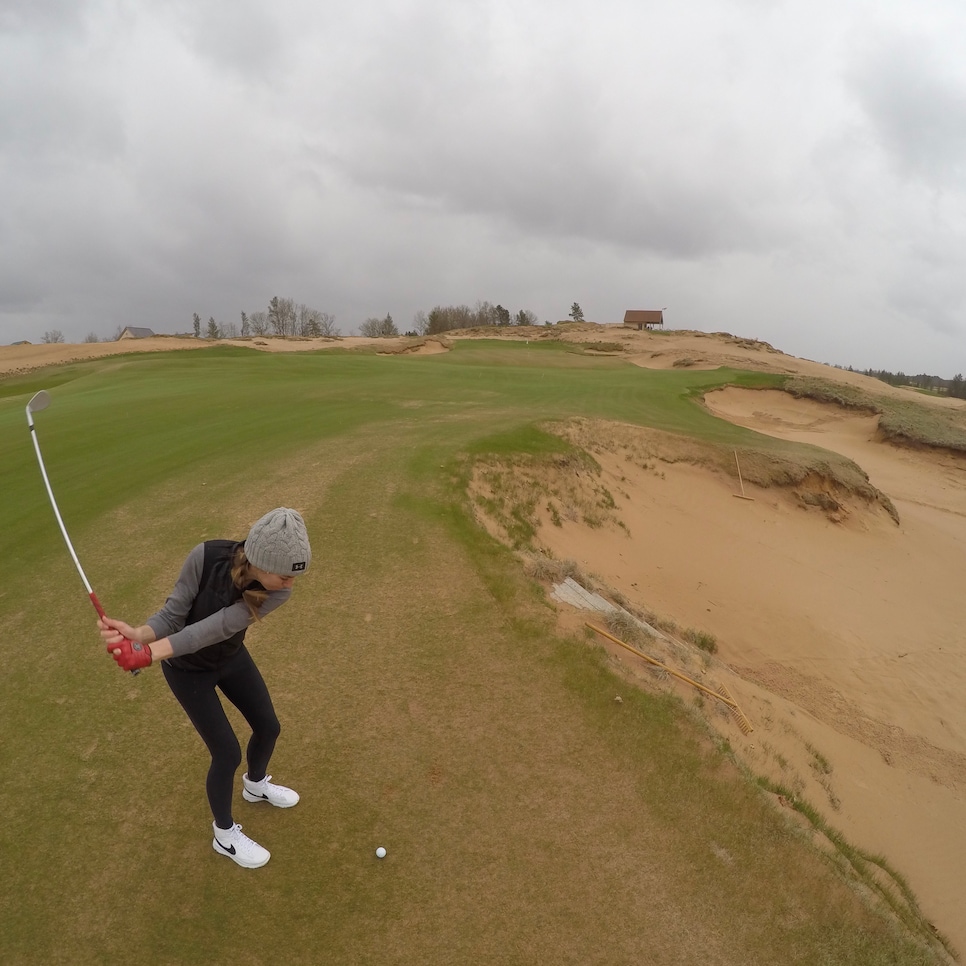 When Keiser initially learned about these acres of landlocked land in 2013, he didn't want to like it. The area doesn't offer the dramatic coastal views found at Bandon Dunes and Cabot Links, and its six-month season (May through November) is shorter than ideal. But the land's endless amount of sand and numerous natural dunes made it irresistible. So Keiser asked Ben Crenshaw and Bill Coore, a duo he'd worked with at both Bandon Dunes and Cabot Links, to design the destination's first golf course. Bill Coore, who attended the opening-round festivities, told me that he didn't have to move much land while creating Sand Valley, and that several green complexes presented themselves naturally.
At 7:10am the next morning, in freezing, windy conditions, with Bill Coore and Mike Keiser's two sons, Michael and Christopher, looking on, I hit the first tee shot on Opening Day at Sand Valley. I looked up and saw a tight draw travel about 240 yards down the center. What a relief! And what an honor.
The first hole is a 335-yard par 4 that perfectly eases golfers into the course. The rest of the round presented copious amounts of sand, both in the form of tiny bunkers and massive waste areas, large fairways that secretly reward precision, and greens protected by mounds, valleys and dunes. As I walked off the course and relived my round, Sand Valley's collection of five par 3s stood out the most—they range widely in distances and demanded shots from almost every club in my bag.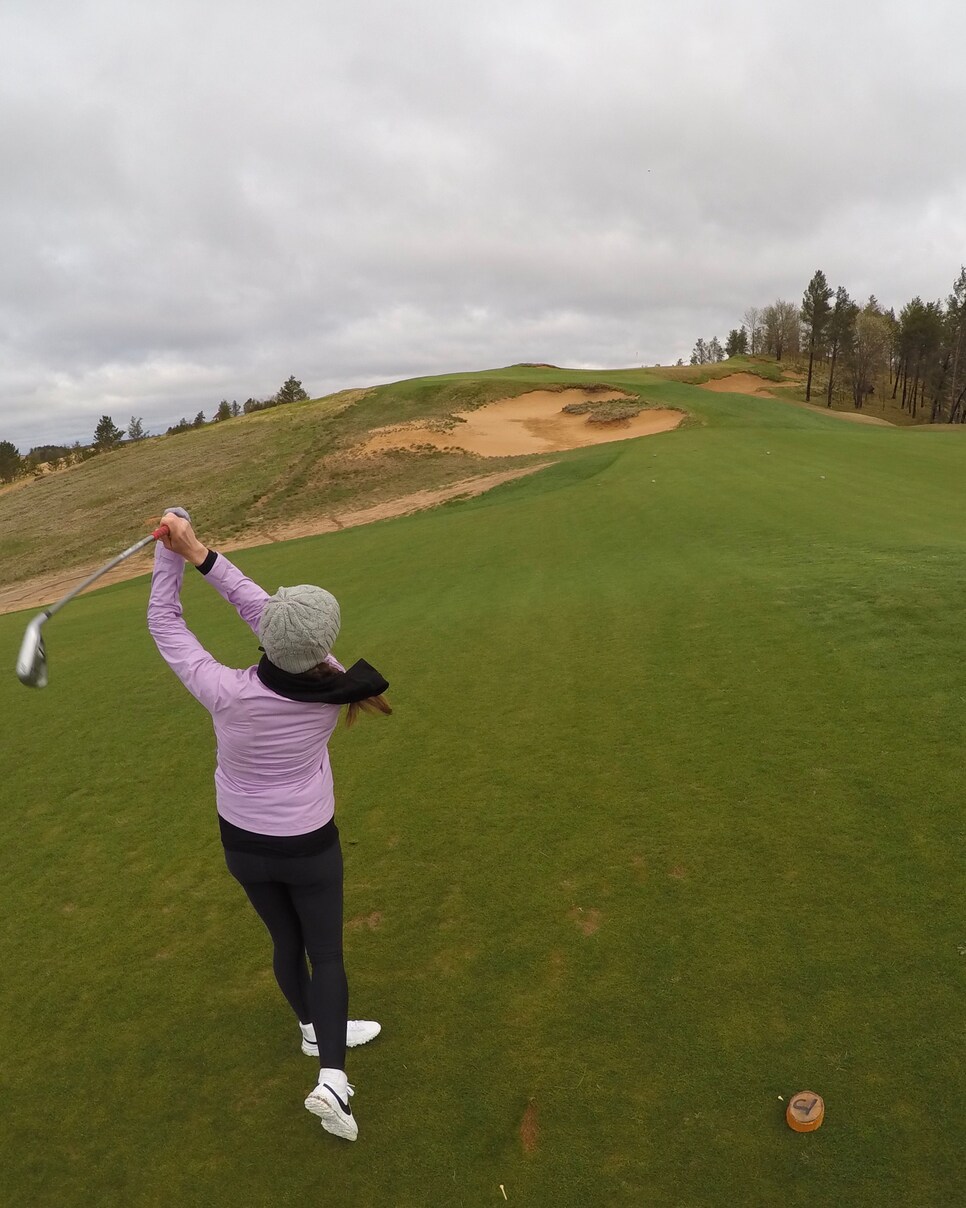 Before driving back down to Chicago's O'Hare airport, Jeff and I walked a few holes at Mammoth Dunes, the resort's second 18-hole course that is scheduled to open for preview play later this season. Keiser commissioned David McLay Kidd, who designed the first course at Bandon Dunes, to work with a more dramatic piece of land than the plot Sand Valley lives upon. Six holes are already complete, and I could quickly tell that Mammoth Dunes will have more striking features than its gentler counterpart. We even saw the makings of the driveable par-4 14th, whose designer was chosen from Golf Digest's Armchair Contest. It's clear to see that hole will be a quintessential risk/reward par 4—as I stood behind the hole, I pictured my drive banking off a huge dune on the right and trickling down about 20 yards short of the green.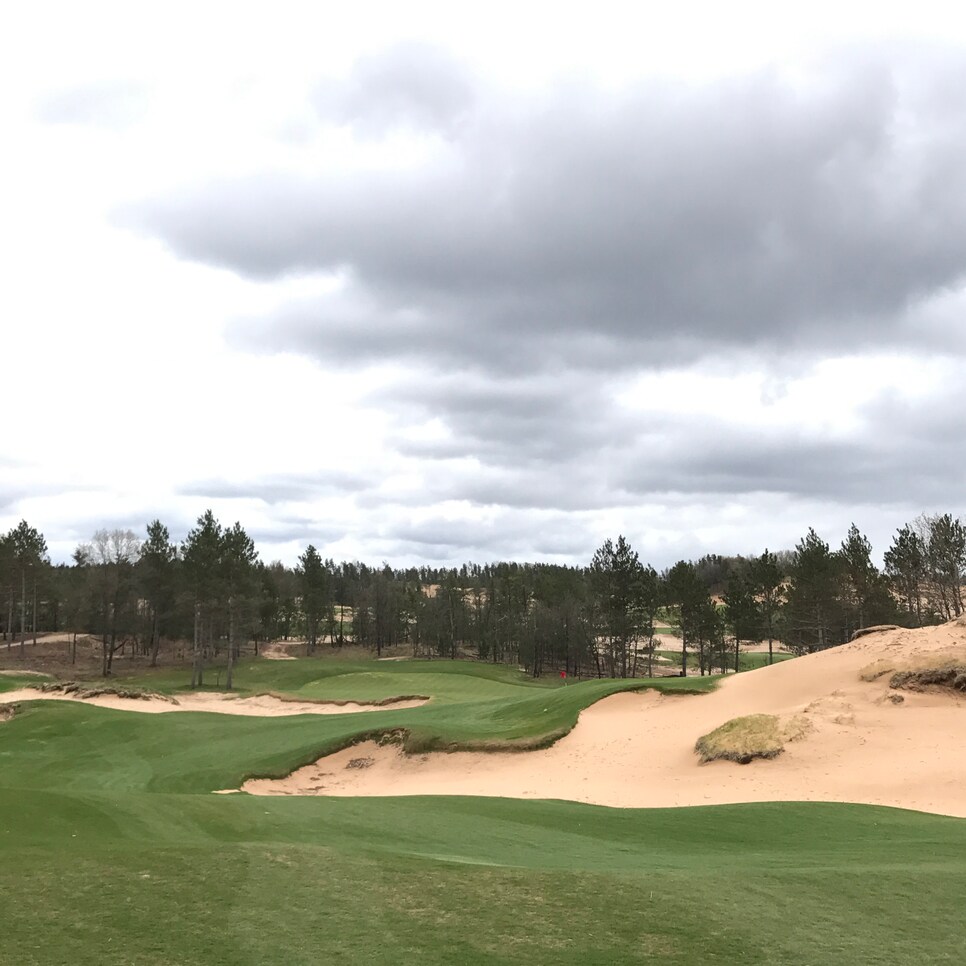 As we walked back to our cottage, I saw, in the distance, what will be the resort's 17-hole par-3 course. "Quicksand," which is scheduled to open at around the same time as Mammoth Dunes, is another Coore/Crenshaw design that will likely be to Sand Valley what Bandon Preserve is to Bandon Dunes—the site of many laughs, settled bets and groups that tee off as eightsomes.
Beyond Sand Valley's actual golf course, which feels entirely complete and encourages a sense of peace and tranquility, the destination around the course looks like a construction zone. The pro shop, right now, sits inside a long, narrow storage container, and the resort's "front desk" is nothing more than a table and two computers located in a foyer as you walk into the cottage. That'll change, however, when Sand Valley's clubhouse opens on June 1. It'll have a large pro shop, a bar and restaurant, outdoor patio seating with a fire pit, and 17 additional rooms. And a second fairway cottage (with 12 rooms) is scheduled to open on July 1, bumping the resort's total number of rooms to 53 (and 107 beds).
Sand Valley is two and a half hours west of Erin Hills, site of the 2017 U.S. Open Championship, and two and a half hours northwest of Whistling Straits, a mecca of four Pete Dye courses that sit on Lake Michigan, including the Straits course, which has hosted three PGA Championships and will host the 2020 Ryder Cup. These three destinations form a golf triangle that will lure travelers to Wisconsin from all over America. Like Scotland and Ireland, which offer golfers the opportunity to play a wide mix of stunning golf courses if they're willing to drive, Sand Valley has effectively made Wisconsin a golf haven that adventurous golfers should add to their short list. No passport required.