The Loop
San Francisco's Harding Park to host 2020 PGA Championship
The 2020 PGA Championship is headed to San Francisco's Harding Park. Sources with knowledge of the PGA of America's plans have confirmed an official announcement will be made July 2.
Rumors of the decision to go west for the first time since the 1998 PGA at Sahalee initially surfaced this week in online message boards. By giving the municipal course its 2020 date, the prospect of an international PGA Championship is highly unlikely until at least 2024, assuming that golf remains in the Olympic Games. With the 2020 Tokyo Games scheduled for July 24 to Aug. 9, the normal PGA Championship date must shift, prompting the Palm Beach-based organization to strongly consider a first-ever overseas PGA Championship.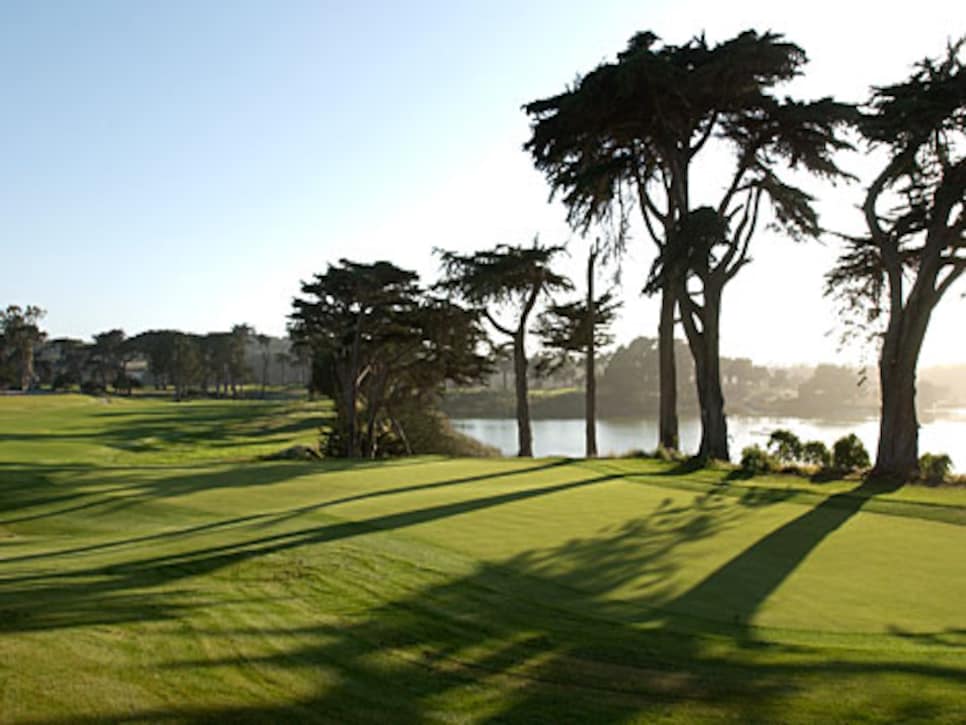 And while San Francisco's climate is infamously unreliable due to nearby coastal fog, the announcement of Harding gives the PGA of America options for the playing date, most likely in late spring or possibly in early fall 2020 after the Olympics. A May date could also come into play if the Players is moved back to its March spot on the calendar.
Wednesday's announcement will give the PGA of America back-to-back public-course venues (with Bethpage scheduled to host the 2019 PGA) after many years of avoiding municipal or state-owned courses. The last genuine public course to host a PGA was Tanglewood Park in North Carolina in 1974. Harding Park is co-managed by the PGA Tour and has been officially known as the TPC Harding Park since November 2010, making this the first major championship to visit a Tournament Players Club course.
After many years of poor maintenance, the course, which was previously used to park cars for the U.S. Opens played at nearby Olympic Club, was renovated in 2002. The PGA Tour Design Services renovation of Willie Watson and Sam Whiting's 1925 design came in at a staggering $23 million -- $7 million over budget. Harding Park then hosted the 2005 WGC-American Express Championship, won by Tiger Woods over John Daly in a sudden-death playoff.
In 2009 Harding Park hosted the Presidents Cup, won by the U.S., and has since hosted the Champions Tour's Charles Schwab Cup season-ending event three times. The course recently re-opened after a re-grassing of all 18 greens. Fees for non-residents are $155 on weekdays, $175 on weekends. San Francisco-resident card holders pay $52 and $66, respectively.
With Harding hosting the PGA in 2020, this sets up three majors in California over three years, beginning with the U.S. Open at Pebble Beach in 2019 and another U.S. Open for Torrey Pines in 2021. The Olympic Club is believed to have extended the USGA an invitation for a another U.S. Open, with the earliest possibility likely coming in 2023, 11 years after Webb Simpson last won there.
This will mark the first PGA Championship played in San Francisco and just the sixth played in California.
Former USGA President Sandy Tatum, who spearheaded the long and often difficult process of getting Harding Park renovated, said he was "delighted" with the news.
"It's a dramatic validation of the impression I had in undertaking the project to try and save it from a weed patch and to extend its usefulness," the 94-year-old Tatum said by phone. "It certainly has an appropriate impact on my golfing life. I played Harding a lot when I was at Stanford a long time ago, played in a number of city championships and have always been quite taken with it. Harding Park is a very, very special golf experience."
Asked which time of year Tatum would prefer to see the championship played, he was emphatic about avoiding the summer fog if possible.
"Late spring without any question," he said. "Summer provides the fog problem, interferes with play and because it's a perfectly beautiful site, to see it on a perfectly lovely day just makes the experience there that much more dramatic."