Courses
A More *Open* Open Course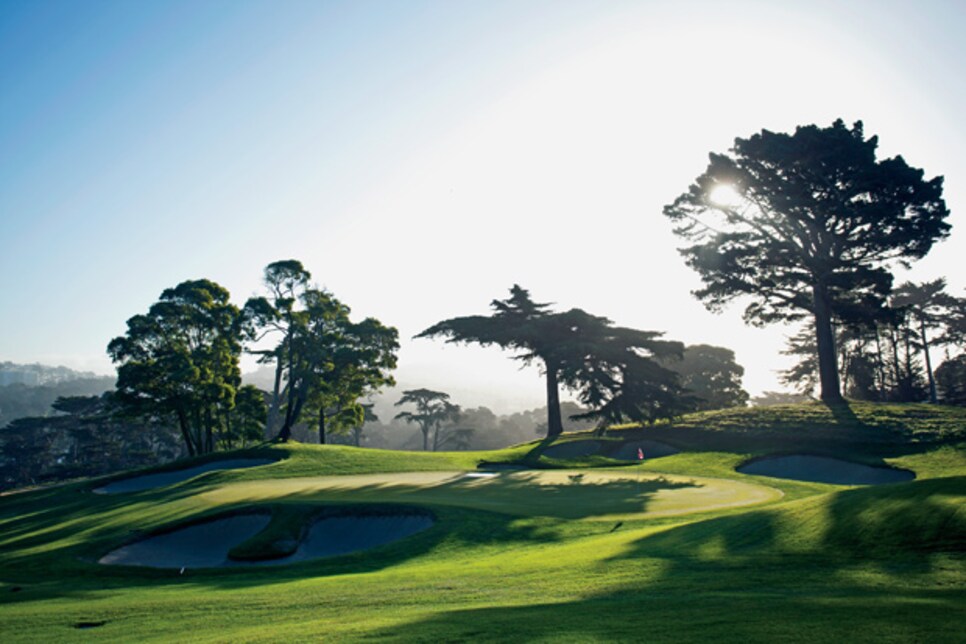 Olympic has lost hundreds of trees to disease, but these grace the 428-yard second hole.
It took pestilence and plague to revive the Lake Course at San Francisco's Olympic Club. First came an incurable disease that resulted in the removal of several hundred Monterey pines that lined Olympic's fairways, a deforestation that began eight years ago and continues today.
Then came the roundworms. They had lurked beneath Olympic's greens for decades, their hunger for grass roots stifled by a chemical developed specifically to battle them. But the product was pulled from the market in 2008, leaving Olympic (and most Poa annua greens in America) defenseless. Olympic's solution was to rebuild its greens and sod them with a mixture of disease-resistant bentgrasses.
The Lake Course has emerged stronger, healthier and transformed. From any tee, the view is no longer tunnel vision. It's panoramic, the ground tumbling in steps from Skyline Drive down to Lake Merced, which gives the course its name.
The view is also intimidating. Put a bad swing on a tee shot, it's now plain to see, and you could end up four stories below.
But, says USGA executive director Mike Davis, who continues to oversee U.S. Open course setups, "A lot more putts are going to be made. When we get into the afternoon, they'll still be putting on smooth greens, versus when they were Poa annua, which got bumpy."
All but four of the greens had their contours duplicated in the reconstruction. The 15th and 18th greens were given new slopes. The seventh green was moved back and reduced from three tiers to two. The old pitch-shot, par-3 eighth was sacrificed to lengthen the seventh and ninth. The new eighth is 200 yards, playing uphill over a once-overgrown ravine, to a green saddled beneath the clubhouse.
During the Open, early-morning fog will roll in just as surely as the criticism that the Lake Course, like Congressional in 2011, lacks the difficulty to be a true U.S. Open test. (It's as if anything associated with Ken Venturi is past its sell-by date.) Congressional was a victim of wet weather. That won't be the case with Olympic. It rarely rains in San Francisco in June, and any fog will lift early, although fog moisture often remains in the rough all day, making for juicy lies even in mid-afternoon.
Some will also decry Olympic's relative lack of length, just 7,170 yards, par 70, much as they're already questioning the viability of the even-shorter East Course at Merion, with its six potentially reachable par 4s, as host of next year's Open. Most of the yardage at Olympic is packed into four holes: the 520-yard, par-4 first; the 498-yard, par-4 fifth; the 489-yard, par-4 sixth; and the 670-yard, par-5 16th. (Davis also has toyed with bolstering the 430-yard 11th hole by using a new tee at the 16th hole for one day, which would add 30 yards to the 11th if spectator flow can be accommodated.)
Olympic has two very short par 4s, but Davis says only the 288-yard seventh will play as a reachable par 4. He has no plans to move markers up on the 344-yard 18th to tempt players into driving the green. For a drivable par 4 to work, Davis says, the punishment for missing the green needs to be greater than if you laid up. The 18th lacks that punishment, he says. Olympic is the second of three consecutive "traditional" Open venues, the kind of narrow-fairway, deep-rough setups that tested Hogan and Nicklaus. After Merion, the rest of the decade includes the restored Pinehurst No. 2, followed by links-like Chambers Bay, iconoclastic Oakmont, kettle-moraine Erin Hills and ocean-blown Shinnecock Hills and Pebble Beach. Olympic, we think, will hold its own with any of them.