News
San Diego C.C. recalls Mickey Wright, Billy Casper and a course deserving 'more national acclaim'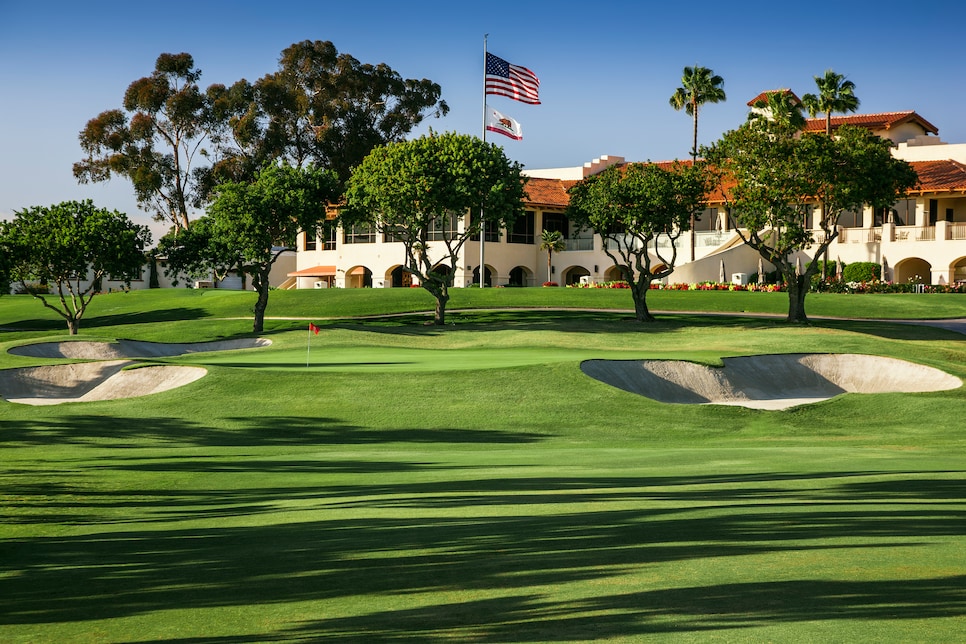 CHULA VISTA, Calif. — The old course here, San Diego Country Club, has aged more gracefully than some of the neighborhoods surrounding it, a beauty amid the blight, yet unimpressively so to the dispassionate arbiter known as time. It has moved on.
The PGA Tour briefly was a tenant and the U.S. Women's Open spent a memorable week there once. But the modern professional game and its expanding demands for space has outgrown the course, which opened in 1921. Hey, Merion is not on a U.S. Open schedule, either, but Torrey Pines is. It happens.
So it is left to an event like this, the U.S. Women's Amateur Championship that begins here on Monday, to remind us of its quality and character and to pay homage to its heritage, meanwhile keeping it relevant in a crowded landscape of otherwise largely forgotten gems.
"Kudos to San Diego Country Club," Shannon Rouillard, director of the U.S. Women's Amateur, said here recently. "They have supported amateur golf in this area for a long time. Amateur golf is in their DNA, and I'm sure they felt it's time for us to knock on the USGA's door again."
That the USGA answered the knock on the door is a tribute to the course and its history. History, that's in its DNA, too. It is apparent over dinner and drinks. When one enters the clubhouse, the Billy Casper Grill is on the right, the Mickey Wright Lounge on the left.
No other operating club in the U.S. likely has spawned two greater champions than Wright and Casper, each of whom were members in their youth, while Casper remained a member until his death. Ben Hogan and Byron Nelson were both products of Glen Garden Golf & Country Club in Fort Worth, Texas, but the club went out of business a few years ago.
Wright and Casper are both World Golf Hall of Fame members. Wright arguably is the greatest woman player in history and had what Hogan and Nelson both called the greatest swing in golf. Casper was the fourth wheel in the big three of Nicklaus, Palmer and Player.
"It was a great experience for a little neophyte girl to watch [Casper] practice at dusk," Wright said from her Port St. Lucie, Fla., home recently. "He said at dusk or very early at dawn were the best times to practice putting, to develop feel.
"He used to get down on the practice tee with me. He was a showoff. He'd say, 'Watch me, Mickey,' and he'd take a wedge, and it wasn't like the wedges they have today, and throw the ball straight up in the air. He was a super guy."
Wright's introduction to golf and San Diego C.C. came when she witnessed an exhibition between Nelson and Leo Diegel there. At the time, Wright's father, Arthur, was a member of La Jolla Country Club north of downtown San Diego, where Mickey took lessons from pro Johnny Bellante, who also tutored San Diego native Gene Littler.
Later, Arthur left La Jolla and joined San Diego C.C. south of downtown.
"I got in with the women's group down there, who are just wonderful people," Wright said. "I played on San Diego Country Club's city intramural team, and we won it. I just made a lot of good friends down there and spent a lot of time there."
Her greatest memory of San Diego C.C. came a decade or so later. In 1964, the U.S. Women's Open was played there. Wright defeated Ruth Jesson in an 18-hole playoff to win the Women's Open for a fourth time. In a career that featured 13 major championships among her 82 LPGA victories, this was the pinnacle.
"It was the first time my mother and father, who had been divorced, were both at a tournament I won," she said. "They were there that day. And there's something about winning at home that's very special. You almost feel like you're cheating, which is good honest cheating."
Casper, meanwhile, was a fixture at San Diego C.C., a caddie in his youth, when he lived two blocks from the course, and a member in adulthood, when he and wife Shirley purchased a house adjacent to the 17th green.
In February 1947, a then-15-year-old Casper was walking home after a day at the course when he saw a man hitting balls from the fifth fairway to the green in the twilight. It was Ben Hogan, who was preparing for a 36-hole exhibition with Dai Rees, an English golfer.
The San Diego Open (now the Farmers Insurance Open) began at San Diego C.C. and was played there twice, in 1952 and '53, and Casper, still an amateur, played in both.
"The San Diego Country Club wasn't my home away from home, as some have suggested," he wrote in his book, The Big Three and Me. "That was where my parents happened to be paying rent for the moment. The San Diego Country Club was home."
The course is known for its undulations ("you don't get a flat lie any place," Wright said). Casper noted in a history of the club that the course "was built with horse and plow" and as a result "there are subtle undulations you don't find on machine-made courses," he said. "I learned to play every kind of shot here, off every kind of lie."
The PGA Tour never returned to the club, though elite golf often did. The U.S. Women's Amateur was played there in 1993 (won by Jill McGill) and the Southern California Amateur has been held there twice, most recently, 2013, when Beau Hossler won. Meanwhile, San Diego C.C. is the host course for the University of San Diego and San Diego State, as well as the site of the annual Mickey Wright Invitational for High School Girls and the annual Billy Casper Memorial Golf Classic, a charitable event to help fund the Billy Casper Foundation.
The club's tournament pedigree, then, is more amateur than professional, though it is a course worthy of recognition beyond its history. Golf Digest's course architecture editor Ron Whitten, in the August issue of Golf Digest that San Diego C.C., called it "a 1921 Willie Watson layout whose undulating fairways could put a Scottish links to shame. Re-bunkered over the years by a number of designers, most recently John Harbottle III, the eucalyptus-lined layout deserves even more national acclaim."
It will get it via FS1, which will televise 15 hours of the Women's Amateur over five days. Among its viewers will be Mickey Wright.
"I'll be watching every minute of it," she said.