News
Sam Saunders embraces his new role of maintaining his grandfather's legacy—and tournament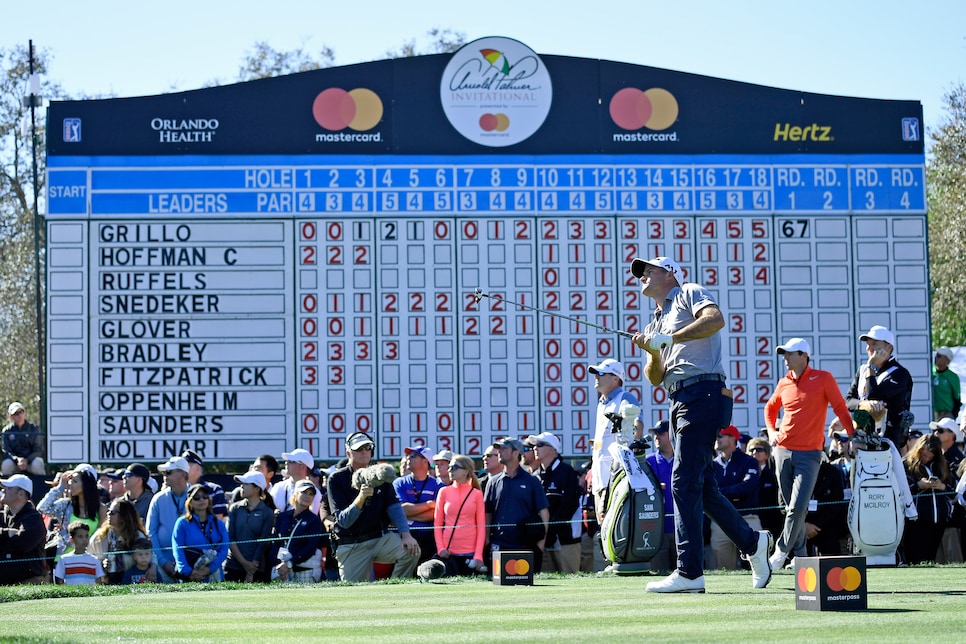 ORLANDO—It was a cold, windy Wednesday morning, but there seemed to be a loving warmth and goodwill shared by those at the Bay Hill Club and Lodge. Inside Arnold Palmer's old office was his daughter Amy, watching her son on a flat-screen TV as he spoke on Golf Channel's "Morning Drive." She talked about the relationship he had with the man he adoringly called Dumpy, and how it fuels his vision to maintain his grandfather's name along with the PGA Tour event that bears it.   What became clear on the eve of the 39th Arnold Palmer Invitational is that Sam Saunders has done exactly what his grandfather would have wanted. He has not only become the face for the tournament, he has become its new heart and soul.   The evolution was foreshadowed in the photographs inside Bay Hill's hallways. There's one of Sam sitting on Arnold's lap as a child. Another is from Friday of the 2004 tournament, when a 16-year-old Sam, moonlighting as a caddie, stood sentry while Arnie ripped driver off the deck into the 18th green on one of the most treacherous approach shots in golf. As the ball curled to the pin, Sam got a little nudge from his grandpa in one of those moments that will never get lost among all the footage—from black and white to high definition—that proved Palmer to be the most charismatic athlete of our time.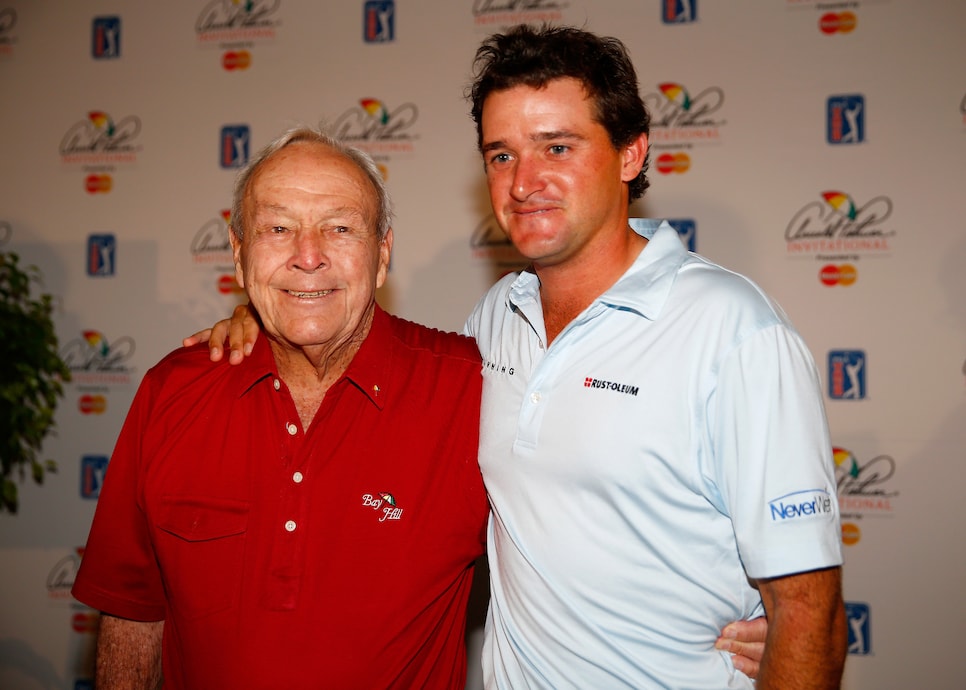 "I think Sam has matured a lot in the last year," Amy said after her son's interview concluded. "You suddenly feel the responsibility that is yours. He felt it not only for his family, but now he feels it for his grandfather. My dad would have been pleased."   The worn leather chair behind the desk in Palmer's office is a big one to fill. The bookshelves are still lined with biographies of John Wayne, Dwight Eisenhower and Mark McCormack, along with novels from Louis L'Amour (Palmer's favorite writer). Next to them is stack of National Geographic magazines and boxes of Callaway balls. Amy talked about the special mementos that remain from the day her father died last September, like the reading glasses that are still on his desk.   Players paid homage to The King by stopping by the office to sign pin flags. Some slow played it, hoping the longer they stayed, the better their chance to feel Arnie's presence once more.
At 27, Tony Finau didn't know Palmer other than the trademark congratulation letters he received from the legend after winning on the Web.com and PGA Tour. Finau found himself so emotional he could not speak. Rory McIlroy visited the office and said at his news conference, "Bay Hill's a special place. It means a lot to us. Obviously, I'm very happy to be here this week, and it would be great to win this tournament in his memory."   Outside Palmer's office sits Janet Hulcher, Arnold's executive assistant for 19 years. She summed it up the best just after Arnold's passing, and repeated the sentiments on Wednesday when she said, "I knew it was going to be hard, but I didn't realize how hard it was going to be … and still is."   Tom Ridge, the former Pennsylvania governor and secretary of Homeland Security was hanging out in a raspberry-colored sweater that Arnold would have given his ubiquitous thumbs up. Asked what he missed the most, Ridge, serving as one of five honorary hosts for this week's event, said quite simply, "The humanness. He was just a regular guy."
Saunders is also paying tribute to his grandfather by playing in the tournament. The Hollywood ending of him winning the title seems a bit out of reach after an opening-round 74, but would it be too much to ask for the new host pro to play on the weekend? His score matched the number posted by pre-tournament favorites Rory McIlroy and Rickie Fowler. They go into day two of "Arnold's Tournament" tied for 58th as more cold weather is expected Friday morning.   But Saunders' mission is a bigger one, anyway. With Palmer's loss, there are things that cannot be replaced, and Sam isn't going to try. But if he can keep Arnold's memory alive beyond his lifetime and preserve The King's legacy, then Sam will have done his job.   The first signs of that started to come through in Saunders' heartfelt eulogy at the memorial service in Latrobe, Pa., last October. The impression was solidified when Saunders spoke to the API's future on Wednesday—with conviction.
RELATED: Watch Sam Saunders' give memorable eulogy at Arnold Palmer's memorial   "This year is special," he says, now back in the office. "It's hard, but at the same time it's very easy for all of us to remember and honor our grandfather. What's important is that [the tournament] stands a long time. Hopefully this week we get off to a hot start and keep that going for many, many years. I feel good about it. It doesn't seem like something that's only going to happen for one year. It seems like it's going to happen for a long time."   In the case of Arnold Palmer, that should mean forever.