pga tour
Fortinet leader Sahith Theegala has status wrapped up for next year. His reason for playing in Napa is simple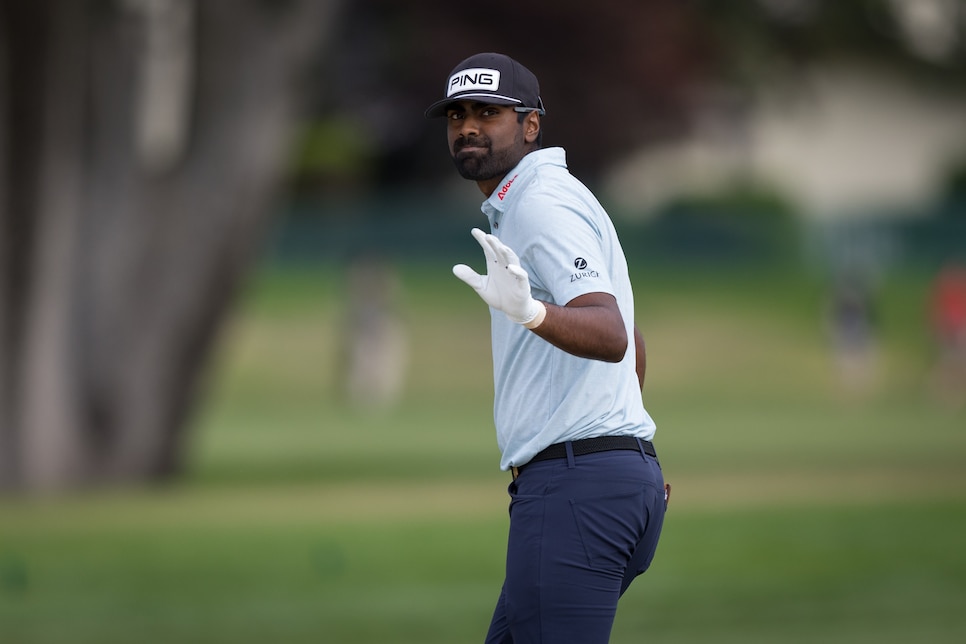 The answer was simple, even if the question wasn't necessarily welcomed.
Sahith Theegala is tied for the lead with S.H. Kim after the second round of the Fortinet Championship, shooting a 64 Friday at Silverado that included a bunker hole out for eagle. He finished the season 31st in the FedEx Cup standings, just one spot out of qualifying for the Tour Championship at East Lake. Although that still irks him, he wrapped up status for 2024 which includes spots in all the tour's biggest events.
When asked why he's playing this week, Theegala, one of the more thoughtful interviews on the PGA Tour, responded by saying, "I don't think that's a great question."
To him, the answer was way too obvious.
"I love California events and West Coast swing events," he said. "I love Poa annua. I love this golf course. This was one of my first sponsor invites I got [in 2020], and one of my best friends lives in Napa. It's just a great event for all my family and friends to come out to."
"It's still a PGA Tour event with all the perks and these guys are so good … I understand a lot of guys are not playing with the new structure, which is great.
"I'm such an addict, it's tough for me to sit around and do nothing, too. I felt like three weeks was ample break. I was fired up missing East Lake by one, so just kind of wanted to play a tournament ASAP."
The 25-year-old Californian who now lives in Houston said that he plans on playing three times in the fall, will take time off during the holidays then will come out guns blazing early next year. He didn't touch a club one during the first half of his three-week breaks and only started to knock off some rust five days before heading to the Fortinet early to spend time with his parents and celebrate his father's birthday.
"I would say just kind of keeping the competitive juices flowing," Theegala said about his goal for the week. "My whole life I really haven't gone that long without playing a tournament other than the injury I had and I never wanted to make months off."