Equipment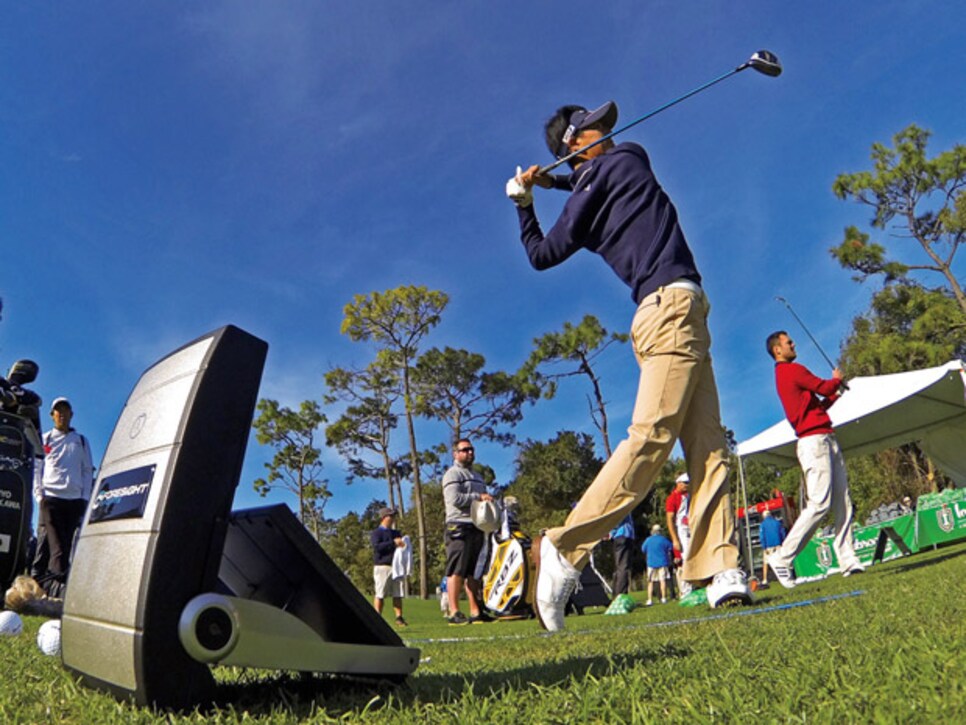 Ryo Ishikawa starts each week on the PGA Tour the same: calibrating his swing with a portable GC2 launch monitor.
Signing Ryo Ishikawa is not a task left to empty suits. The 21-year-old has yet to win on the PGA Tour, yet ranks among golf's top 15 earners as the most popular face in the game's largest potential market, Asia. So when his contract with Yonex ended, Callaway didn't mess around. "We went to demonstrate the level of service he might expect," says Alan Hocknell, Callaway's senior vice president of research and development, about the trip he and chief club designer Roger Cleveland took to a remote course north of Tokyo. With the help of an interpreter, Hocknell spoke to Ryo (pronounced d-yo) about what could be possible with new clubs.
Taking turns blasting shots from a practice bunker, Ryo and Cleveland had a more gestural conversation. Then, in a downpour, the two great minds of Callaway relegated themselves to umbrella-toters for Ishikawa and his friends for nine wet, mirthful holes.
Papers were signed. Ishikawa bought a house in Carlsbad, Calif., where Callaway is headquartered. Staff at the Ely Callaway Performance Center quickly readied a private practice tee. "Not knowing his schedule, we wanted to make sure he was always accommodated," Hocknell says.
But the real man of accommodation is Kenji Shimada, who built Ishikawa's first Callaway set. A veteran rep for Callaway Golf Japan, Shimada is Ishikawa's "minder" on tour. He changes grips, delivers clothes, supervises photo shoots, and handles almost anything that comes up. That Shimada is not an agent, but an individual from within the company devoted to Ishikawa, is a position without parallel in the equipment business.
"I handle everyone's locker except Ryo's," says Mike Sposa, the go-to rep for Callaway's PGA Tour staff. Ishikawa's clothes, hat, gloves, shoes and bag are unique to the Japanese market. A myriad of details that risk being lost in translation. Similarly, his driver has a silver face instead of a dark PVD finish, and his hybrid has gold paintfill instead of red.
But what might seem like a gap between two cultures within one company is narrowing. Thanks to Engage, Callaway's cloud-based archive of player information, synergy is on the rise. The database has the specs and performance data of every club ever built for every Callaway player. It lives in real-time so that Hocknell "can stream TrackMan [launch monitor] numbers of Ryo hitting on the range while I'm at the airport." Hocknell is never intrusive but keeps Ishikawa apprised of patterns.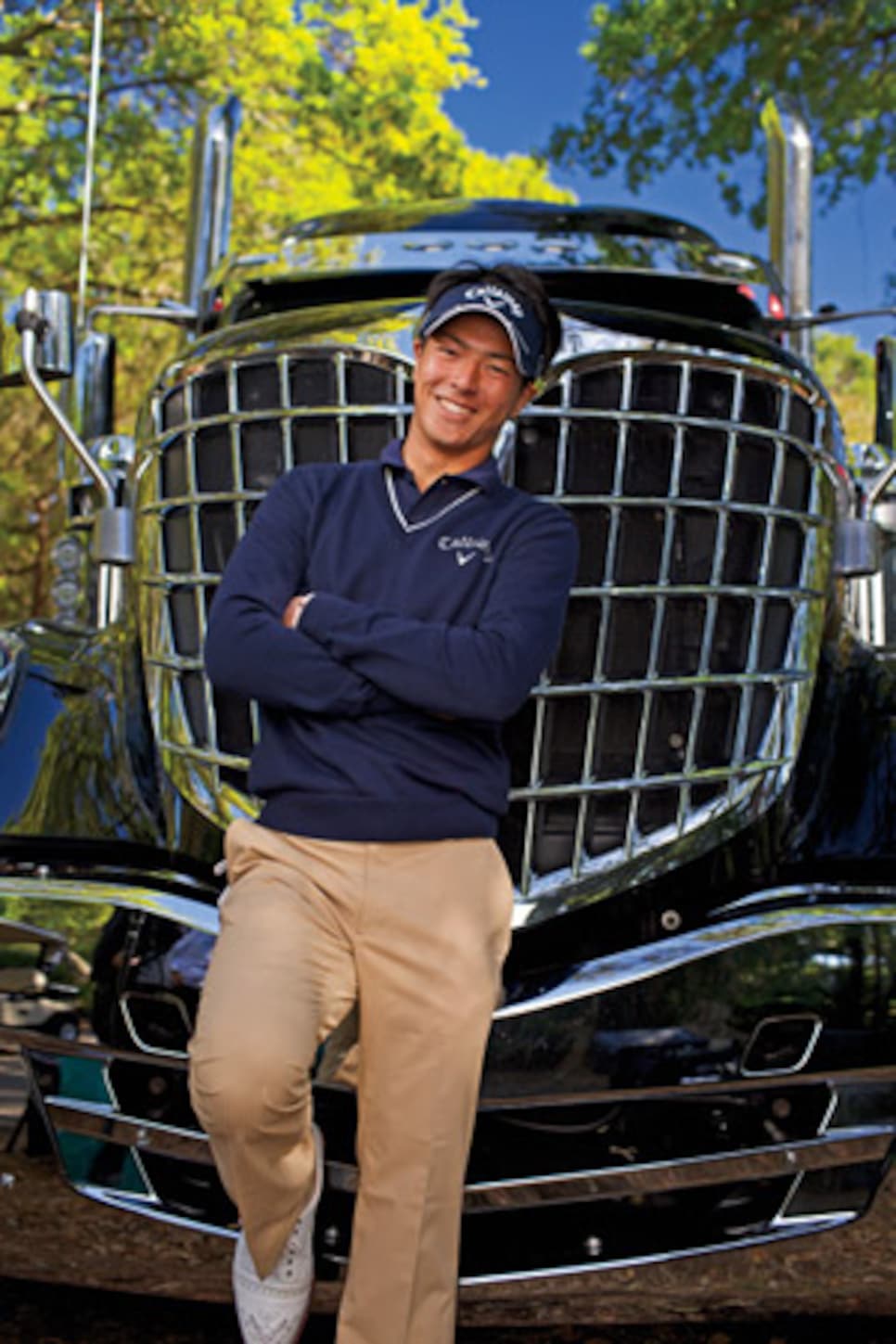 Sposa recently had the honor of building his first club for Ishikawa. The 14.5-degree X Hot Deep 3-wood has the glossy black finish sold in Japan, instead of matte gray, but is all-American under the hood. The notion of building a tall-face 3-wood for use off the tee came about from input by long-hitting Callaway staffers like Phil Mickelson, Gary Woodland and Luke List, all of whom had to hit 3-wood off the fairway only a couple of times last season, according to Hocknell.
Ishikawa laughed and pointed after his first hits. "I carry it 260 off the fairway, and 275 from the tee," he says, gains of 15 yards. "It is very good news for me. I'm learning the U.S. signature golf course is tight and longer with thick rough." With this new "safe" club, he plans to experiment with a longer, 46-inch driver as an extreme-distance option.
Ishikawa is becoming more familiar with U.S. courses and the language, enough to discuss physics with Hocknell. Although the new 3-wood distance is owed to less spin, there's a risk in getting too low. "That's when slight mis-hits can fall out of the sky," Hocknell says. "Ryo understands he doesn't need the greatest distance but the greatest repeatability of overall distance outcome." Carrying his launch monitor, Ishikawa arrives at the range with his entourage. But at this moment, they don't matter. Nor does anyone in Carlsbad or Tokyo. Others can give him guidance, but it's ultimately up to him to figure out what his new clubs can really do.
Every golfer works alone.
MORE CONSISTENCY, RYO'S WAY
Even if an 18-wheel equipment truck doesn't follow you around, there's a way to keep sharp with one tool: a launch monitor. Ishikawa checks his spin rates at each tour stop. If his shots are in a certain range (he likes 2,400 to 2,600 revolutions per minute teed on a 3-wood), he doesn't tinker with his swing. Your local golf pro or clubfitter likely has a launch monitor and can tell you which numbers are right for you.