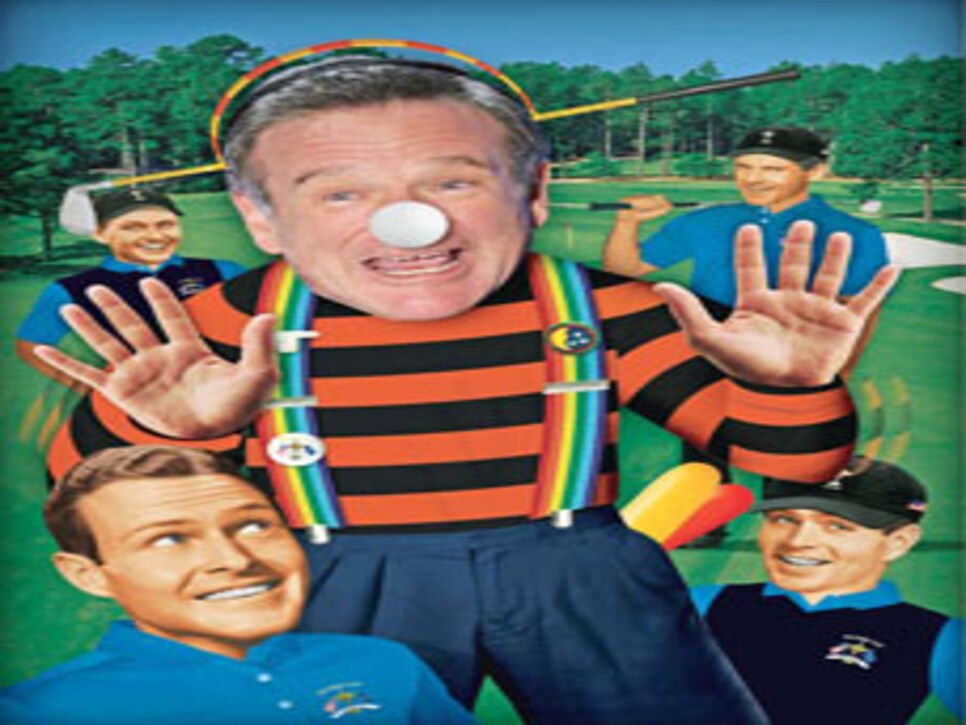 Fred Couples has said that he'd like to have comedian Robin Williams around to loosen up the U.S. team when he's the captain for the Presidents Cup next year. Would Robin Williams help the U.S. Ryder Cup team?
Comment: "We're looser than people think. Behind those closed doors, we're not all twiddling our thumbs, trying to wait until the next day. We're playing Ping-Pong, we're playing pool, we're having a few beers, we're having a good time. The bottom line is this: When you win, you look like you're having fun."
c) Both of the above: 35%
Comments: "He's like a gnat that just swarms around your head. Irritating." . . . "The other guys, from what I've heard, don't really like Sergio that much -- but they love him during the Ryder Cup." . . . "He acts like a 6-year-old."
The U.S. has lost only three home matches in Ryder Cup history (1987, Muirfield Village; 1995, Oak Hill; 2004, Oakland Hills). How important is the home-country advantage?
b) Makes some difference: 50%
c) Not that big a deal: 0%
Comment: "Sam Torrance [2002 European captain] had the greens at The Belfry running at about 6 [on the Stimpmeter]. They got slower every day. Every putt we hit was short -- every one. Then when you do hit it hard enough, you have to whack it so damn hard you can't hit it straight. It was genius on his part."
How does the fact that U.S. captain Paul Azinger gets to fill out the 12-man team with four captain's picks instead of two affect the Americans' chances of winning?
b) That's the difference-maker: 35%
When you haven't been part of the Ryder Cup competition, have you watched the matches on TV?
a) I don't miss a minute: 50%
b) I watch some of it: 50%
What's your reaction to Seve Ballesteros, long the leader of European teams, saying he wants the United States to win this year because European victories have become "boring"?
a) Typical Seve gamesmanship: 80%
b) Typical Seve sportsmanship: 20%
Comment: "It got his name in the paper again. Maybe he's right."
How tired do you get while competing in the Ryder Cup?
a) More tired than from a regular tour event: __90% __
c) About the same as a tour event: 5%
d) Are you kidding? I could play 54 holes a day: 0%
Comment: "It's the only time, including majors, when you're nervous when you tee off, and you're nervous on the next shot, and the next shot and the next shot. It doesn't go away."
The Ryder Cup hangs in the balance, and you're not sure if you've seen a tiny rules infraction -- a ball might have moved on the final green after your opponent grounded his putter. He says nothing. What do you do?
a) Ask him about it on the green with no one else listening: __80% __
b) Nothing. It's a game of honor, and if something happened, he'll call it on himself:20%
c) Tell my captain and let him handle it: 0%
Comment: "You have to say something. Whether you say something immediately or you wait until after he hits the putt, that's the debate. I'd prefer to wait to see if he calls it on himself. If he says nothing, I'd go to him and say, 'I think your ball moved before you hit it.' If he didn't see anything, then I'd say, 'I think we need to call an official and have him replay the tape.' "
If Colin Montgomerie doesn't make the European team or isn't selected as a captain's pick, how does that affect the European team?
Comments: "I don't care how he's playing, if you put him in the Ryder Cup, he's going to get you some points." . . . "His best golf is behind him."
After the Europeans have won three in a row and kept the Ryder Cup after eight of the past 11 meetings, how important is it for the U.S. team to win this year?
c) Hey, it's just an exhibition, right?0%
Comments: "We don't like losing, no matter what. Especially when we're representing our country." . . . "I'd like to say it's just an exhibition, but we've gotten killed the last two times." . . . "I think it would just be really nice. I don't think it's vital. It's vital that your country wins the war it gets in. It's vital that we stop terrorism."
How would you rate the pressure on the U.S. team this year after three straight losses, two of them lopsided?
Comments: "There's no way around it: If you keep getting beat, it wears on you." . . . "Pressure is self-imposed. It's different for everybody."
Does Jack Nicklaus have a winning record in 10 Ryder Cup singles matches?
(Answer: Neither; he was 4-4-2)
Comment: "It just shows you that people get up to play the best players." . . . "He was all about winning major championships."
What effect will Tiger Woods' absence have on the U.S. team's chance of winning?
a) It'll be the Wounded Tiger Syndrome: The U.S. team will suck it up and win: 45%
b) The U.S. was going to lose anyway: 23%
c) It hurts America's chances of winning: 22%
d) The Europeans are a lock to win: 10%
HOW IT WAS DONE: We interviewed 20 past and present U.S. Ryder Cup players and captains.
Mark Soltau is a contributing editor to Golf Digest and the editor of TigerWoods.com.