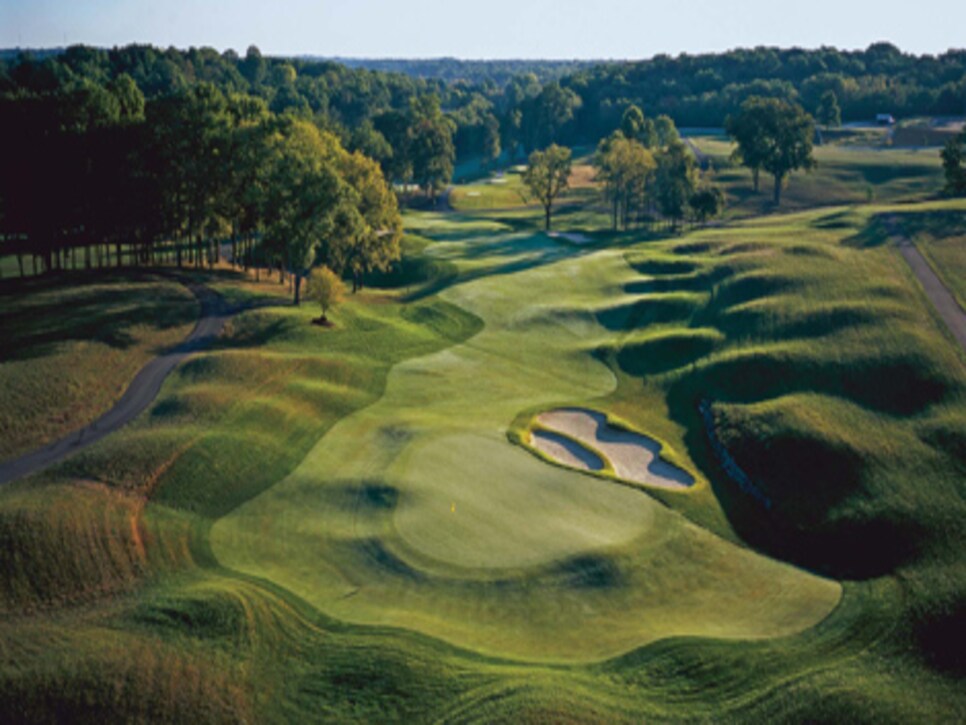 NO. 17 / PAR 4 / 477 YARDS / A stat from the last Ryder Cup: Only 17 of the 28 matches made it to the 17th hole.
I know I tend to sound ambivalent about the Ryder Cup. On one hand, I think the matches have been made too important for the wrong reasons. Fundamentally, I believe the Ryder Cup is an exhibition by some of the best golfers in the world, great entertainment and an exercise in sportsmanship, camaraderie and goodwill.
The individual performances, good or bad, don't determine who the best players in the world are. Nor does the side that happens to win determine on what side of the Atlantic the best golf is played.
Too many people believe otherwise, and that helps to make the matches too contentious among the teams and their fans.
On the other hand, I always want the Americans to win. I wanted to win the six times I was a player and the two times I was a captain. And I want the U.S. team to win again at the matches this September in Louisville.
I mean, I'm an American. And I'm tired of hearing about the European dominance in the Ryder Cup. I'm sure for many years the Europeans got tired of hearing about American dominance, and they're reveling about turning it around. But I just think American golf is better than perceptions based on recent Ryder Cup results.
I also want the U.S. to win for all the players I've had on the Presidents Cup teams I've captained. They're great young men and terrific players who work hard, and I know a victory would be a positive for their confidence and their individual futures. The way things are today, with so much scrutiny and criticism of every player's performance in the Ryder Cup, it's far better to be part of a victorious team than a losing team.
I'm particularly looking forward to this Ryder Cup because I'm very proud of the changes we've made to the host course, Valhalla. When the course opened 22 years ago, as the designer I knew there were things I would want to change as time went on. Since then, my ideas about golf-course design have evolved, and advances in technology have radically changed the way the game is played at the highest level.
When Valhalla was the site of the 2000 PGA Championship, it was a par 72 of 7,167 yards. With our renovation for the Ryder Cup, it will play as a par 71 of 7,496 yards (the second hole has been converted from a par 5 to a 505-yard par 4). Besides adding length, we've added some bunkers and rebuilt a number of greens to create more variety in hole locations and improve the course strategically. I'd say that over 18 holes, the course is now about a shot and a half tougher. We've increased difficulty, but more important, we've created a more complete golf course as far as challenging all parts of the game.
One of Valhalla's strengths is that its two nines occupy very different land. The front nine is built on the flood plain of Floyds Fork, with the playing areas occupying the high ground. It makes for a kind of target golf in an almost British setting. The back nine weaves through a more wooded area in which most of the shots are framed by large trees.
Several holes have been altered dramatically, most notably the sixth, now a par 4 of 500 yards. The green has been moved back, and even after a well-positioned tee shot, the approach will be at least 180 yards. No one will be hitting a wedge to this hole they call The Bear.
The seventh hole, Player's Pick, is a risk-reward par 5 of 601 yards with a dual fairway split by a quarry. To reach in two shots, a player will have to choose the left fairway, which is only 26 yards wide in the landing area. We've extended the bordering quarry so that it runs all the way to the edge of the green, so anyone reaching the green in two will have to carry the approach onto the putting surface.
The 16th hole, a 511-yard par 4 called Down the Stretch, is a monster. At first I did not fully support the PGA of America's decision to lengthen this hole, but as the golf ball has continued to go farther, I'm in agreement that it's a very good change. We've also added three greenside bunkers. The area behind the green is now an amphitheater that will be overflowing with spectators during the matches.
As usual, all eyes will be on the captains, Nick Faldo for the European team and Paul Azinger for the United States. Paul, one of the most inspirational Ryder Cup players ever, is definitely from the proactive school of captaincy. I played my Ryder Cups under captains who employed a more benign style. The feeling in my era was that everyone who was good enough to make the team obviously knew how to play and was pretty self-sufficient. We always believed we had the superior team, so our captains--I played for Sam Snead, Jay Hebert, Jackie Burke Jr., Arnold Palmer, Dow Finsterwald and Dave Marr--made the pairings and then pretty much stayed out of the way (also see "Faldo & Azinger: The Odd Couple").
I basically took the same approach in my first captaincy in 1983, but by that time our opponents from Great Britain & Ireland had added players from all over Europe, like Seve Ballesteros, and the matches became more hotly contested. We were fortunate to win at PGA National thanks to some last-hole heroics by Lanny Wadkins.
After Europe won the cup in 1985, the buildup for the 1987 matches was a lot more intense. I was the U.S. captain, the founder of the host course, Muirfield Village, built just outside my hometown of Columbus, Ohio. Early on, our team had difficulty winning the tight matches. I got after them in our team meeting, saying, "Guys, we have got to find a way to win the 18th hole." In retrospect, I might have been too hard on them. I added to the pressure and made them tighter. We won the 18th hole in only one match, and we lost the Ryder Cup on American soil for the first time. Reflecting on that time helped me to refine my philosophy about Ryder Cup captaincy.
Rule No. 1: The captain should relieve pressure, not add to it. I believe the Americans as a team are under more tension than the Europeans, with less to gain and more to lose in terms of public perception. That makes it harder to have fun and play. So with my four teams in the Presidents Cup I've emphasized the goodwill and camaraderie of the matches, team chemistry and plain old fun. I don't think my players have felt exactly the way I feel about the matches, nor did I expect them to. They've come up in an era when America has lost more than it has won, and they've been criticized in the media as a result. I'm under no illusion that being under the microscope representing your country and having your teammates count on you isn't a lot of pressure. But I've tried to get them to take it my way, in part because I think that's the appropriate perspective for the matches, but more so to relax them and let their talent come out.
Granted, I might have been too laid back in 1998 in Australia when I captained our Presidents Cup team for the first time. It was obvious when our team arrived that several of the players were less than fired up. Choosing not to be as vocal as I had been at Muirfield Village, I chose to let it ride. When we got waxed by the International side, I didn't have to say anything. Several players came to me and apologized, saying, "We owe you one."
Since then, my approach as a captain has been that less is more. On the three winning Presidents Cups teams I've led, I didn't really do anything. I was just sort of there. More than anything, I was their friend. And I think it worked. I've had a few come up to me after the first dinner on Monday night and say, "You know, we had fun tonight."
So just like my old captains, I try to stay out of the way. With the pairings, I asked them to write down whom they preferred to play with and whom they would prefer not to play with. If I found that there was a player who was no one's preferred partner, I went to guys and asked if they would play with so and so. Each one I ever asked said yes.
At the same time, I've avoided talking strategy for better-ball and alternate-shot pairings. The more you pile on these guys, the less response you get. That's why I told Paul I didn't think his assistant captains, Raymond Floyd, Dave Stockton and Olin Browne, should be involved in coaching the players. Raymond and Dave were both tremendous competitors and tacticians as well as former captains, but they should be there primarily to advise Paul. There will be times in the course of the week when the players might want to pick their brains or ask to hear some stories. Those can be wonderful moments, and I've had a lot of them at Presidents Cups. But I think preaching to the players can decrease your chances of winning.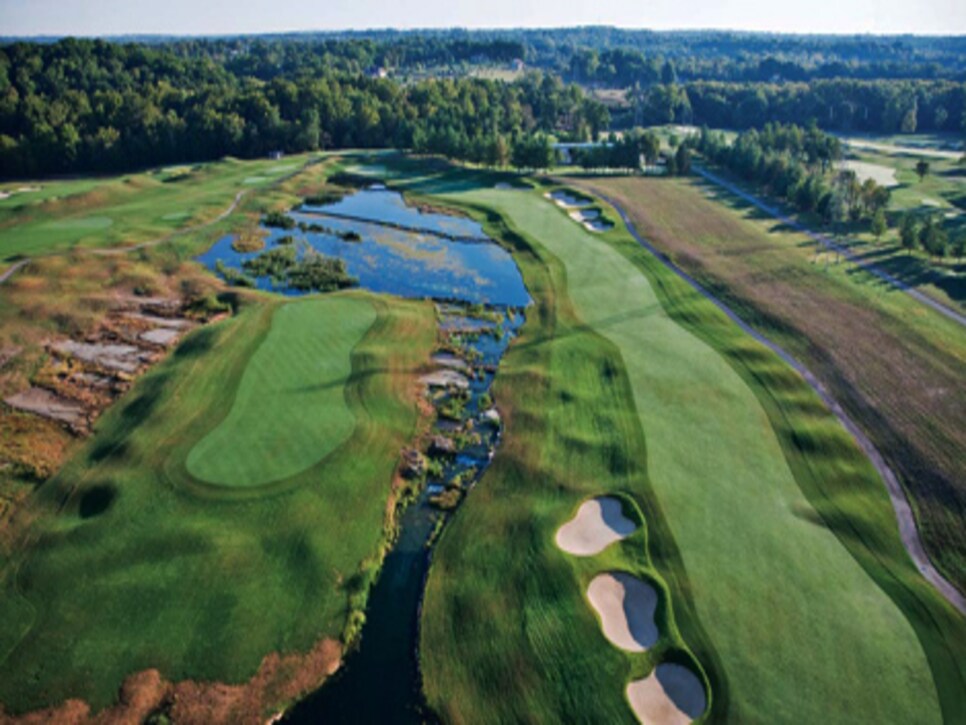 I remember what I was like as a Ryder Cup player. It was a great honor to make the team and to represent my country, but frankly, by the time the matches rolled around in September, I was nearly golfed out. The major-championship season was over, and I was already in the process of recharging for next year. I think a lot of my teammates felt the same way.
I've read where players say that the Ryder Cup is the most pressure they've ever felt. That wasn't the case for me. Part of my preparation for my best golf was the intentional pressure I placed on myself, and often I couldn't get in that mind-set in a Ryder Cup. I admit that my 1969 match with Tony Jacklin was a little nerve-racking, but it was still about goodwill, and I was comfortable picking up Tony's coin on the final hole. (The concession halved the individual and team matches, but the United States kept the cup as the defending champion.)
Perhaps my state of mind led to me getting drummed too often. Yes, my Ryder Cup record was OK (17-8-3), but I was beaten in singles four times, including twice by Brian Barnes. That was more singles matches than I lost in my last three years of match play as an amateur.
I never really played my best in the Ryder Cup, and I think Tiger Woods, whose overall record is 10-13-2, has the same issues. After Tiger has gone at maximum intensity in four major championships and probably won at least one, the Ryder Cup guys sidle up to him and say, "OK, Tiger, now we get to the important stuff." He's not necessarily going to get up for that. I don't care what you ask him to do. It's just not going to happen.
So on my teams, I've just told him, "Tiger, have fun, enjoy it, play the best you can. I understand where you are." And he'd say, "I'll be fine, Cap. I'll be right there." The point is, I let him tell me that, not me tell him. I mean, if he turns around and plays great, fantastic. But I don't think it's my job to go in there and hover over him. And he's always given me all he's got.
Tiger won't be playing in the matches this year, of course. If he were, I'd consider the Americans big favorites. I still think they'll win. I just believe we have better players. Europe has a lot of good players and a host of very promising young guys. But who among them has a great record? It isn't like the 1987 European team that had Ballesteros, Faldo, Sandy Lyle, Bernhard Langer, Ian Woosnam and Jose Maria Olazabal. We probably didn't give them enough credit at the time, but history has proved those guys were great players. It was no accident they won. But there's no reason the U.S. team should lose the Ryder Cup at Valhalla.