Friday four-ball pairings
Ryder Cup 2021: Pairings for U.S. and Europe in Friday afternoon four-ball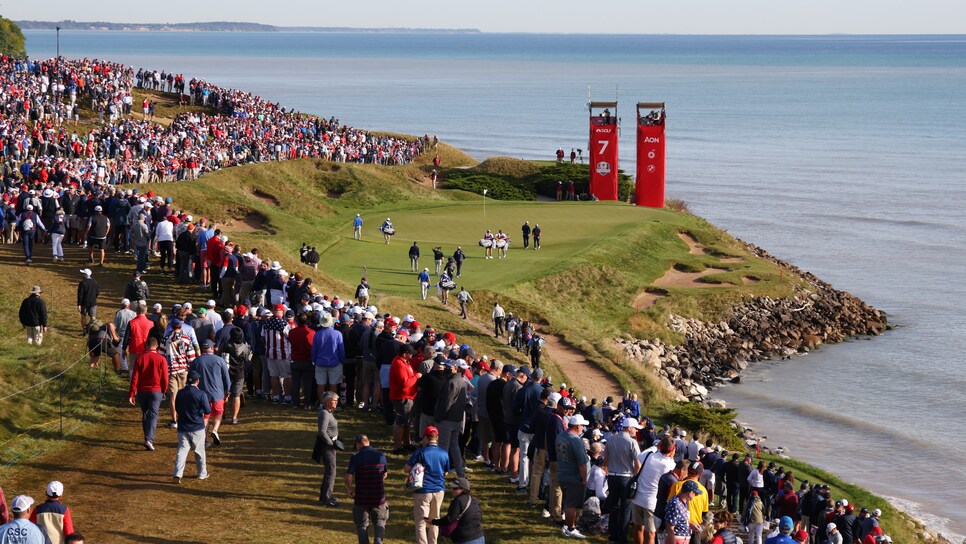 HAVEN, Wis.—Only 30 minutes before the first match was set to go out, the pairings for the Ryder Cup's Friday afternoon four-ball competition was released, and there were a couple of big surprises on the U.S. side.
With a 3-1 lead after the opening foursomes session, American captain Steve Stricker didn't put together Jordan Spieth and Justin Thomas, despite their 2-0 record in four-ball in 2018 in Paris, though maybe it was because they played raggedly on Friday morning at Whistling Straits in losing 3 and 1 to Jon Rahm and Sergio Garcia. Spieth will sit out the afternoon, while Thomas was paired with Patrick Cantlay in the last match of the day against Tommy Fleetwood and Viktor Hovland.
Stricker interestingly broke up Cantlay and fellow Ryder Cup rookie Xander Schauffele after they scored the biggest rout in foursomes, beating Europe stars Rory McIlroy and Ian Poulter 5 and 3. Schauffele will play the afternoon with Dustin Johnson, who won in the morning with Collin Morikawa. The latter is sitting out the afternoon. The Americans take on Paul Casey and Austrian rookie Bernd Wiesberger.
Bryson DeChambeau will see his first action and one of the biggest questions of the week—who will play with him?—was answered when Stricker put the former U.S. Open winner with Ryder Cup rookie Scottie Scheffler, who also will be seeing his first action. They play Rahm and Tyrrell Hatton.
Americans Tony Finau and Harris English, who sat in the morning, are teamed up against Irishmen McIrloy and Shane Lowry.
A closer look at the pairings:
Match 5, 1:10 p.m (EDT): Dustin Johnson-Xander Schauffele vs. Paul Casey-Bernd Weisberger
A complete shocker on the American side to see Xander Schauffele and Patrick Cantlay broken up, and you can easily see Stricker looking like a genius if it works, but the second-guessing will be intense if it backfires. That said, DJ/Xander is a monster of a team, and you have to think this is going to be wildly tough for Casey, who lost Friday morning with a Ryder Cup rookie and looks likely to do so again.—Shane Ryan
The first real shock of the Ryder Cup. Stricker said he was going to stick to his plan, and clearly the plan was to break up Schauffele and Cantlay despite their budding bromance and both being in fantastic form. We understand that plans exist, but the best coaches and leaders adapt. Who among the team wouldn't have understood if Stricker said you know, these guys just blitzed Rory and Ian Poulter and we're going to keep them together. A true, true surprise. The old phrase if it ain't broke comes to mind. On the other side, Wiesberger—widely considered the weakest player here—will get his feet wet.—Daniel Rapaport
Match 6, 12:26 p.m. Bryson DeChambeau-Scottie Scheffler vs. Jon Rahm-Tyrrell Hatton
No surprise with Bryson and Scottie, and DeChambeau should put on a show in four-ball, where he wallops away with relative impunity. A surprise to see Rahm and Garcia split up after they played as well as you can play in foursome, but not as big a surprise as splitting up Schauffele/Cantlay.—DR
Here we have Padraig Harrington delivering a shocker of his own by breaking up the Spanish Armada of Rahm/Garcia. Word on the street is that Hatton has been struggling all week, and his form coming in was bad, so this is a puzzler. The big headline though is the 2021 premiere of Big Bryson, and with another consistent bomber in Scheffler, this is a powerhouse American team.—SR
March 7, 12:42 p.m., Tony Finau-Harris English vs. Rory McIlroy-Steve Lowry
This is the biggest question mark for the U.S. Finau was one of the few bright spots in Paris, and you expect consistency from him, but the question of how Harris English will respond to the Ryder Cup spotlight...well, that's a complete unknown, and he asn't always looked terrific under pressure. Rory/Lowry is the Irish pair we expected, and Rory will be glad to have a new partner after Poulter's woeful performance in the morning. This feels like Europe's best chance for a point in the afternoon, which means it's essentially a must-win.—SR
Rory and Lowry always seemed a likely pairing—both are from the Irish island and they're close friends, frequently playing practice rounds together on tour. Finau and English have a high ceiling—both those guys can get hot, fast. Like that duo a lot.—DR
Match 8, 12:58, Justin Thomas-Patrick Cantlay vs. Tommy Fleetwood-Viktor Hovland
Again, Stricker sticks with the plan … but Thomas was so poor in his morning match with Spieth, particularly on the greens, that you half expected Stricker to pull the plug. Fleetwood is a question mark coming into these matches—he missed the FedEx Cup Playoffs but obviously has proven his top-level gear is top 10 in the world quality.—DR
These pairings were clearly set ahead of time by Stricker, but you have to wonder if he was tempted to sit Thomas after a really rough morning that saw him miss a ton of putts. Then again, he's been America's best player for the last few President's Cups and Ryder Cups, and it's incredibly hard not to run him out for all five sessions. The Cantlay pairing is odd, but could work out to perfection. The Fleetwood/Hovland pairing isn't exactly inspirational for the Europeans—one hasn't been up to his usual form lately, and the other just lost a morning foursomes match and can't be riding too high. Big advantage to the Americans here, especially if Thomas rebounds.—SR