News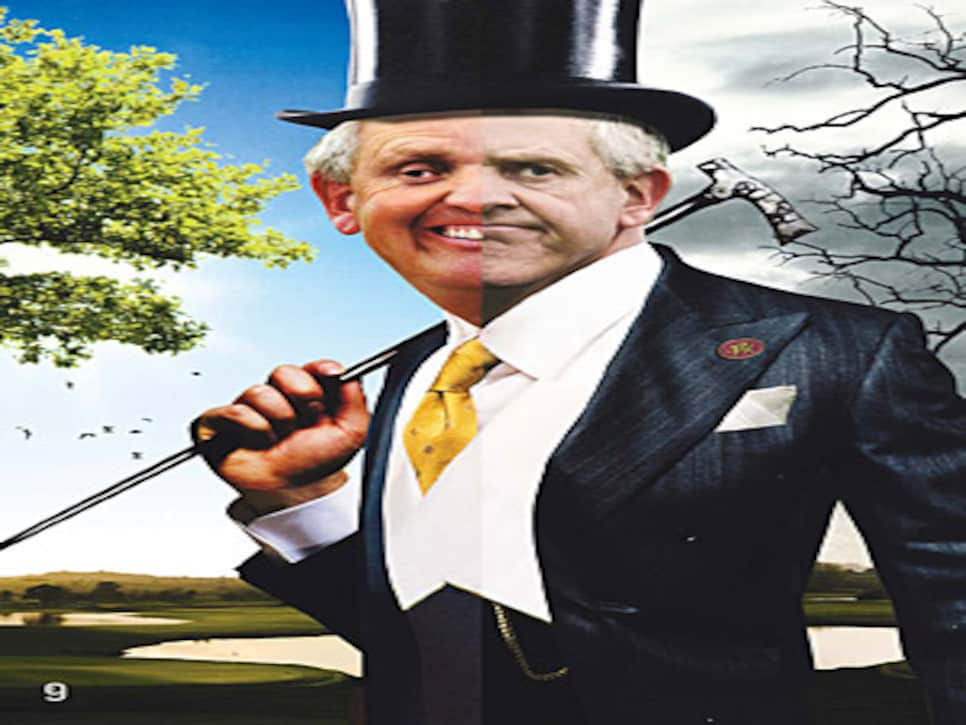 Every golfer has thought it -- You wonder sometimes why you put yourself through this -- but only one golfer ever said it in public right after blowing a major championship.
"That's me, though, isn't it?" says Colin Montgomerie, the good Colin Montgomerie. "Say it out loud, right into a microphone. I just can't help myself."
The occasion was the 2006 U.S. Open at Winged Foot, his fifth second-place finish in a major, when a 7-iron anywhere on the last green would have put everything right. He'd have finally won in the United States. A reservation in the Hall of Fame would have been confirmed. The slump-shouldered, droopy-gaited, rabbit-eared Colin Montgomerie -- the bad Colin Montgomerie -- mightn't have disappeared completely. But he would have been downsized considerably, like Jack Nicklaus in 1992.
That year's Open at Pebble Beach was Montgomerie's first, and though the Scot finished third behind Tom Kite and Jeff Sluman, for a long time Sunday he had reason to believe he'd won, because Nicklaus said so. "He welcomed me into the TV booth," Montgomerie recalls, "shook my hand off the air and said -- and I'll never forget this -- 'Congratulations on being our national champion.' It was the first time I ever saw him in person. He had the tiniest little fingers. [A six-footer, Montgomerie is fitted with the hands of an even larger man.] I'd always had this impression of a huge Golden Bear who hit the ball a mile, and here he was, this little guy, calling me the American champion. I felt like walking out and walking back in again. Kite was on the 11th hole."
Far from the American champion, Montgomerie would come to be known, at least in America, as an American bust. As a matter of fact, he won a million-dollar first prize in the U.S. once, back when that was an exceptional sum. But the tournament was a match-play event, a precursor to the Accenture, and for some reason beating Ernie Els in the semifinals and Davis Love III in the final wasn't enough.
Left to right: 1994 U.S. Open at Oakmont, 1991 Ryder Cup at Kiawah, 1995 PGA at Riviera.
But this is getting ahead of Montgomerie's American story, which begins in 1983 in Roswell, N.M., home of a lot of little green people with antennae poking out of their heads, and the New Mexico Military Institute. ("Good old NMMI," as Montgomerie calls it.)
His father, James Montgomerie, had scouted the empty campus during summer break, and in the absence of drilling cadets and fulminating upperclassmen, it seemed idyllic. When James was the secretary at Royal Troon, people said Monty didn't fall very far from the sour apple tree. But James' flintiness, like his son's resemblance to Robin Williams in drag, was exaggerated. Colin never really looked that much like Mrs. Doubtfire, and his father should have been known for gentleness. A good man who buried his wife too young, James was a bear for Colin's education.
"I instantly knew NMMI wasn't for me," Montgomerie says. "I went to see the colonel or whatever it was, and said, 'Look, I've made a mistake.' He said, 'Well, you're here for the semester anyway,' and I go, 'No, not really.' So I said goodbye to my roommate, who I don't know his name and never did, and ran away, to put it bluntly."
It wasn't that Monty was homesick. He was a veteran of English boarding school. For pure terror and treachery, none of America's bugle-blowing prisons can touch English boarding school. If Gen. George Patton had gone to English boarding school instead of West Point, he'd have whimpered himself to sleep every night.
Hopping a Greyhound bus, Montgomerie rode four hours to Albuquerque, and telephoned his dad. "Right," James said, "get on the first flight to a major American city and call me back." There were four planes leaving that morning, for Los Angeles, San Francisco, Dallas and Houston. The first went to Houston. "OK, I'm here," he told his father.
"Let me see what I can do."
A friend of a friend of a friend, a minister, knew the golf coach at Houston Baptist University. Like nearly every cleric in the world -- priest or Protestant -- the vicar was at least a devout if not a profane golfer. Montgomerie's résumé (the Scottish Youth Team, basically) wasn't overwhelming. "But they invited me to be a 'walk-on,' whatever that was," he says, "and if I played well enough, they'd see about a tuition scholarship the next year."
Monty had a thousand dollars to last him five months. "It seemed like all the money in the world at the time," he says, "but it wasn't." He landed a $4-an-hour job at a country club picking up range balls in one of those little caged carts, "with everyone aiming at you," he says, "and I'd do the same." Figuratively, he would spend his entire career riding back and forth in that slow, rolling shooting gallery, being bombarded from every angle.
But Houston Baptist was a stunning success. "I had a thoroughly great time," he says. "It was a fantastic way of life." From the Astrodome to the Space Center, he took in everything he could. It's possible that Montgomerie knows America and Americans better than any other golfer who ever crossed the ocean. "I even went to the Southfork Ranch up in Dallas," he says, "to say hi to J.R. Ewing." Of course, about five minutes after Montgomerie unpacked his clubs, he was the No. 1 player on the team. He had that rhythmic, metronomic swing even then. Unlike most foreign amateurs, who just pause at U.S. colleges, Monty stayed four years and was graduated (business and pre-law). He missed the cap-and-gown ceremony for a Walker Cup at Sunningdale, the right choice then and now, but feels a palpable disappointment still.
"I got an education at Houston Baptist," he says, "and not just a sit-down-in-a-classroom education. It was an education in life. I learned to budget my money, to live on my own." He let go of amateur golf, "where everybody sits around at night talking about their games," and steeled himself for the pros, "where nobody is interested." As he says, "The college coach cares what you did on the seventh hole, how unlucky you were. 'Aw, that's a shame, Monty.' " But the coach wouldn't be going with him to the next level, where, as Montgomerie didn't have to say, "everybody's delighted if you play rubbish."
In a sense -- or using Monty's favorite phrase, if you like -- Houston is where he grew up (if he grew up). "I never used my degree, but I did. From the first day, I did. The graduation was in May; I turned pro in September. Because I had this insurance policy, I was ahead of the other amateurs turning pro then. I think my putts went in because they didn't have to." Theirs stayed out for the opposite reason. "I had something to fall back on," he says.
Montgomerie was named the European tour rookie of the year and proceeded to dominate the continent, winning eight money titles, seven of them in a row. If it's hard to reconcile these two men -- this thoughtful talker sitting at his home base in Gleneagles, and that tomato-faced cartoon character so famous for losing first major championships and then his temper -- remember there's a third side to Montgomerie as well. Maybe it's the truest side of all. He has no Masters, U.S. Open, British Open or PGA, but he has a kingdom. It's called the Ryder Cup.
The little gold dish could have been a genie's lamp, so totally did it surprise him in 1991. "Oh, this is going to be great fun, I told myself, being on a team full of Faldos and Woosnams and Seves and Olazabals and Langers. Fantastic." But when Montgomerie walked onto the first tee, the pressure whapped him across the face like a wet towel, soaked in garlic. "What am I doing here?" he panicked. "Why did I bother to qualify for THIS? This, this, this, this is HORRENDOUS! And there are people watching!"
Representing Scotland, Britain and Europe, Montgomerie was about to discover something bigger than himself (and Monty was big enough himself at times that some of the putts broke toward him).Over eight renewals that included five European triumphs (1995, '97, 2002, '04, and '06), he became the world-champion Ryder Cup partner, especially to Bernhard Langer and Nick Faldo, and lost his Sunday singles match exactly never. Captains Bernard Gallacher, Seve Ballesteros, Mark James, Sam Torrance, Langer and Ian Woosnam pointed Monty at the Yanks like a blunderbuss, and as Tiger Woods and Phil Mickelson found out in 2004, he usually didn't take very long to make a birdie. On either side of the Atlantic, Montgomerie was home. And now, in Wales, it's his turn to be captain.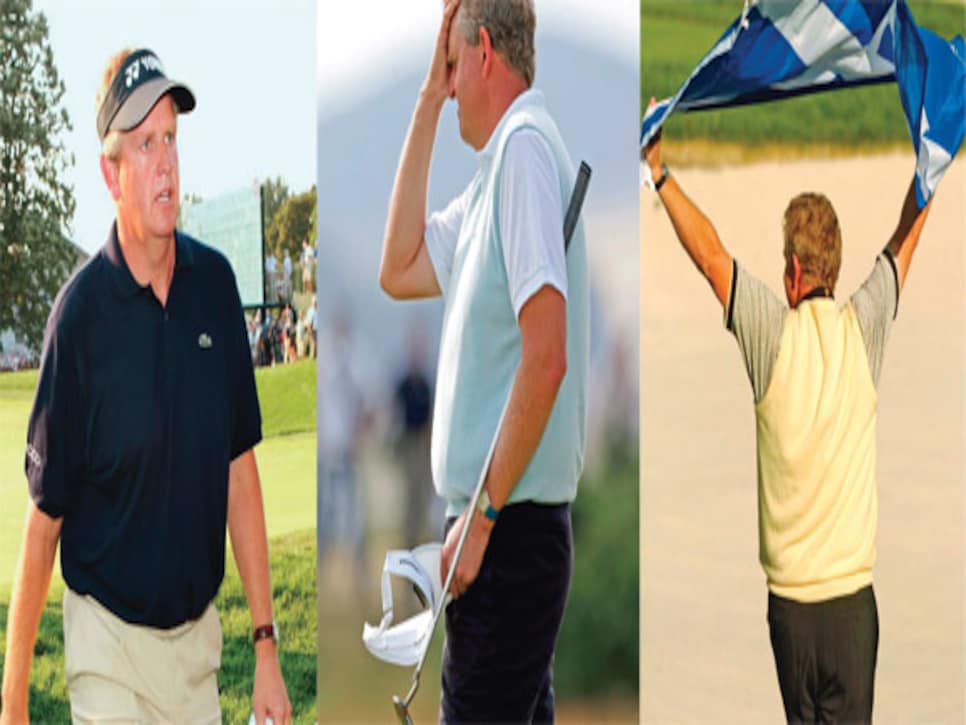 Left to right: 2006 U.S. Open at Winged Foot, 2005 British Open at St. Andrews, 2004 Ryder Cup at Oakland Hills.
"When I holed the winning putt in 2004," he says, "that was my major moment. I haven't had a major moment like that. Twenty-four people stand up on a stage before a Ryder Cup -- 12 Americans and 12 Europeans -- and one of them is going to make the winning putt. This time, fate picked me. It was just a four or 4½-footer, but it was missable. They all are. And, of course, we didn't absolutely have to have it. We were going to win anyway." But he had to have it. "It meant everything to me," he says. He can't really explain.
Montgomerie isn't a nationalist or jingoist so much as a patriot of the cup. Maybe this will help in the explanation: Again, as fate had it, in 1999 he was the last singles opponent of Payne Stewart, who a month later was gone. "Payne was brilliant with me that day," Monty says. "When he won the U.S. Open at Pinehurst, almost the first words out of his mouth were, 'I'm on the Ryder Cup team.' " Montgomerie was so glad to hear him say it. That meant Stewart understood. "I thought, Good on you, Payne." The day of their game, when Colin was bickering with the gallery -- "I never learn, do I?" he says -- Stewart waded into the crowd at the fifth hole to stand up for his opponent. "When another heckler said something to me at the ninth, I stepped away again and said something back. That's me. Once more, Payne took my side." At the end, Stewart gave him a putt, he gave Payne a clap, and they walked off the course together.
If Stewart understood the Ryder Cup, not everybody did. Woods didn't. At a press conference in 2004, Tiger slyly inquired if anybody in the room knew Nicklaus' Ryder Cup record (17-8-3). No? Well, how many professional majors has Jack won? Eighteen, of course. Case closed.
"I listened to that press conference," Montgomerie says. "That wasn't a team man talking; that was an individual talking." Tiger wasn't really a Ryder Cup player. He was just the best player in the world. "There's a difference," Monty says. "But, I'll tell you what. It's going to be interesting this year. His situation might just have changed his mind a little bit, for his own good and to the great benefit of the American team. I think the fact that this is a Ryder Cup year is the luckiest thing that has happened to Tiger in a very long while. I know they won without him last time, and that was incredible. Good for [captain] Paul Azinger. But they need Tiger now, and, more to the point, he needs them."
Captain Faldo was in kind of a thankless spot last time, going for four in a row. "Eventually it's going to break," Montgomerie says. "But that was a good result, for the cup. It makes this next one better, more interesting. You know, when I used to partner Nick, especially in the foursomes, I always felt he came out on the golf course as if he had only one ball in his bag. He never took a risk, because he might lose his ball. Never in a bunker, because he might scratch his ball. I'd be inclined to try the occasional driver off the deck, but he wouldn't let me. What if I hit his ball out-of-bounds?"
Similarly, in the firm of Langer & Montgomerie, the German was the senior partner. "I was the understudy," Monty says, "always. I still feel that way. Imagine the luxury of playing off Bernhard's drives, always in the fairway, and knowing that, even if you missed the green, you probably wouldn't have to putt. I was made to look good by him." Uber Germanic, Bernhard. "These are the guys who put together Mercedes and BMWs," Colin says. "Fancy playing with a technician like that who you know has every little detail worked out ahead of time. I mean, Langer had contingencies for contingencies. The game's easier when you're playing with him. You swing freer. There's no pressure. There's no problem. I'd say to myself, The whole American team would want to be playing with the guy you're playing with today."
From every old partner and captain, Montgomerie has been fluffing and folding old memories, packing them like cashmeres for Wales. "Gallacher was a safe, straightforward, no-nonsense Scot," he says, "who did the job. Lost twice, but then was given a third opportunity, and took it." Perseverance. "From James I got that the singles are hugely important." From Wee Woosie, the boxer, came counterpunching. Woosnam put Montgomerie out first in the singles, specifically hoping to catch Tiger.
U.S. captain Tom Lehman said, "We knew Monty was going to go first. That's why Tiger didn't."
"I'll take that as a slight compliment," Montgomerie says, "if you don't mind. It probably wasn't, but I'll take it as such."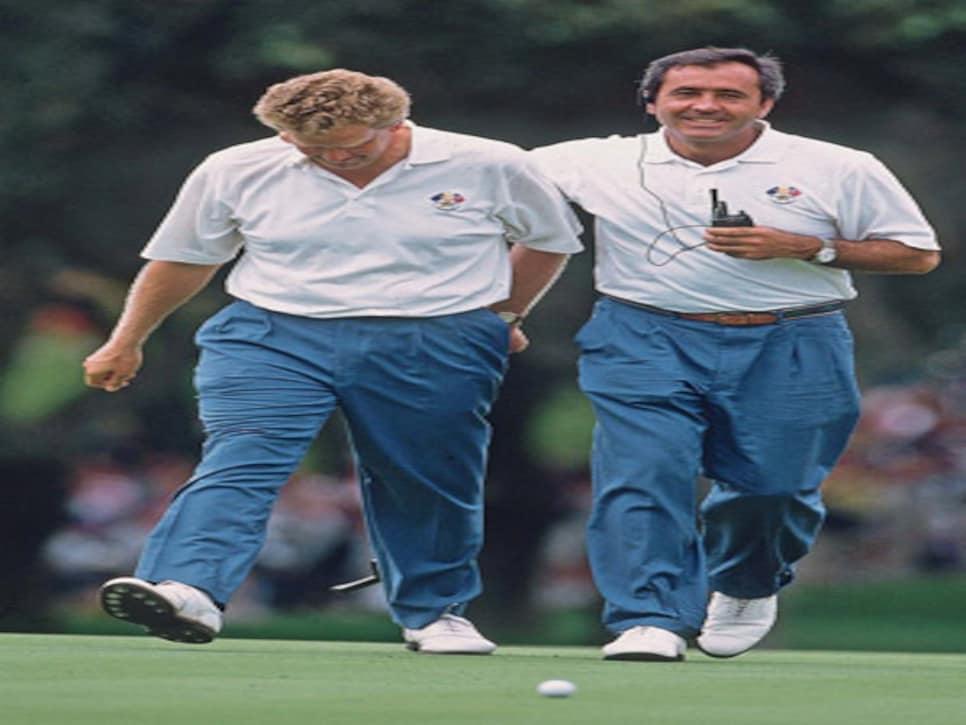 Seve, of course, brought passion. Hell, he invented it. "Passion for life," Colin says, "passion for the game, passion for winning, passion for everything. I pity the young players who only saw him in later years, when something was obviously wrong. We know what it was now." (A brain tumor; it kept Ballesteros from that four-hole encore at St. Andrews in July.) "The cheers he would have heard," Monty whispers. "My God."
Montgomerie is convinced Tom Kite did a splendid job for the Americans in '97. "He had the stronger team, and he did absolutely everything right. But Ballesteros wasn't going to lose in Spain. Seve's passion won the day, and the Ryder Cup."
Of Torrance, he says, "Sam's a gambler, no question. But big gains come from big risks. He didn't hide our rookies, as captains so often do, somewhere in the middle of the pack." No, he made anchors of them. " 'You can do it,' he told them, 'you're full-fledged members of this team.' And they believed him. Sam had his players' full respect. I may have learned more from him than from any of the others."
When Torrance finished speaking at the 2002 opening ceremonies, the Europeans were 1 up. "That's my big task," Monty says. "It'll be the first time I've spoken to 50 million people. Probably the only time I ever will. Especially when they're actually listening. Oh dear, stop me. I'm getting nervous. The players, the caddies, everybody on our team has got to leave that stage and go back to the team room, saying, 'OK lads, Monty knows what he's doing. Monty's OK.' "
The tabloids will be around, inevitably, re-checking old drops in Jakarta or new romances on the side. Into that suitcase he is packing, Montgomerie had better toss some of his own perspective and maybe the unflappability of Nick Charles in The Thin Man.
Nora: "I read where you were shot five times in the tabloids."
Nick: "It's not true. He didn't come anywhere near my tabloids."
Montgomerie has some perspective, obviously. You can't hit the better drive, the better approach, a solid putt, and still lose a one-hole playoff to Steve Elkington in the PGA, without learning something about serendipity.
At the same time, is it a disgrace to lose two U.S. Opens, one in a playoff, to Els?
"The only major I gave away was Winged Foot," Monty says, "and Geoff Ogilvy deserved it more than I did. Mickelson and I were good for 71 holes but double-bogeyed 18. Ogilvy was good for 72 and made a hell of a 4 at the last to avoid a four-man playoff. All credit to him."
Then, Monty was second to Tiger at St. Andrews in 2005, by five shots. "On the very first swing of that tournament," he says, "I drew a 3-wood too much, and it ran around, around, around and around, straight into the burn. My dad almost threw a bloody wobbly. 'How? What? How? What? How can this happen? You just don't come within a hundred yards of that burn!' I shot 71-66 to get into the last group with Tiger on Saturday and shot 70 to his 71. For finishing runner-up the next day, I received a silver salver. I look at it all the time. It's not engraved this way, but to me it is: 'Runner-up to Tiger Woods.' "
At the mention of regrets, he says, "Oh please, please, please, please don't feel I'm regretful for not winning a major. No, no, no, no, no. If everything I've taken away from this game, everything I've been given throughout the years, is all there is, I'm going to tick the winning box, definitely, and just say thank you."