The Loop
Ryder Cup rookie Thomas Pieters helps partner Rory McIlroy to four-ball victory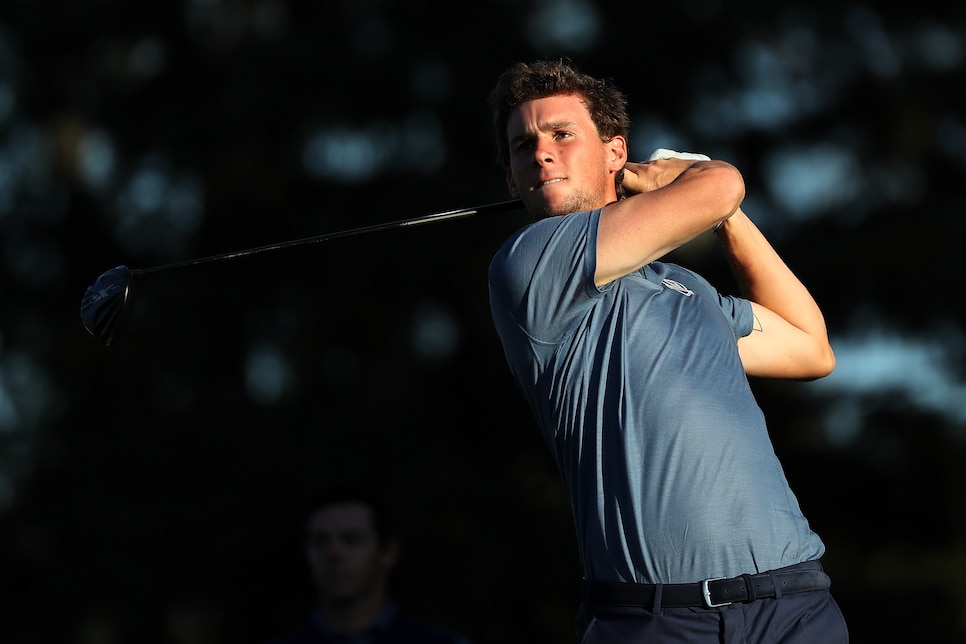 CHASKA, Minn. – His first drive of the afternoon traveled 351 yards. It was going to be hard to overlook Thomas Pieters in Friday's final four-ball match, even in the company of Dustin Johnson and Rory McIlroy.
The big Belgian blaster had been introduced to the Ryder Cup earlier in the day with a dyspeptic 5-and-4 foursomes setback partnered with the supposedly steady veteran Lee Westwood. But the European duo lost the first two holes with bogeys -- the second with Westwood blowing a two-footer -- and they were never a factor in losing meekly to Johnson and Matt Kuchar.
He could have been an anvil around McIlroy's neck after that embarrassment. Instead, he opted for steady sidekick.
Pieters converted only three birdies, but he won four holes and executed a key par save on the 12th when McIlroy was BIP (ball in pocket), and all of that contributed significantly to the duo's 3-and-2 win over Johnson and Kuchar in the day's final match.
True, Rory gets the headlines, especially with his deciding eagle putt and bows to the crowd at the par-5 16th. But Pieters didn't play like a rookie Friday. Europe always finds the next man up, it seems, though Pieters is no unknown commodity. He has three wins on the European Tour after winning an NCAA Division I title at the University of Illinois.
"Thomas is the real deal," said European captain Darren Clarke after his team salvaged three afternoon points with a gutsy rally to trail 5-3 after Friday's play. "He's obviously not that well known over here. He's a wonderful talent. He is developing as a player. He's been very comfortable in the whole situation this week with it being his first Ryder Cup.
"All the credit has to go to this guy, Ryder Cup rookie, and he's taken to it like a natural," McIlroy added. "He's been incredible all day. Even the way he played in the morning in the foursomes and what he did out there this afternoon, he's a stud."
Pieters, who is known to have a wry sense of humor, was pretty much the straight man in the aftermath. "It's been a good day. Although this morning didn't go our way, felt like I played pretty nicely and kept it going this afternoon," said Pieters, 24, who won his third European Tour event in Denmark in late August. "It's been very special to get a point next to Rory and for him to finish like that was pretty cool just to watch."
Apparently, he left all his good shots on the golf course. Well, almost.
Later, after the two conducted a rather thorough press conference, Pieters was asked to answer a final question in Dutch. He obliged. Then he turned to his partner. "You get that Rory?"
"Yes," McIlroy said with a laugh.
Clarke gets it too. He's sending the pair out first on Saturday.
"Just seemed to work," Clarke said with a grin.