News
Ryder Cup: Patrick Reed's wife adds fuel to the fire regarding Reed-Spieth split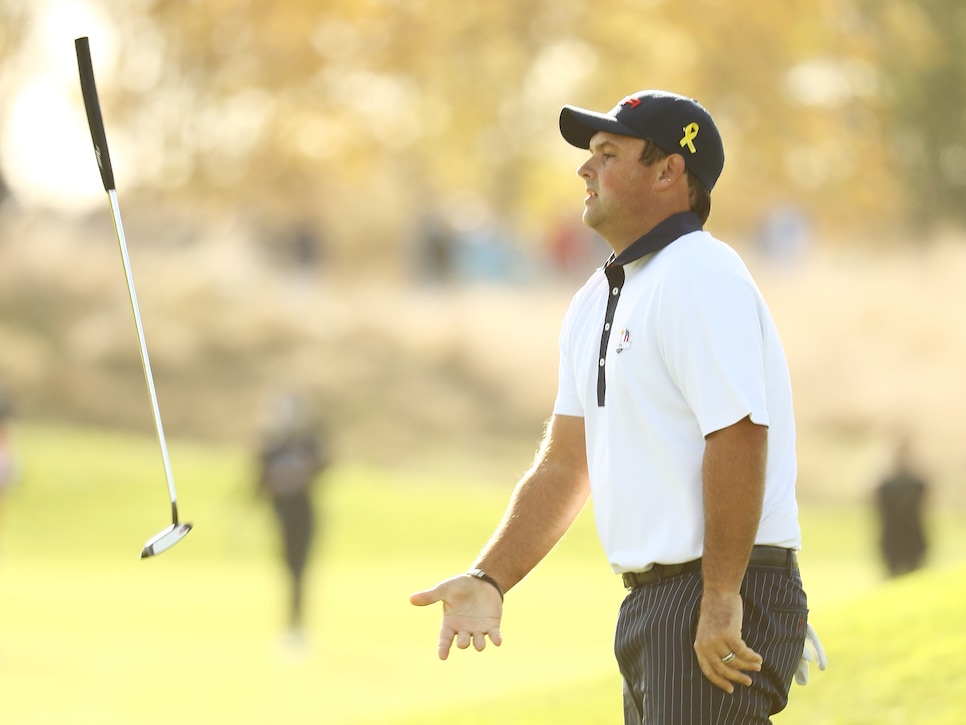 SAINT-QUENTIN-EN-YVELINES, France—There are myriad reasons the United States got drubbed by the Europeans in this year's Ryder Cup at Le Golf National, from questionable captain's picks that accounted for a scant two points (compared to 9½ from Europe's four picks), to being badly outplayed (the 17½-10½ beatdown was the second-largest margin of victory in the history of the event since continental Europe joined the fray in 1979).
One of the more curious decisions of the week—and a white elephant in the room—however, was the breaking up of supergroup Patrick Reed and Jordan Spieth.
The 28-year-old Reed and 25-year-old Spieth had been a formidable duo in two Ryder Cups and two Presidents Cups, rolling up an 8-1-3 record together, which included a pair of 3-and-2 smack downs of Justin Rose and Henrik Stenson and another 2-and-1 victory over them at the 2016 Ryder Cup at Hazeltine National, won by the Americans.
When it came to the 42nd edition of the matches this week, though, the two strangely never played together. They were grouped in the same practice round pods early in the week, but when the shots counted for real, Reed ended up with Tiger Woods and was summarily blanked in two four-ball sessions. Spieth, meanwhile, was paired with good friend Justin Thomas for each of the four-ball and foursomes sessions, and they were an impressive 3-1 together.
The split worked out just fine for Spieth. Not so much for Reed.
The player who earned the moniker "Captain America" after leading the U.S. in points with some epic performances in the 2014 and 2016 Cups struggled mightily around Le Golf National, particularly in Saturday morning's four-ball match when he looked more like Aquaman with several balls finding the water and one shot going out of bounds. He made just one birdie, and he and Woods got smoked by Moliwood—Europe's newest supergroup of Francesco Molinari and Tommy Fleetwood that surely won't be split up anytime soon—5 and 4, to give the Europeans a key point in a session it won 3-1 (the same tally it was out scored by the morning before) and provide momentum going into the afternoon.
More telling than the result, perhaps, was that the breakup of the band shed light on the dynamic between two of the Americans' more prominent players.
Back in March, when he was getting a ruling at Bay Hill during the Arnold Palmer Invitational, Reed cracked with a rules official that he would have received a free drop if his name was Jordan Spieth. It was an interesting take.
Then on Sunday morning, a twitter account that appeared to belong to Reed's wife, Justine, blasted out several missives that suggested Spieth was the one behind the decision. Justine told one responder to "ask Jordan" about the split and saying, "You don't have to love the people you work with—but when you have chemistry and success, you go with it for the TEAM."

She also took a swipe at a tweet from the editor of GolfChannel.com that was critical of her husband's poor play and suggested that Woods, Thomas and Rickie Fowler could have worked interchangeably as partners in order to keep the Spieth-Reed pairing together.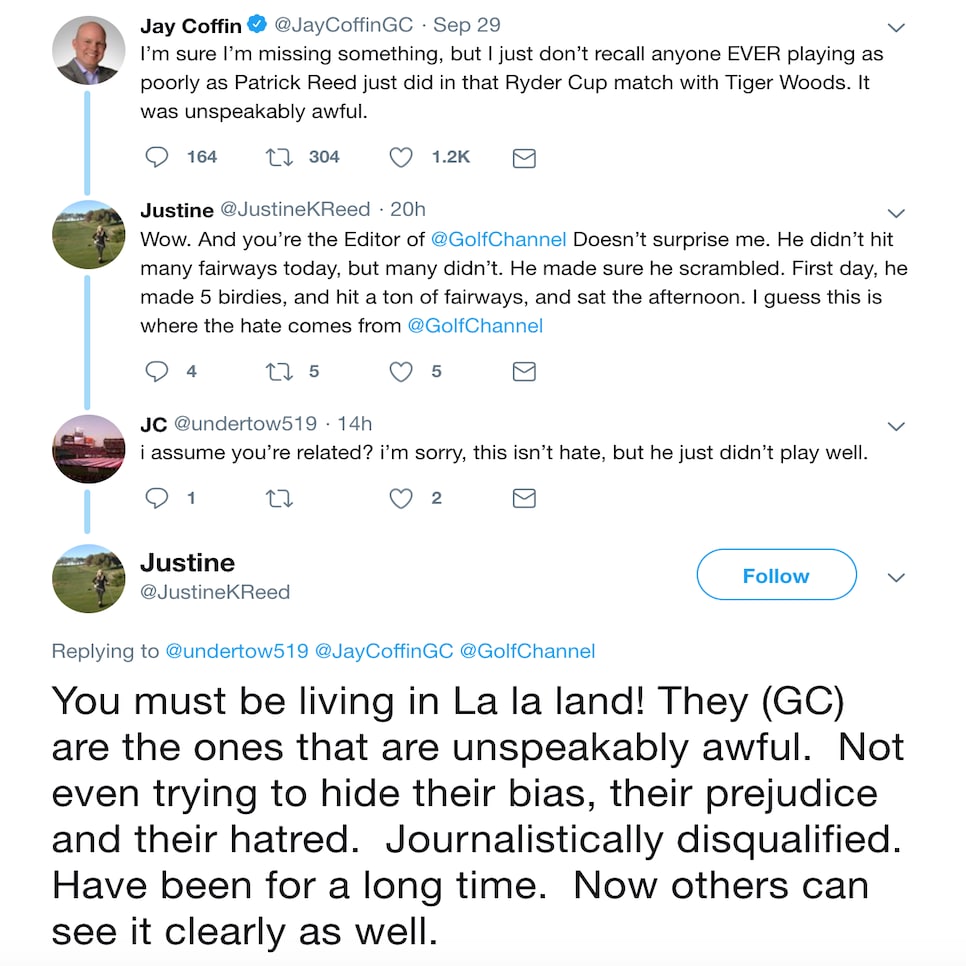 Tracked down by GolfDigest.com during her husband's singles victory over Tyrrell Hatton later that afternoon, and asked if she was behind the account or the tweets, Reed's wife said, "I don't know anything about that." She then added she wasn't doing any interviews.
Things only grew more strange from there.
In the U.S. team press conference afterward, with Reed and Spieth seated at opposite ends of the dais, the two looked awkwardly at one another when asked if they were surprised they didn't play together and if the possibility of doing so had been discussed.
"No, we weren't [surprised]," Spieth said. "We were totally involved with every decision that was made. Jim allowed it to be a player-friendly environment, and we were involved and we thought that the teams that came out of our four-man squad, we had two potentially fantastic teams. We went out confidently and tried to play our best."
Before Reed could respond, Furyk, being the good chief he is, fell on the sword and interjected.
"Jordan and Patrick have been great in the past," he said. "Whether that's a point of contention or not I felt we had two great pairings out of it. So it was totally my decision and my call."
And it was a call that, like many this week, will continue to get scrutinized for a long time to come.