Doubling Down
Padraig Harrington all but assures Sergio Garcia and Ian Poulter will be on European Ryder Cup team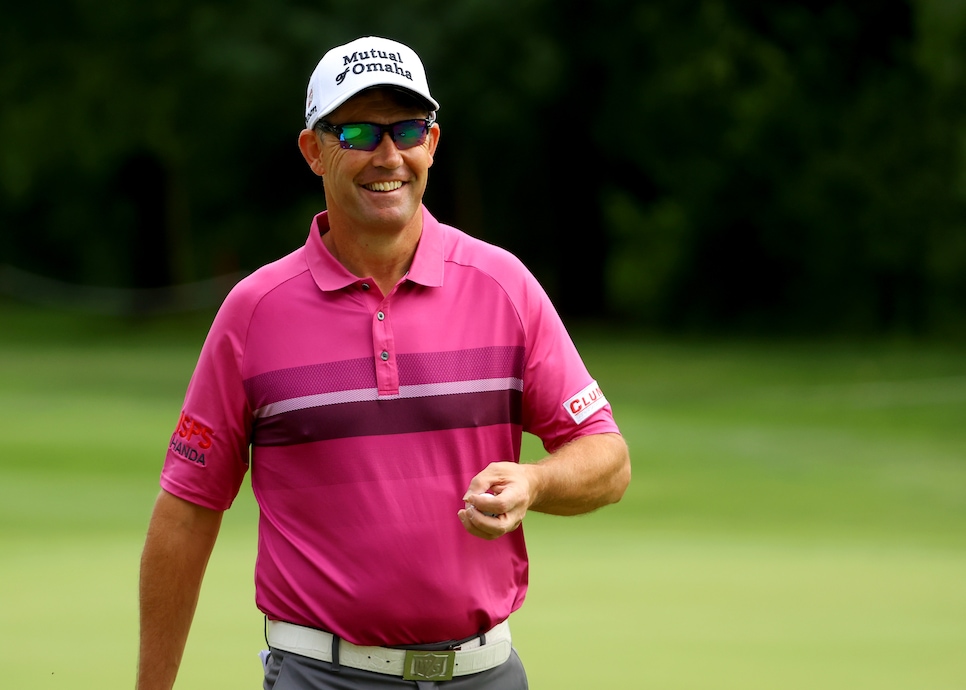 KILKENNY, IRELAND—Just last month, European Ryder Cup captain Padraig Harrington surprised many people when he seemed to suggest that two of his three wildcard picks for the matches at Whistling Straits in September were already taken care of.
"Sergio (Garcia) almost has to lose a limb to avoid being selected and (Ian) Poulter is not far behind," said the Irishman.
Fast forward a few weeks and Harrington was almost as unequivocal when the subject was raised during his press conference on the eve of the Irish Open at Mount Juliet. Asked why he had spoken out publicly on something he won't have to decide until mid-September, Harrington largely doubled down on his previous comments.
"They have an expansive advantage on others," he said. "Poulter and Sergio are two guys who have Ryder Cup records that deserve more consideration than anybody when it comes to playing, as does Martin Kaymer. They are players who have done a lot in the Ryder Cup and that means a lot, adds a lot to it. I'm a strong proponent of those guys. I'd like them to play their way into the team. I'd be in a strong position if they did."
In a similar vein, Harrington was quizzed on the now almost certain prospect of Viktor Hovland, in the wake of his victory at the BMW International Open last week, becoming the first Norwegian to play in a European Ryder Cup side. Not surprisingly, the three-time major champion is excited by the notion. As things stand, Hovland—at No. 14 in the rankings—is the fourth-best European golfer on the planet and, as was suggested to Harrington, someone who could be the "next Sergio" in a Ryder Cup context. A veteran of nine contests, the Spaniard has won more points (25 1/2) in the biennial matches than any other player.
"Europe could do with another Sergio García for the future," acknowledged Harrington, whose relationship with the former Masters champion has not always been smooth. "That's a big deal for Europe to have somebody to drive the Ryder Cup over the next 20 years. (World No. 1) Jon Rahm clearly looks like he could be that man and Viktor could also follow in his footsteps. They are two players who are exciting and very positive, full of enthusiasm and full of energy. They really could be stalwarts of the Ryder Cup. Time is running out for Sergio and Ian and the future has to be the younger guys. Even Rory is a middle-aged Ryder Cup player at this stage. So it is nice to see Viktor coming along. There could be ten Ryder Cups in him."
As for his own golf, Harrington—who will turn 50 in August—spoke only slightly tongue-in-cheek in regard to his competitive future. While he still "dreams of major," he is realistic enough to know his long-term future may lie on the PGA Tour Champions. But he's not quite ready to make that leap just yet.
"What gets me up in the morning is another major," he said with a smile. "The reason I work so hard at this game is another major. Maybe I should be considering just competing well and finishing in the top-ten and making cuts and progressing that way. But that really doesn't do it for me. The chance of winning a major is everything. That's what gives me a buzz. It's something I dream about. Whether it's a reality or not, who cares? It's what I focus on and that's all that I need for my motivation."
Still, for all that, Harrington was also quick to underline his shorter-term priority. Asked if he would rather win a fourth major title or be a winning Ryder Cup captain, he was in no doubt.
"I would choose the Ryder Cup as captain right now," he said. "Going from three to four majors would be nice. But a winning Ryder Cup would be something big in my career and would add to it. But after September, I'd take two more majors."
Beating Garcia and Poulter in a playoff no doubt.