The Loop
Ryder Cup forecast: Why the U.S. is poised to dig itself into a deeper hole
GLENEAGLES, Scotland -- After Day 1 of the Ryder Cup, Europe leads the United States 5-3. Here's a look at the pairings for Saturday morning's four-ball matches and which teams we feel have the edge:
7:35 a.m. -- Bubba Watson/Matt Kuchar vs. Justin Rose/Henrik Stenson
Watson plays in the first match for a second straight day, but this time, without Webb Simpson. Instead, he'll play with Kuchar, who chunked a pitch on the final hole to lose his lone match on Friday. The two will try to turn their luck around against the only 2-0 pair from Day 1. Edge: Europe.
7:50 a.m. -- Jim Furyk/Hunter Mahan vs. Jamie Donaldson/Lee Westwood
Furyk takes a 1-8-1 career record -- the worst of anyone with 10 matches played in Ryder Cup history -- into the day's second match. On the bright side for the U.S., Mahan is undefeated in the format! OK, so he's only 1-0-1. Ryder Cup rookie Donaldson and Westwood won their only match together on Friday. Edge: Europe.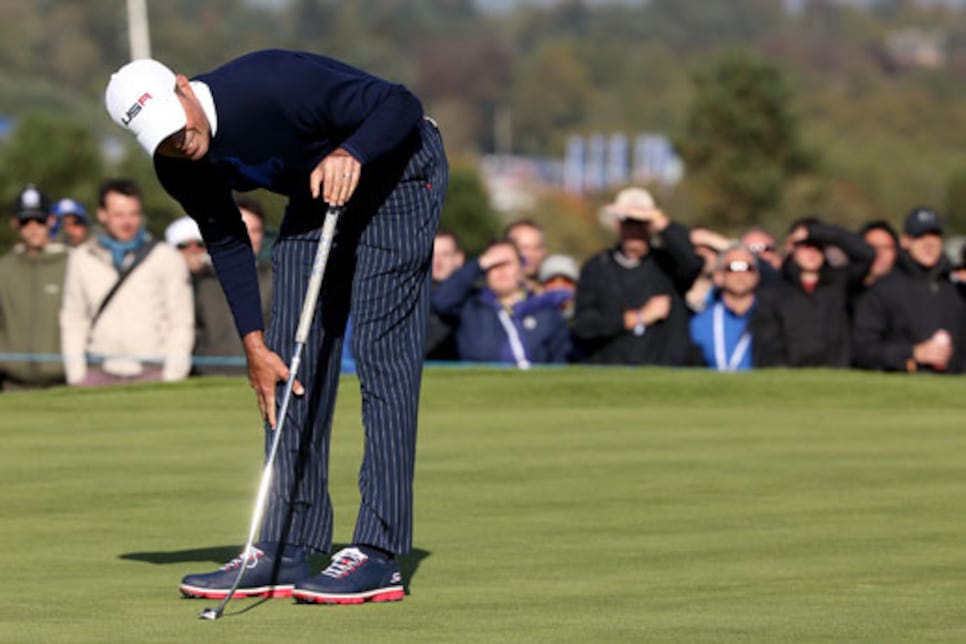 8:05 a.m. -- Patrick Reed and Jordan Spieth, United States, vs. Thomas Bjorn and Martin Kaymer, Europe.
The most-talked-about U.S. squad on Day 1 returns after sitting out Friday afternoon. Reed and Spieth looked fantastic during their 5-and-4 win in four-ball, and captain Tom Watson might need a similar performance from his rookie tandem if the U.S. is to swing the momentum back in its favor. Edge: U.S.
8:20 a.m. -- Jimmy Walker and Rickie Fowler, United States, vs. Rory McIlroy and Ian Poulter, Europe.
How good was Walker on Friday? He earned a spot in the anchor match on Saturday morning when he and Fowler will take on the World No. 1 again. On the European side, the marquee pairing of McIlroy and Sergio Garcia has been scrapped, but Garcia has been replaced with the other face of the team, Ian Poulter. The Englishman will be extra motivated after having his seven-match winning streak in the Ryder Cup snapped on Friday. Edge: Europe.
Saturday morning forecast: The U.S., especially with its top duo of Phil Mickelson and Keegan Bradley sitting, really has its work cut out.