The Loop
Ryder Cup 'captain' Phil Mickelson is helping call and execute the shots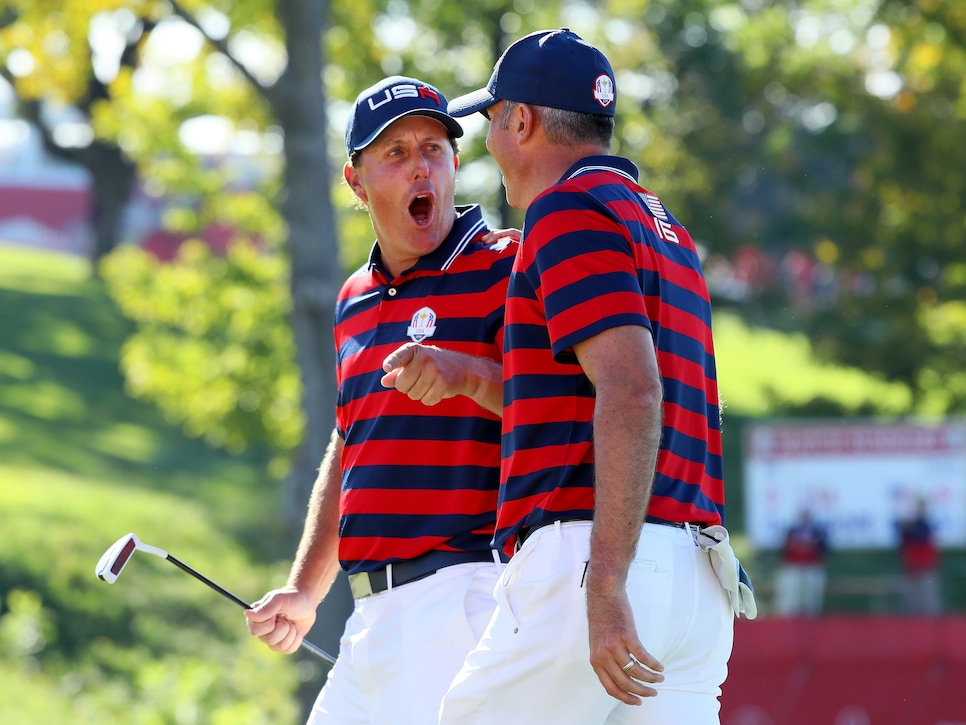 CHASKA, Minn. -- Phil Mickelson has his share of nicknames. Lefty, Phil the Thrill, etc.
This week at the Ryder Cup, you can add another one: Captain.
Officially, Davis Love III is the American skipper, but is there any question who is really running the show?
Fifty-three years after Arnold Palmer, who passed away earlier this week and has been honored throughout the matches, was the last to serve as a playing captain for the U.S., the Americans have one again. No matter what happens on Sunday at Hazeltine National Golf Club, where the U.S. will take a three-point lead into singles play, the influence and fingerprint of this team is all Mickelson's.
From being a vocal part of the 11-member task force, to the arranging of practice matches throughout the year with an eye toward October, to being a back-room proponent of having Rickie Fowler on the roster, to the point that he would be THE voice of this year's team, Lefty has been the commander in chief for the Americans.
"He is the leader of this team," Jordan Spieth said Saturday night. "Phil has some great ideas."
Some of those ideas played out on Saturday.
One day after not being able to find the planet off the tee, Mickelson marched right back out in the morning for alternate shot anyway, Fowler at his side for a second straight day in the format. Add that Mickelson looked to be in full lesson mode with coach Andrew Getson as he warmed up on the range and the outcome was predictable: Playing against the buzz saw that has become Rory McIlroy and Thomas Pieters, Mickelson and Fowler got thumped, 4 and 2, in a match that wasn't even really that close.
Undeterred, Mickelson kept going, putting into play a plan that had apparently been in the making for years -- even it meant possibly in part that the red-hot putting Brandt Snedeker would have to sit. Mickelson played alongside Matt Kuchar in the afternoon four-balls and the two combined for nine birdies en route to a key 2-and-1 victory over Martin Kaymer and Sergio Garcia.
"It was so much fun playing with my big brother," Kuchar said. "We've talked about it for years, almost joked about it during rounds of golf in regular PGA tournament play. We came to the conclusion, we might even have too much fun; it might not be good to put us two together.
"But going out this afternoon, Phil pulled me aside beforehand and said, 'Hey, Matt, listen, I play my best when I'm having fun. Let's go out there and let's mix it up, have a good time.' We did just that."
Really, would one of the game's ultimate alpha males have it any other way? Particularly after the abject disaster that was the 2014 edition of the biennial matches, when Mickelson felt muzzled and handcuffed by his captain, Tom Watson, whom he openly eviscerated in the post-match press conference two years ago.
Even this week Mickelson couldn't let the past go, dragging his 2004 captain Hal Sutton through the mud for not putting him in a position to succeed when Sutton famously paired him with Tiger Woods on short notice and therefore didn't give him enough time to strategize and adjust (never mind that Mickelson conveniently left out that he switched to all new equipment that week).
Still, it's hard to criticize Mickelson's influence. The U.S. is in position to win its first Ryder Cup since 2008 and just its third in the last 11 matches.
Saturday night, Mickelson was scheduled to appear for the post-round press conference. He was a no-show. There was some indication that he was busy helping Love set the Sunday singles matches, of which he is smack in the middle of as the sixth match out against Sergio Garcia in a contest that could come at a critical juncture during the final day.
"We've really enjoyed having him on the team, obviously contributing the way that he's contributed," Spieth said. "It's what we've seen him do for decades to help get us in is this position and in a cool spot for [Sunday]."
It will be another eight years before the Ryder Cup is played at Bethpage Black in New York, where many expect Mickelson, currently 46 years old, to captain the Americans. Consider this week a trial run.