no cap
Patrick Cantlay's wedding photos are here … and there's no hat tan in sight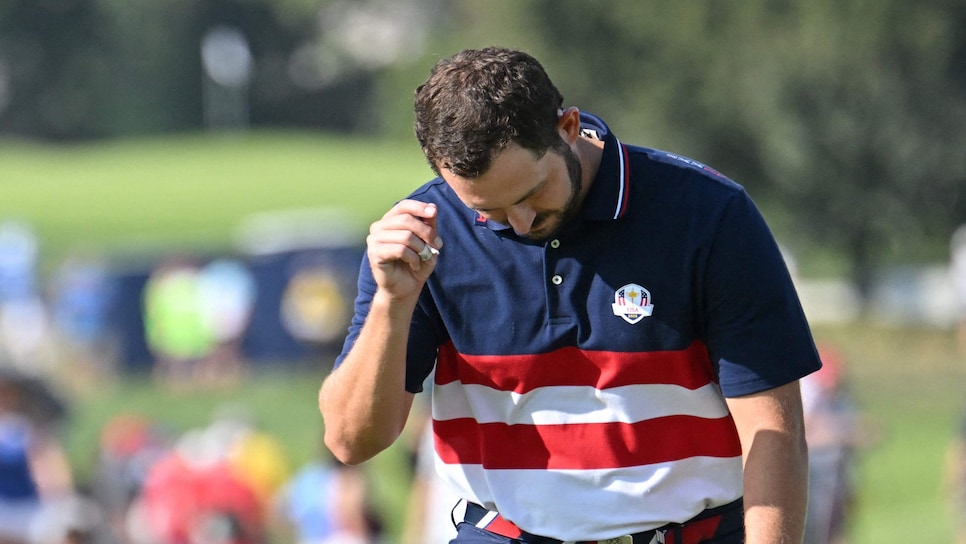 If you watched a single second of this year's Ryder Cup, you heard about Patrick Cantlay's hat. Or should we say the absence of a hat? There were rumors circulating about why the American wouldn't don his Team USA cap and reports of a "fractured" locker room due to the decision.
No matter the reason—maybe he's just not a hat guy—Cantlay became a target for the European fans and a spark for an American squad desparately in need of one. He inadvertantly turned a potential Ryder Cup blowout into a battle, and, best of all, avoided the dreaded golf-hat tan line at his Italian wedding on Monday.
Tan lines are brutal. One time I fell asleep on a beach while reading a book and had a perfect white rectangle center-frame on my stomach for the rest of the summer, so I unquestionably understand Cantlay's plight.
The Twitter comments of course had a thought or two on Cantlay's matrimony from "Still not wearing a hat??? Even at his wedding?? Disgraceful and disrespectful" to "his head looks nice, no tan line" to "I have visions of him at the altar shuffling his feet for over a minute before he said 'I do.'"
Ignore the haters, Patrick. The photos look great and you're happily married. There'll be another Ryder Cup in 2025. Wear a hat then.