i believe i can fly
Ryder Cup lake jumper meets with cops, blames sun for bold plunge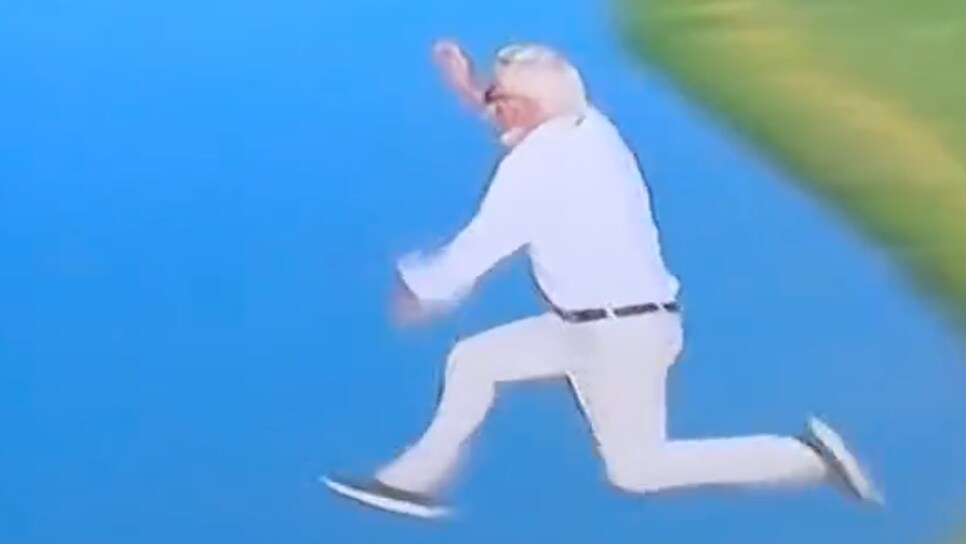 Rory McIlroy, Shane Lowry, Jon Rahm, Viktor Hovland, John Burleigh. These are the big names from a dominant European Ryder Cup weekend. All made their mark on golf history … in one way or another.
You know the first four and have almost certainly seen the final one as he symbolized the Euro victory after Rickie Fowler's curious concession. The 70-year-old Burleigh jumped into a nearby lake after Tommy Fleetwood locked up the Ryder Cup. It ruled. You've probably seen the video already, but here it is for good measure.
Look at that 0-60 speed and hat drop before the leap. This is a man who's consciously or unconsciously been planning to do this his entire life. The 16th hole at Marco Simone will never be the same.
Burleigh, who has been dubbed "Colonel Sanders" for his resemblance to the KFC icon, stated that he tried to find golf balls while in the lake but came up empty-handed. He even hopped in a second time after the crowd egged him on. Still no golf balls.
"The sun got to me and I was lost to delirium," the Inverclyde resident told BBC Scotland News. "The weather had been too hot but the banter and company had been fantastic.
"I had predicted it was going to finish at the 16th. The American conceded right in front of me and I just took off. I hadn't planned it but I had said to a golf friend in Largs that it was so exciting that I could jump in the lake. And when we won it was so inviting I just shot off."
The lake was "lovely" but the brief encounter with the police was most likely not as enjoyable. He was still in his soaking clothes as well. Never the best feeling.
"I didn't get into trouble but a policeman came up and wanted a word with me. They checked my ID and I apologized and said the sun had got to me.
"I showed him my driver's license but while we were doing this people were coming up and getting selfies with me. And more and more people started jumping in the lake after me."
John Burleigh and his wife Heather are now holidaying in Italy for the rest of the week (not bad at all), and Burleigh has a request to KFC now that his leap has gone viral. Because of course he does.
"People who were heading home were coming up and showing me the footage and saying I was a legend. It was good fun and it was all done in the best possible taste. It could have been worse. Someone called me an 'old guy' but I took that on the chin. So long as KFC call me up with an offer, I'll be quite happy."