Gear Effect
Ryder Cup 2021: The clubs Team Europe will use at Whistling Straits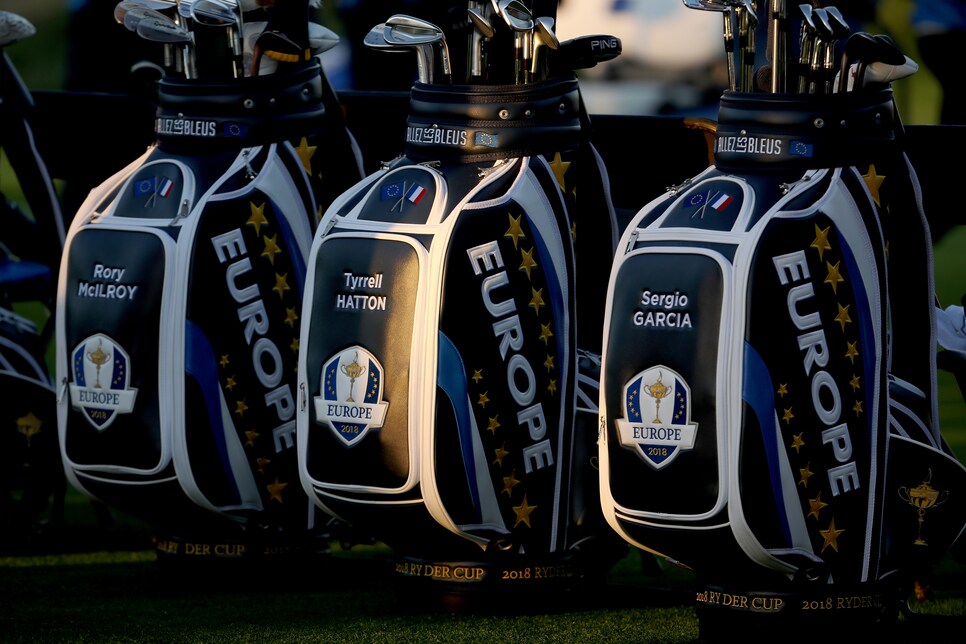 The Europeans squad might be the underdogs, at least according to oddsmakers, but Team Europe will defend the Ryder Cup with a group of experienced players at Whistling Straits.
The 2021 European Ryder Cup team enters the matches with an interesting mix of equipment: By the numbers, Titleist has the most golf balls, drivers, wedges and putters in play. TaylorMade tops the fairway wood count and Ping leads in irons. Still, other than Titleist in balls and wedges, it is far from a dominant count with Callaway, Srixon, Mizuno, Odyssey and Cleveland all having some clubs in play, as does Bettinardi with its putter in Matt Fitzpatrick's bag.
The below is what was in the bag at year-end for the players. Is it possible some things could change for Whistling Straits? Of course. But for now this is a good look at the implements the Euros will be using in Wisconsin.
Paul Casey
Ball: Titleist Pro V1
Driver: Titleist TSi3 (Mitsubishi Diamana D+ 70x), 9 degrees
3-wood: Titleist TSi2, 16.5 degrees
Irons (3-4); Mizuno JPX 919 Pro; (5-PW): Mizuno MP 5
Wedges: Titleist Vokey SM7 (52, 56 degrees); Titleist Vokey prototype (60 degrees)
Putter: Scotty Cameron by Titleist 009
Matt Fitzpatrick
Ball: Titleist Pro V1x
Driver: Titleist TSi3 (Mistubishi Tensei AV 65x), 9 degrees
3-wood: Ping G425 Max, 14.5 degrees
7-wood: Ping G410, 20.5 degrees
Irons (4-5): Titleist T100; (6-9): Ping S55; (PW): Ping Glide 3.0
Wedges: Ping Glide 3.0 (52 degrees); Titleist Vokey SM8 (56 degrees); Titleist Vokey WedgeWorks prototype (60 degrees)
Putter: Bettinardi DASS BB1 Tour
Tommy Fleetwood
Ball: TaylorMade TP5x
Driver: TaylorMade SIM2 Max (Mitsubishi Kuro Kage Silver 70x), 8 degrees
3-wood: TaylorMade SIM2, 13.5 degrees
5-wood: TaylorMade SIM2 Max, 18 degrees
7-wood: TaylorMade SIM2 Max, 21 degrees
Irons (4-PW): TaylorMade P7 TF
Wedges: TaylorMade Milled Grind Hi-Toe (52 degrees); Titleist Vokey WedgeWorks prototype (60 degrees)
Putter: Odyssey White Hot OG 1
Sergio Garcia
Ball: TaylorMade TP5 (2021)
Driver: TaylorMade SIM2 Max (Fujikura Ventus Black 7x), 8 degrees
3-wood: TaylorMade SIM2, 13.5 degrees
5-wood: TaylorMade SIM, 19 degrees
Irons (3-PW): TaylorMade P750
Wedges: TaylorMade Milled Grind 3 (52 degrees); Titleist Vokey WedgeWorks prototype (58 degrees)
Putter: TaylorMade Spider Tour
Tyrrell Hatton
Ball: Titleist Pro V1x
Driver: Ping G425 LST (Mitsubishi Diamana RF 60x), 10.5 degrees
3-wood: Ping G425 LST, 14.5 degrees
7-wood: Ping G425 Max, 20.5 degrees
Irons (4-PW): Ping i210
Wedges: Ping Glide Forged (50, 54 degrees); Titleist Vokey WedgeWorks prototype (60 degrees)
Putter: Ping PLD
Viktor Hovland
Ball: Titleist Pro V1
Driver: Ping G425 LST (Project X HZRDUS Smoke 6.5), 9 degrees
3-wood: TaylorMade SIM, 15 degrees
Irons (3): Titleist U505; (4-6): Ping iBlade; (7-PW): Ping i59
Wedges: Ping Glide Pro Forged (50, 56 degrees); Titleist Vokey WedgeWorks prototype (60 degrees)
Putter: Ping PLD
Shane Lowry
Ball: Srixon Z Star XV
Driver: Srixon ZX5 (Mitsubishi Diamana D+ 70x), 9.5 degrees
3-wood: TaylorMade SIM2, 15 degrees
5-wood: TaylorMade M5, 19 degrees
Irons (3): Srixon ZX; (4-5): Srixon ZX5; (6-PW): Srixon ZX7
Wedges: Cleveland RTX ZipCore (50, 58 degrees)
Putter: Odyssey EXO 2-Ball
Rory McIlroy
Ball: TaylorMade TP5x
Driver: TaylorMade SIM2 Max (Graphite Design Tour AD 7x), 9 degrees
3-wood: TaylorMade SIM2 Max, 15 degrees
Hybrid: TaylorMade SIM Max, 19 degrees
Irons (3-9): TaylorMade P730; (PW): TaylorMade Milled Grind 3
Wedges: TaylorMade Milled Grind 2 (56, 58 degrees)
Putter: Scotty Cameron by Titleist 009M
Ian Poulter
Ball: Titleist Pro V1x
Driver: Titleist TSi3 (Fujikura Ventus Blue 60x), 10 degrees
3-wood: Titleist TSi2, 13.5 degrees
Hybrid: Titleist TSi2, 21 degrees
Irons (4): Titleist U500; (5): Titleist T100; (6-9): Titleist 718 AP2; (PW): Titleist Vokey SM8
Wedges: Titleist Vokey SM8 (52, 56 degrees); Titleist Vokey WedgeWorks prototype (60 degrees)
Putter: Scotty Cameron by Titleist Phantom X T11
Jon Rahm
Ball: Callaway Chrome Soft X
Driver: Callaway Epic Speed (Aldila Tour Green 75 TX), 10. 5 degrees
3-wood: Callaway Epic Speed, 15 degrees
5-wood: Callaway Epic Speed, 18 degrees
Irons (4-PW): Callaway Apex TCB
Wedges: Callaway Jaws Forged (52, 56 degrees); Callaway Jaws Full Toe (60 degrees)
Putter: Odyssey White Hot OG Rossie S
Lee Westwood
Ball: Titleist Pro V1x
Driver: Ping G425 LST (Mitsubishi Tensei AV 65x), 10.5 degrees
3-wood: Ping G425 Max, 14.5 degrees
Hybrid: Ping G425, 19 degrees
Irons: (4-PW): Ping i210
Wedges: Ping i210 (50, 54 degrees); Ping Glide Forged (60 degrees)
Putter: Ping Sigma 2 Fetch
Bernd Wiesberger
Ball: Titleist Pro V1
Driver: Titleist TSi3 Graphite Design Tour AD IZ 7x), 8 degrees
3-wood: Titleist TSi2, 13.5 degrees
Irons (2): Titleist T100S (2021); (3-9): Titleist 620CB; (PW): Titleist Vokey SM8
Wedges: Titleist Vokey SM8 (53, 59 degrees)
Putter: Scotty Cameron by Titleist prototype