News
Ryder Cup 2021: An early look at how things are progressing in the strange run-up to Whistling Straits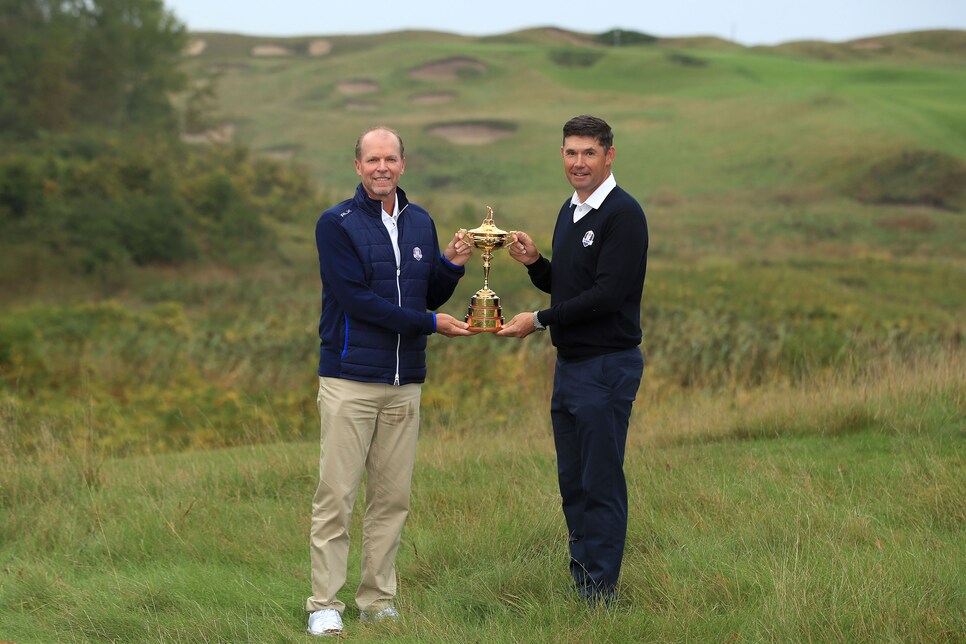 U.S. captain Steve Stricker and European captain Padraig Harrington have to hold on a little longer before getting to compete for the Ryder Cup at Whistling Straits.
Andrew Redington
It's been three months since the Ryder Cup at Whistling Straits was postponed until 2021, and we're now a little less than a year out from the first shot next September. Yet watching the European Tour stage its two biggest tournaments since it resumed its season in July these last two weeks—the Scottish Open and the BMW PGA Championship—has us looking ahead even under the strange circumstances surrounding this edition of the matches, which is making for a strange run-up to the actual event. Where exactly do we stand roughly one year out? Here are the eight things you need to know about Whistling Straits 2021.
1. Qualifying for the U.S. has changed pretty drastically
The biggest transformation to the qualifying process has come on the American side, where the PGA of America opted in June to give Steve Stricker and his crew six captain's picks instead of four. That change made sense when it looked like the Cup might still happen in 2020, since there would be fewer events from which to glean results. It doesn't quite make sense anymore—the qualifying process will now include three years of results (weighted toward 2021, but still rewarding 2019 majors and most 2020 tournaments). In theory, there are more results than usual, but it sounds like Stricker liked the idea so much that he's sticking with it.
How you feel about this probably hinges to a great degree on how you feel about the efficacy of captain's picks in general. Since 1979, U.S. captain's picks are 49-54-20, while European picks are 74-71-14. That may seem like Advantage: Europe, but in fact Europe's 51.0 percent winning rate tracks almost exactly with their 51.2 percent overall rate in that span, while America's 47.6 percent rate is just slightly behind their 48.8 percent overall winning rate. Statistically, at least, there hasn't been much of an advantage or disadvantage for either side with captain's picks.
2. European qualifying has remained mostly the same
Padraig Harrington is sticking with his three captain's picks, and the only real change is that they paused qualifying until January (but will still count any points accrued before March). That's bad news for the likes of Paul Casey, who finished second at the PGA Championship, and Jon Rahm, who would have earned himself a slew of world points with his two victories on the PGA Tour this summer. Rahm will probably be fine, but Casey lost a big opportunity.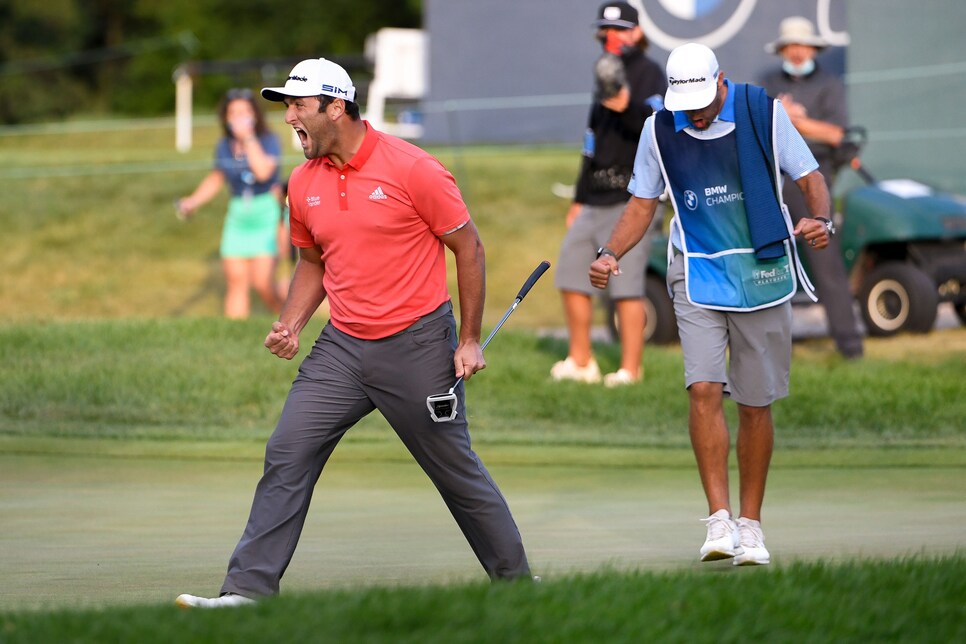 Jon Rahm's emotional win at the BMW Championship in August, as well as his victory at the Memorial in July, don't count unfortunately toward qualifying for the 2021 European Ryder Cup team.
Tracy Wilcox
3. This is a massive headache for Whistling Straits and the PGA of America
The schedule changes that the postponed Ryder Cup necessitated across the golf landscape have been well covered, but the burden on Whistling Straits is more obscure … and especially tough. I made three visits to the course last fall and winter, and each time it struck me how much planning and work goes into staging an event like this. PGA of America staff are on the scene for not weeks or months but years beforehand, and the endless work of people like Ryder Cup director Jason Mengel, operations manager Mike O'Reilly and club superintendent Chris Zugel are too expensive to begin to describe here. And it's all about timing—everything they do is geared toward producing the best possible result for one specific weekend in September. To stop abruptly stop that process and have to renew it all over again next year takes a heroic kind of patience.
4. American team chemistry will be among the biggest stories … again
Since the period of European domination began in the 1990s, the U.S. has lost every road Ryder Cup and wins about one of every two home matches. Whether Americans win this one might come down to team chemistry, which has been a massive problem in recent years. Dustin Johnson and Bryson DeChambeau seem, at the moment, like the only two players who are near-locks to make the team, but with Brooks Koepka in the top six and others like Patrick Reed just outside, it's the same conundrum as always: How are these guys going to get along? The status of the "friendship" between Koepka and DJ had been questions even before Koepka seeming slight of DJ and his major record prior to the final round of the PGA Championship in August, Reed's rules issue in the Bahamas proved to be a major distraction for the 2019 Presidents Cup team, and DeChambeau himself is a divisive figure. How can a team like this possibly gel, even with a respected captain like Stricker? His six picks might mitigate some of the trouble, but there's no way to plan for the drama that inevitably unfolds on the week of the event.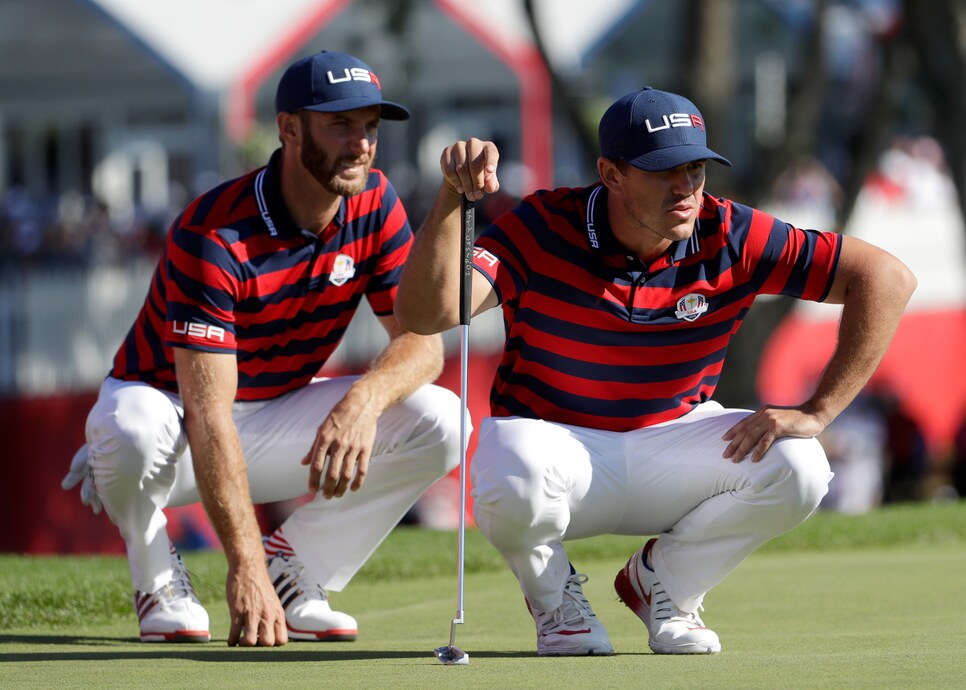 Dustin Johnson and Brooks Koepka teamed together during an afternoon four-ball match atthe 2016 Ryder Cup.
Jamie Squire/Getty Images
5. That said, the U.S. team is significantly more talented … for now
In the current World Rankings, Americans occupy 10 of the top 13 spots, and you only need to drift down to No. 18 to field a full 12-man American squad. Only two Europeans—Rahm and Rory McIlroy—are in the top 10, and you have to scroll all the way to Lee Westwood at No. 42 before you get to their 12th. The last time we saw a Ryder Cup with a significant talent gap on U.S. soil, the Americans dominated at Hazeltine National in 2016. A lot can change in a year, but it's almost a sure thing that the Americans will come in with the better team on paper.
6. Harrington has some landmines to dodge
Speaking of Hazeltine, part of what made that Ryder Cup mission impossible for Darren Clarke was the sheer number of rookies (six) on his team. Harrington shouldn't have that problem to the same extent, but there is some inexperience in the current qualifying spots, with players like Victor Perez and Bernd Wiesberger, and some negative experience in names like Danny Willett and Matthew Fitzpatrick. It's too early to say how the standings will shake out, but with only three captain's picks, Harrington has little room to maneuver if he doesn't like the top nine.
Thomas Bjorn used his picks to brilliant effect in 2018, relying on experienced veterans like Ian Poulter, Sergio Garcia, Paul Casey and Henrik Stenson. Harrington can do the same, but with one fewer pick and three more years, he's looking at both a smaller and older talent pool to choose from, with no guarantee that any of them will be in form. It remains puzzling why the European side reduced the number. I asked Harrington in the fall of 2019, and his answer—"the logic is basically anybody you pick is under pressure, more pressure, more stress, than a player who is qualified"—struck me as at least a little unsatisfactory.
7. The standings today don't really matter
As noted before, Dustin Johnson and Bryson DeChambeau have gone a long way to ensuring their inclusion on the team, and Collin Morikawa has a big leg up as the PGA Championship winner. Yet with so much to play for and so many points at stake in 2021—and with only six spots available for automatic qualification—nothing means anything yet. The winners of all four 2021 majors, for instance, will immediately shoot into the upper echelons. To take one example, the 2021 U.S. Open winner (if American) will accumulate about 4,500 Ryder Cup points, which would be enough for everyone in the current standings down to No. 34 (Andrew Landry) to leapfrog current No. 6 Webb Simpson if he missed the cut.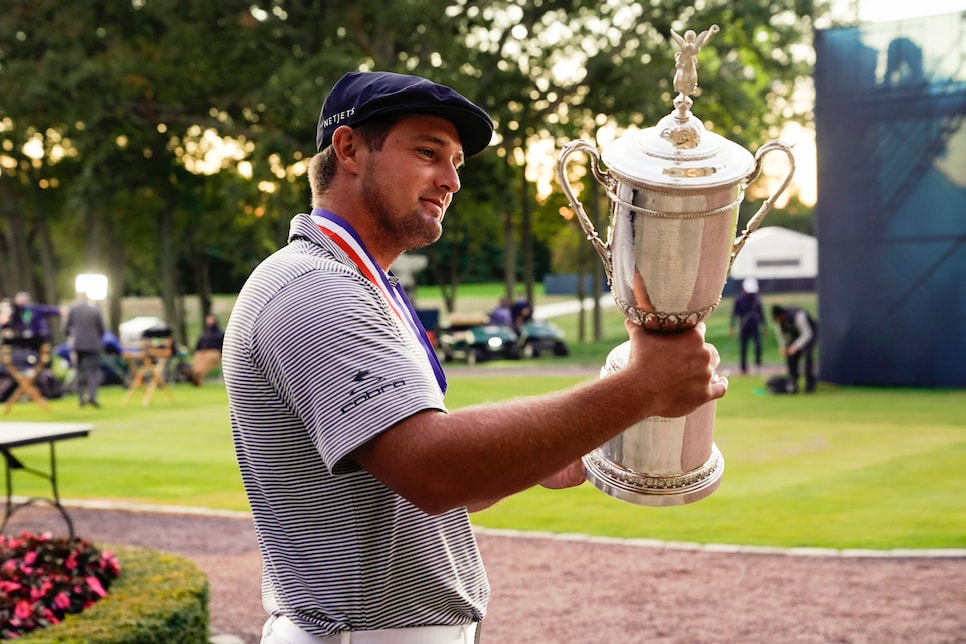 Bryson DeChambeau's U.S. Open win at Winged Foot makes him one of the few players who seems to be a lock to automatically qualify for the American team.
Darren Carroll
In Europe, the situation is even more uncertain since this year's post-COVID results don't count and there are multipliers in place to heighten the importance of the 2021 results. Rahm leads the world points list largely due to his DP World Tour Championship win, and McIlroy is close behind because he won the 2019 WGC-HSBC, but even those two can be overtaken in the year to come.
In short, while it's fun to speculate about team composition, right now it would be meaningless, because the standings are volatile and the real qualifying action is yet to come.
8. The funniest moment so far involved Harrington and Luke Donald
It's always fun to speculate who the captains will pick for their assistants, and Harrington "revealed" that Luke Donald would be his new vice captain in a very hilarious, accidental way:
No matter what else happens, Harrington is a delight. Worth sharing: When he first saw the Ryder Cup trophy last fall during a pre-tournament visit to Whistling Straits, it was carried by a man wearing white gloves. Without missing a beat, Harrington asked him if he was going to start miming, and then did the "I'm in a box" routine while the man smiled politely. In short, he will be good for plenty of laughs.