News
Ryder Cup 2018: Why doesn't this man get more credit for saving the Ryder Cup?
Seve Ballesteros provided a competitive spark, but Tony Jacklin helped Team Europe believe it could hang with the Americans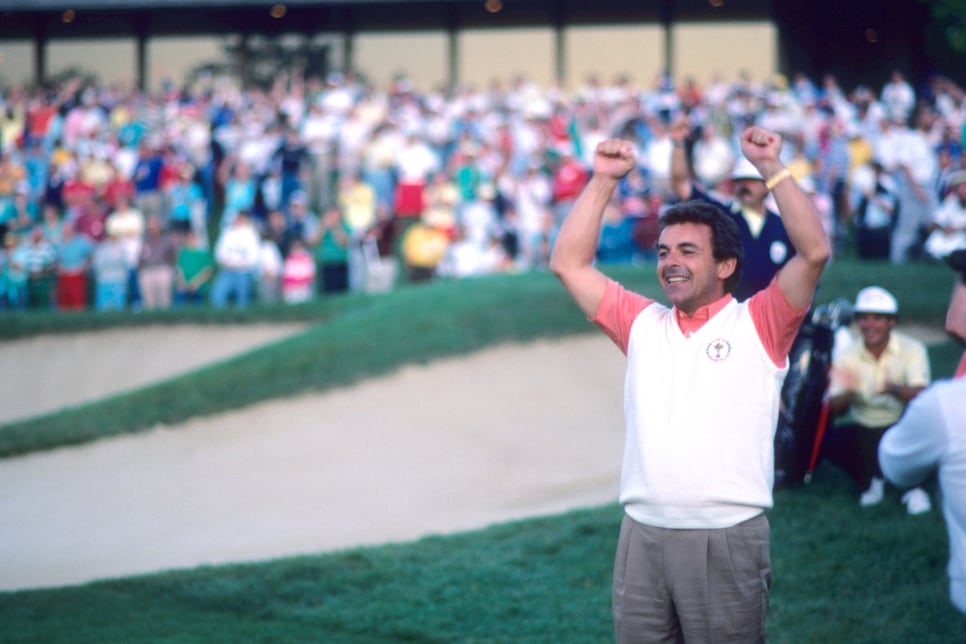 Not without justification, Seve Ballesteros has been credited with having more than a little influence in the resurrection of the Ryder Cup. Before 1979, when the continental Europeans became eligible to compete for the Old World side, Great Britain & Ireland's increasingly futile efforts had reduced the biennial clash to little more than a gentile garden party. Yes, everyone had a jolly nice time. But the Americans always won. Invariably comfortably. That all changed in 1983 at PGA National in Florida when Seve—significantly backed-up by the likes of Nick Faldo, Bernhard Langer, Ian Woosnam and Sandy Lyle—made the matches consistently competitive for the first time. Motivated by an agonizing single-point loss that year, Europe didn't finish second again in the Ryder Cup until 1991.
But we are getting ahead of ourselves. The start of the transformation from 1981 at Walton Heath—when Seve did not play because of an on-going appearance money dispute with the European Tour—and two years later in Palm Beach Gardens was not actually initiated by the endlessly charismatic Spaniard. That honor must go to another man controversially omitted from the playing on the '81 squad. Step forward Tony Jacklin. Without the presence and influence of the former British Open and U.S. Open champion, there might not have been a Seve and, in turn, the Ryder Cup as we know it today.
Given how structured everything Ryder Cup is today, it's amazing to think that it was only six months before the '83 match that Jacklin was approached by then European Tour executive director Ken Schofield with the simple yet complicated request: Would you like to be the next Ryder Cup captain? Chastened and not a little bitter after being summarily dropped two years before, Jacklin was initially in no mood to accept.
"It was shocking to be offered the job," says Jacklin, who ended up serving as skipper for the next four matches, amassing a 2-1-1 record. "Only a couple of years ago I learned that it was Bernhard Langer who was insisting they ask me. He was on the tour committee at the time and felt we needed a captain who was more in touch with the players. Historically, they had always had captains who were a generation older. Guys like Bernard Hunt, Dai Rees and John Jacobs. I wasn't actually asked until the spring of 1983. That was why there were no captain's picks that year. It was too late to change the qualifying system."
Once he had accepted the position, Jacklin had first to change something else—Seve's mind. Even more alienated from the officials in charge of his home circuit than Jacklin, Ballesteros was initially in no mood to play for nothing in an event that would financially benefit the European Tour. Much persuasion was needed before he agreed to sign-on. And that was just the beginning of Jacklin's problems.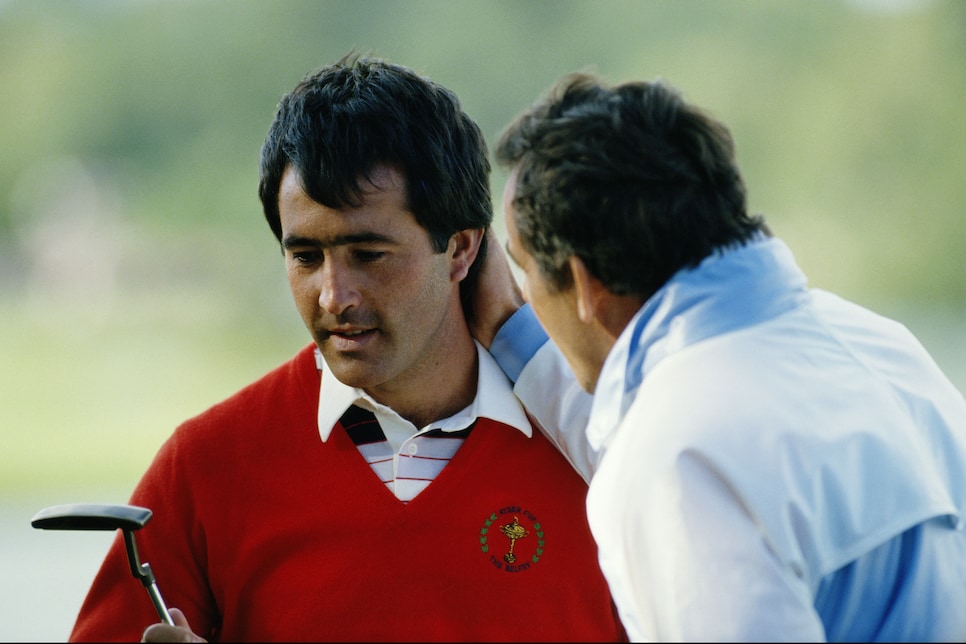 "Seve was difficult to partner," says the now 74-year-old Englishman. "His own team was intimidated by him. He had such charisma. But I needn't have worried. He had some great partnerships. I put him with Paul Way in 1983. And Manuel Pinero in 1985. Paul was perfect at the time. He was young and cocky and felt like he was going to be better than everybody else.
"Seve still had to nurture those guys though. Playing him with Olazabal in 1987 was the ideal scenario. Jose felt protected by Seve. So he felt free to show off his skills without fear. It worked."
Indeed it did, to the tune of an eventual 11-2-2 record that made the Ballesteros/Olazabal combination the most potent partnership in Ryder Cup history.
Jacklin's approach to his role marked a huge shift from previous skippers and reflected both his pugnacious personality and his own aggressive style of play. Long gone was the deferential forelock-tugging attitude so prevalent during the GB&I years. This was now about winning.
"My captaincy was a benevolent dictatorship if you like," says Jacklin with only the hint of a smile. "I took the job to get rid of what I thought were the shortcomings I'd seen as a player. Of which there were many. So I saw it as an opportunity. Leaving me and Seve out in 1981 made me think those in charge didn't really think winning was a priority.
"To that end, I had to play my major winners virtually every time. They were the best players. So I couldn't give them much rest. They had to play every round. I had to maximize their effect. It's not just about making the pairings, you have to position each pair correctly, too. And so hopefully outsmart the opposing captain."
Over the years since Jacklin's final stint in charge at The Belfry in 1989, the European captaincy has evolved and changed in line with the character traits of those in charge. It has also expanded.
"They have so many voices now," says Jacklin, has voice betraying more than a hint of bemusement. "It has gone way beyond my ability to understand why you need five assistants. What is the pecking order? Who does what? I invented the team room, but that was only to nurture team spirit. I wanted everyone to feel comfortable. When I played we all cleared off at night to various local restaurants. There was never an opportunity to get to know each other well. Any meetings were held in the corners of locker rooms."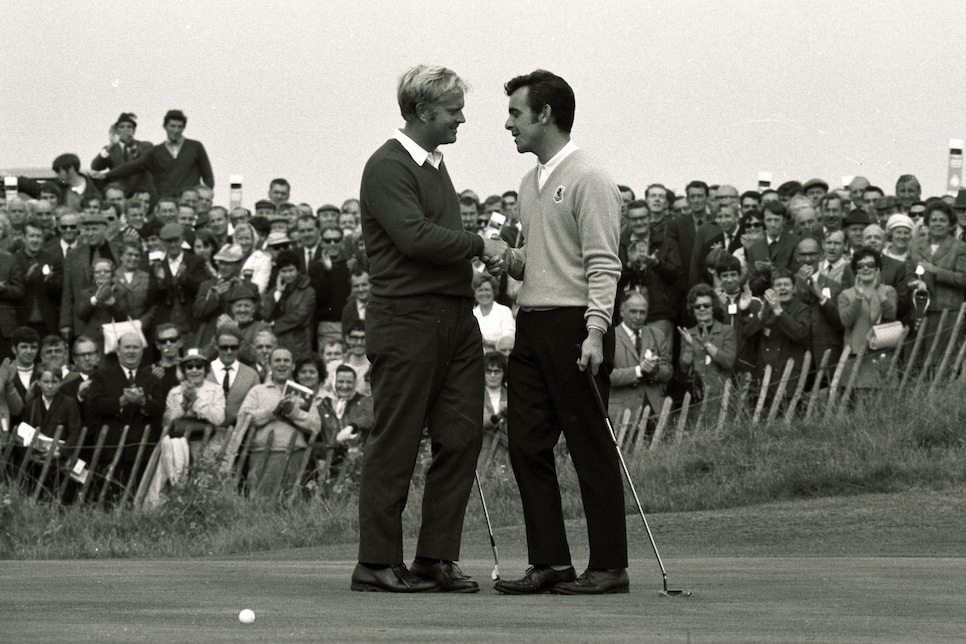 Still, some things never change. There is, according to Jacklin, one immutable law common to all captaincies.
"As a leader, the first thing you need to know is that you have the best 12 players available," he says. "I'm not sure I did in 1983. I had to hide the players who were at 10, 11 and 12.
"It's a little different now. I hear that Sergio [Garcia] has been picked this year because he is 'great in the team room.' Well, everyone was great in the team room as far as I was concerned. There was no one making speeches. We just got together and did the job. We were comrades in arms. But I had to have the best 12 players. There is no hiding place once you are out there in the Ryder Cup. It is such a demanding arena. It is the toughest arena in golf. So I had to have the guys with the most ability."
That is perhaps more true today than it has ever been. As the Ryder Cup has grown, so has the level of pressure involved. Even more than Sunday afternoons at major championships, the combination of head-to-head match play and representing more than themselves has reduced several notable names to quivering wrecks barely able to walk in a straight line never mind hit proper golf shots. See Mark Calcavecchia at Kiawah Island in 1991, or Jay Haas and Philip Walton at Oak Hill four years later.
The list goes on. In 1995, one of golf's toughest competitors, two-time U.S Open champion Curtis Strange, drop shots at each of the last three holes and lost to Faldo. Fred Couples all but shanked a 9-iron approach to the 18th green at The Belfry in 1989 to lose to Christy O'Connor, Jr.
Jacklin, too, has been there, most notably at Royal Birkdale in 1969 when Jack Nicklaus famously conceded him a two-foot putt on the final green to ensure their match and the overall contest ended in a tie.
"You are playing alongside your peers," Jacklin says. "You don't want to let anyone down. It's not just about you. When it is just you, you can shrug and say there's always next week. But that's not the case in the Ryder Cup. It's a one-off. And, at the highest level, you have to be seen to be defending your place, No one wants to be seen as the weak link. Then there is a bit of patriotism. Everyone wants to prove the worth of their country, continent or tour. There's a lot going on.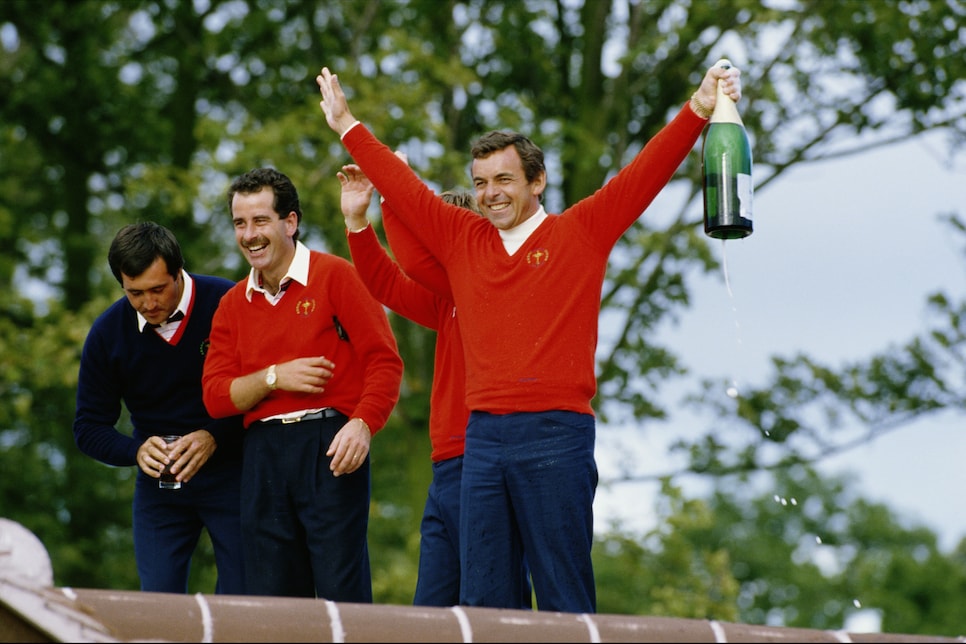 "I remember coming down that 18th fairway at Birkdale in 1969. All my teammates were sitting behind the green. I remember thinking to myself, Don't screw this up. "
As for this year, Jacklin is non-committal as to what he thinks will be the eventual result. Which is fair enough. Never before have the two sides appeared more evenly matched. But he does have some words of advice for the current European skipper, Thomas Bjorn.
"I wouldn't stick my neck out," he says. "But it is important for the home team to get a fast start. That makes a huge difference to how the galleries react. But it isn't easy to achieve with a blank canvas to work from. Making the initial pairings is not an exact science.
"All you can do is do it, then go to bed and pray hard that you got it right. A big part of that is observation of body language. I conversed with everyone. You can't shut anyone out. You have to encourage everyone to feel part of the team. You can't play for them. All you can do is give them the best opportunity to play well."
Given the success he enjoyed between 1983 and 1989, Jacklin more than succeeded in that aim.