News
Ryder Cup 2018: The best European Ryder Cup team ever?
Thomas Bjorn's 2018 squad, on paper, looks like a contender for the title. But how would it stand up against Tony Jacklin's 1987 team that currently holds the label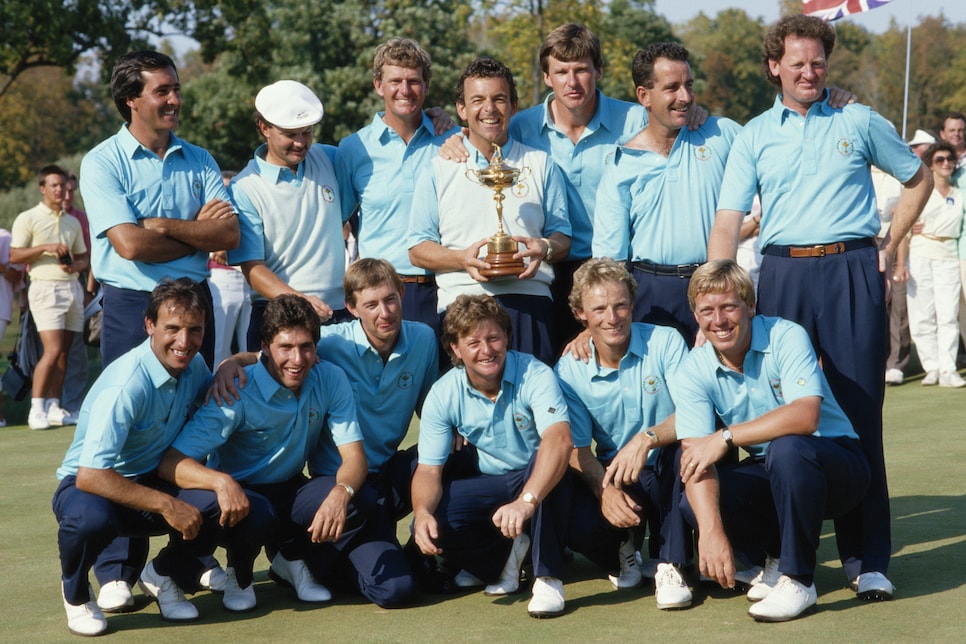 Photo By: David Cannon/Getty Images
Even now, more than 30 years later, Tony Jacklin calls the 1987 Ryder Cup matches at Muirfield Village "the best week of my golfing career." Which is saying something for a golfer of no small achievement. Once the first British player in 18 years to win the Open Championship, less than 12 months later Jacklin won the U.S. Open by seven shots. But a 15-13 Ryder Cup victory on American soil—the first for a European side in the biennial matches—meant even more to the Old World's non-playing captain.
"1987 was a very strong team," he says. "Yes, we had a few guys who were not major winners. Yes, they were strong players but not world beaters. But they were all good match players. It gets overlooked that the Ryder Cup is match play. My aim was always to get the best match players in my sides."
Jacklin wasn't the only observer impressed by the play of his team in what was the third of his four captaincies. Just as the 1981 American team at Walton Heath, one containing 11 past or future major champions, has been almost universally hailed as the nation's all-time best, the '87 European squad that played at Muirfield Village holds the same status across the pond. Led by the so-called "Big Five" of Seve Ballesteros, Bernhard Langer, Sandy Lyle, Ian Woosnam and Nick Faldo and backed up by a young Jose Maria Olazabal, if nothing else, Jacklin's record-setting crew surely boasts the most talented top-half since the continentals joined the Ryder fray in 1979.
"The 1987 is obviously the best team we have ever had, simply because it was led by six of the best players in the world," says Gordon Brand, along with Olazabal, one of the two Ryder rookies on that side. "They were proper superstars and international champions. The rest of us just made up the numbers. Yes, there have been some other great team achievements since then, but none of them stack up to '87. Just because of the six guys we had playing up front. It was humbling for the rest of us to be in their company."
That much is not in question. But will history continue to judge them as Europe's best after next week at Le Golf National? The 2018 squad that Thomas Bjorn is set to captain outside Paris, on paper, has the makings of a special group as well. Five major champions, 105 European Tour wins among them, 30 combined previous Ryder Cup starts. If the 12 play to their capabilities, they not only can continues the Europeans dominance at home in the Ryder Cup, but could go down as the best the Old World has assembled
Direct comparisons between the two are not straightforward. Many things in the game have changed in the last 31 years, not least the equipment each generation used.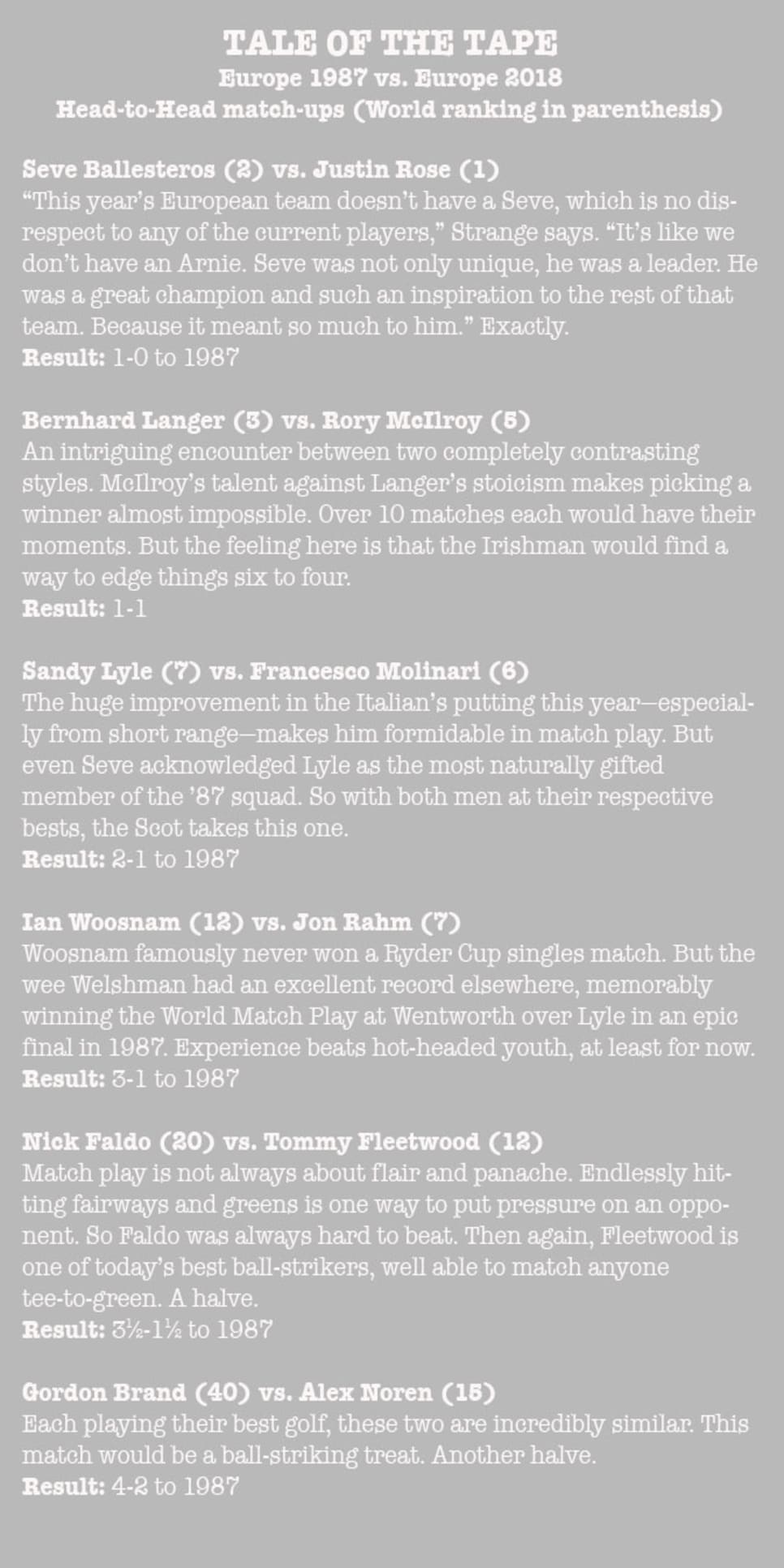 "With modern clubs and balls, the modern team would surely win," says swing coach Denis Pugh, who works with Open champion Francesco Molinari. "But with the old stuff, the '87 would have a big edge. Plus, the courses were set-up differently. If we assume that the two sides played each other on the Le Golf National set-up in the way we will see later this month, the modern team would win."
So in many ways we are contrasting apples with oranges. Take the world rankings. In 1987, the average ranking of the European side was exactly 40 at the time of the matches. This week, the 2018 Euros average 18.5. A clear difference, but one largely explained by the fact that the modern European players have many more opportunities to play on the PGA Tour than did their predecessors.
"In my day, it wasn't so easy to get into PGA Tour events," confirms Howard Clark, a member of the '87 squad. "We hardly played in the U.S. majors, even when we were in the top 50 in the world. In '87, we had quite a few players who were serial winners. I had won 10 tournaments by then but was still seen as one of the weak links on the team. Probably because hardly anyone in America had heard of me."
Indeed, while largely unknown to American audiences, it is hard for those of a certain age to imagine that the likes of Brand, Clark, Sam Torrance and Ken Brown were inferior to, say, Tyrrell Hatton, Ian Poulter, Paul Casey and Alex Noren.
"I know exactly how good the guys in the next group were," says former U.S. Open champion Curtis Strange, the highest-ranked member of the '87 U.S. team. "Gordon, Ken, Sam and Howard were all strong players, but America never really got to know them well because, with the exception of Ken, they didn't play much in the States. But if they were around today, they would all be on the PGA Tour. Or they would all be good enough to do so. And if they had been, it would have no surprise to me to see maybe one of them pop up and win a major."
Strange is not alone in recognizing the quality present in the '87 European team's bottom half.
"I remember going over to the U.K. in 1982 to qualify for the Open," says Golf Channel analyst Brandel Chamblee. "I was paired with a guy I had never heard of in my life. And at the end of the round I was like, Oh my God. That's how golf is meant to be played. His name was Gordon Brand. He hit shots that were so crisp. I can still hear the sound they made. I can still see the shots. I didn't hit it nearly as good."
Call the rankings comparison a draw.
And so the debate continues. Let's take major champions. When the 1987 European side arrived in Ohio it contained four major champions in Faldo, Ballesteros, Langer and Lyle, with two more to come in Woosnam and Olazabal. This year's team has five Grand Slam winners in its ranks (Justin Rose, Rory McIlroy, Molinari, Henrik Stenson and Sergio Garcia) with the obvious prospect of adding more in years to come. But with only eight titles so far, they will be hard pushed to catch the 18 eventually amassed by the '87 squad.
One feature of the 1987 matches was the 11-5 lead the European squad built over the opening two days of foursomes and fourballs. Taking advantage of the strength at the top of his order, non-playing skipper Tony Jacklin played his top men almost constantly. Of his top six, only Lyle did not play five times before the final-day singles. It is unlikely that Thomas Bjorn will pursue a similar course late this month.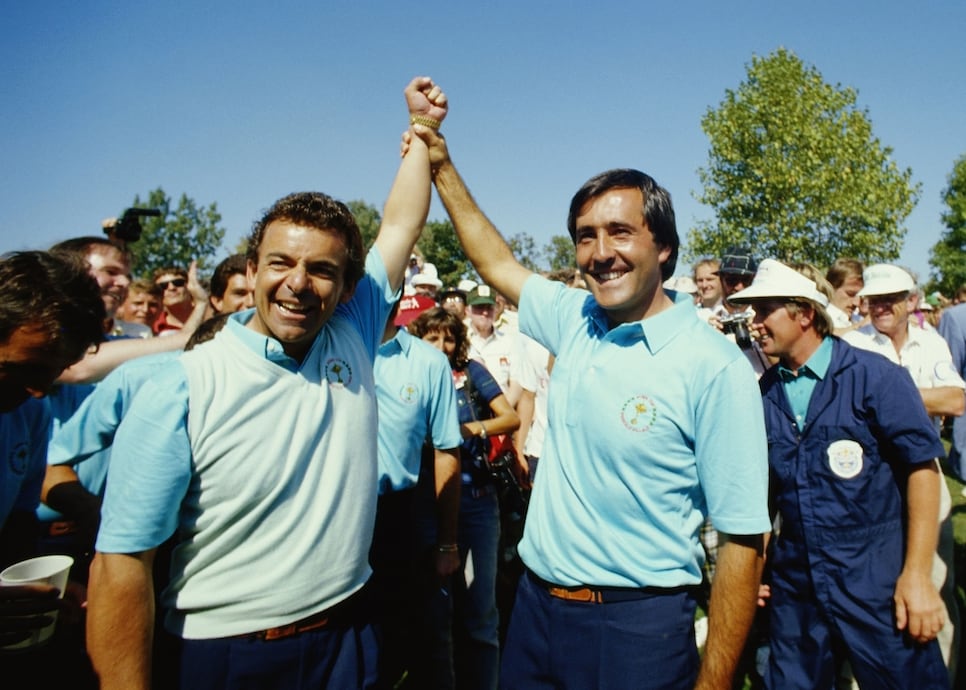 "Let's put Rahm with McIlroy, Stenson with Rose, Molinari with Fleetwood and Casey with Poulter," Pugh contends. "All very strong pairs. And yes, there is nothing to compare with Seve and Ollie. But no team ever has. If we just go talent versus talent, any team with Seve and Ollie, Lyle and Langer and Faldo and Woosnam leading the way would have a chance. I could see them getting off to a fast start but, unfortunately, running out of steam.
"The downside is obvious. Those six guys had to be overplayed in 1987. Thomas [Bjorn] isn't going to have to do that. He will have the ability to play all 12 players every day. That is huge. I can see Thomas playing his top guys four times and everyone else three. Tony couldn't even contemplate doing that. So this team must be better."
Persuasive words. But not many would argue that the Ryder Cup has ever seen three more potent combinations than Ballesteros/Olazabal, Woosnam/Faldo and Langer/Lyle. Still, while Jacklin was a lucky man, his strategy came at a cost. Of those six, only Ballesteros won his singles match (beating Strange, 2 and 1). Clearly, fatigue took its toll.
"The downside was that they all had to play all the time," confirms Strange says. "Historically, the Europeans don't have as good a record in singles as the Americans—and '87 was no different. But if you are going to ride your horses, the team at Muirfield Village would be ahead of the current Europeans going into the singles. What happens after that is anyone's guess. But I have a hard time betting against Seve and his team."
Again, let's call the pairings a tie.
In conclusion, the eventual destination of the Ryder Cup so often comes down to the intangibles that are a part of head-to-head match play. And the same is true of this imaginary match between 1987 and 2018. Newcomers like Jon Rahm and Hatton are highly strung, so it remains to be seen how they react to playing in what so many see as the most pressure-filled arena in golf. Often, it comes down to whose ego can cope. Self-belief and a feeling of superiority is necessary in elite professional golf and that is even more important in match play. It really helps if you feel superior to the other guy. Look at Poulter. He always feels that way—and it works.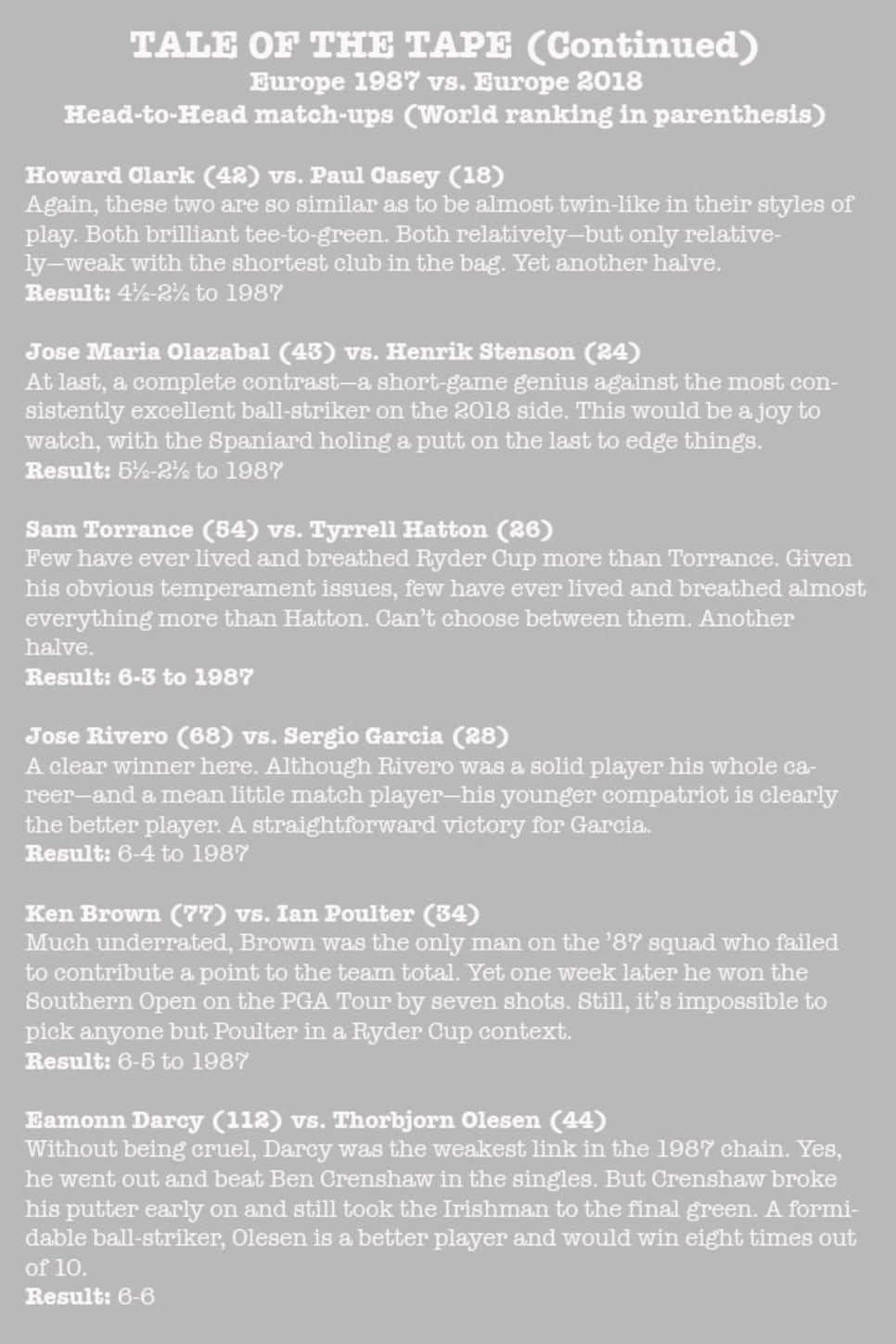 "Seve was like that," said Pugh. "He would shake hands on the first tee and wish his opponent well, while thinking 'I'm going to thrash you. I know that and you know it too.' Jordan Spieth and Frankie are not different. But they hide it better. So, for me, the best Ryder Cup team would always contain 12 arrogant and egotistical players."
In that respect, the edge must go to the 2018 European team. If only because of their greater level of playing opportunities, there is more experienced talent in this year's squad. Yes, they are rookies. But the likes of Fleetwood and Rahm have performed at the highest level already. Even the last man in, Olesen, has played some top-quality golf in some top-quality company. So it's hard to call them rookies. Three years from now, a good case can be made that all five of the rookies on the 2018 team will be what you might call superstars of the European Tour.
OK, let's get to it. Which European team is best? 1987 or 2018? Fittingly, the final words must go to Jacklin.
"I try not to make those comparisons," he says. "We've moved on. And everything has changed dramatically since then. It's impossible to compare different eras."
Ach. Call it a draw then.