News
Ryder Cup 2018: Webb Simpson is able to joke about his infamous 'pop-up' tee shot from 2014 at Gleneagles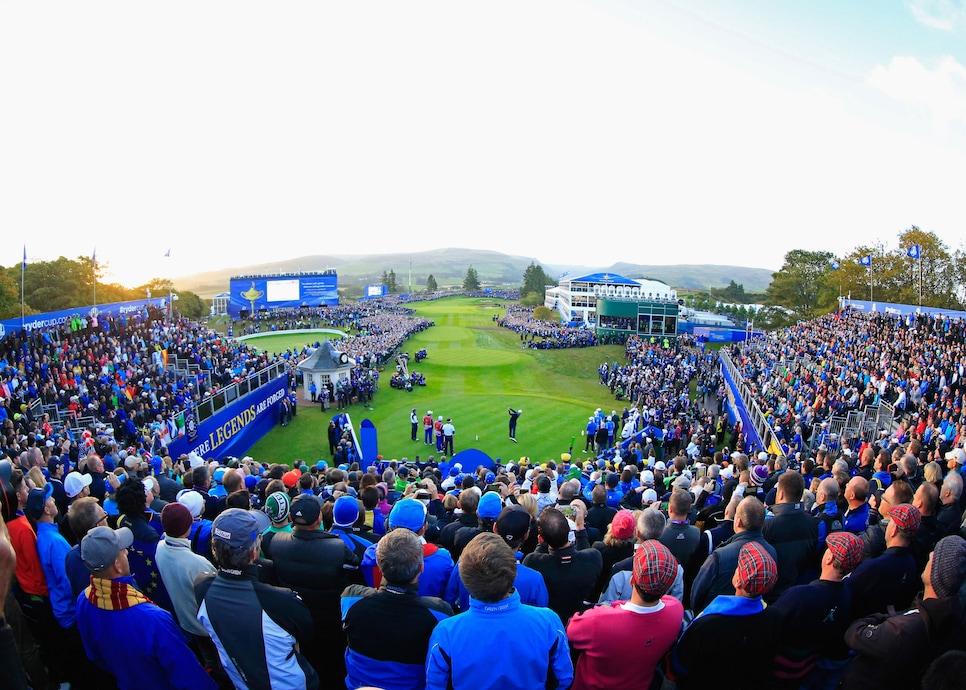 SAINT-QUENTIN-EN-YVELINES, France—There has been plenty of talk about the massive 6,000-plus seat grandstand behind the first tee on the Albatros Course at Le Golf National, and how the extra sets of eyes could ratchet up the pressure in an already intimidating environment. Nearly every American and European player paraded through the media center has been to explain how unique the setting is for them fans just what the feeling is like. All of them have offered some variation on "it's the most nervous I've been on any first tee in my entire career."
Webb Simpson knows from first-tee Ryder Cup horrors. At Gleneagles in 2014, the former U.S. Open champion was the first man off on No. 1 for the first session of Friday morning four-ball and infamously skied his opening shot, a foreshadowing of difficult play throughout the week. But Simpson has lived to talk about it, even addressing it head on when a reporter began to gingerly inquire about it.
Q. You know better than most how challenging hitting the opening tee shot of a Ryder Cup is. Can you tell us, first of all, your memories of that day at Gleneagles, and if you were given the opportunity again, would you relish a chance to hit the first one again?
SIMPSON: Are you referring to the pop-up?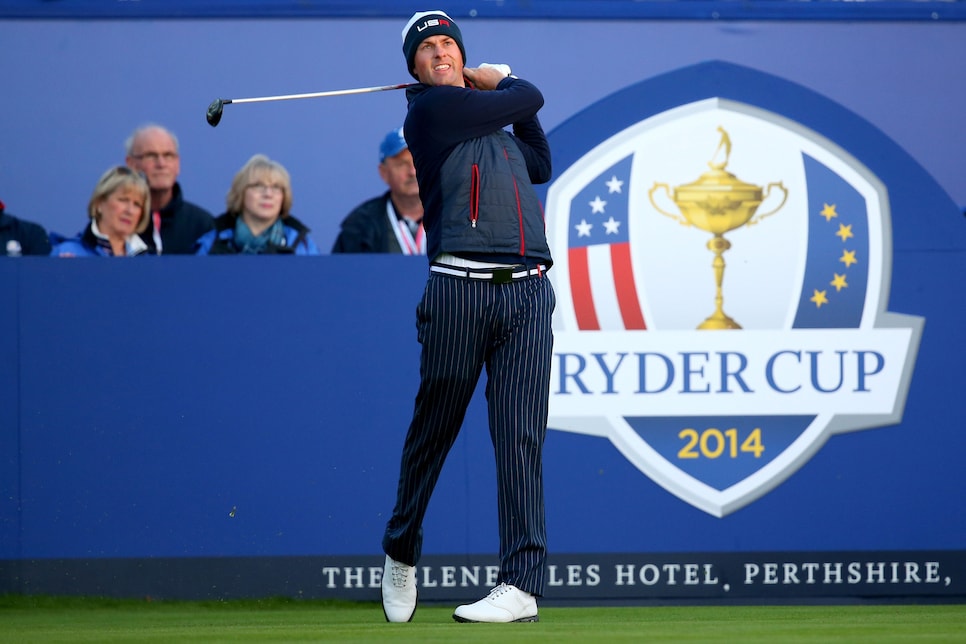 Mike Ehrmann/Getty Images
Simpson proceeded to offer up a back story to his shot—which he claims traveled 205 yards. (Just the fact that he knows that number hints that he's come to grips with it.) It turns out that Simpson had actually made the same gaffe five different times during the 2014 season.
"I was losing my concentration a little bit and I teed it up a little too high," Simpson said, "and I had done it a few other times that year, usually it goes straight down, that one went straight and hit the fairway."
Of course the shock of doing it in the Ryder Cup created a bit of an awkward situation for Simpson.
"The funniest/most embarrassing part of it was the camera crews and probably a lot of you guys went ahead to where we normally drive it, so the camera crew and everybody is coming back," Simpson said. "I [could] still reach the green, which [was] nice. I will say Justin Rose might not admit it, but he had a 3-wood out, and I look over and he switched to driver because the driver's so much bigger. So maybe my shot affected him, I don't know."
So back to the original point, Webb. How would you describe that first-tee environment?
"That environment is fun, and a little more—probably a little more nervous there than the second hole or third hole, and that's why you might see me teeing off on the evens."