Equipment
Ryder Cup 2018: The golf balls used by Team USA—and the strategy that might go into each pairing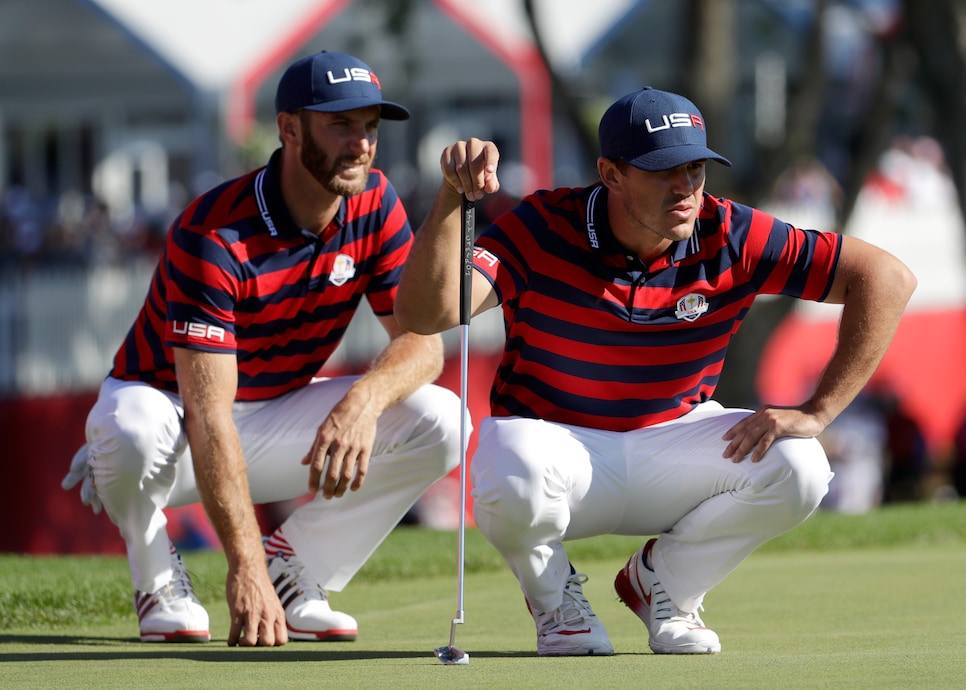 Foursomes pairings at the Ryder Cup used to provide full-on intrigue as to pairings and which ball each team would employ. A rule change now allows players to switch balls on each hole, which provides a different kind of strategery.
That's because even though you can change balls on each tee box, pairings are still likely to be made up of players using different balls.
This year's U.S. Ryder Cup team, for example, has its 12 players using eight different types of golf balls. Even though players might use the same model, it might be a version from a different year or slightly tweaked to fit a player's specific flight or spin preference (the eight Titleist Pro V1/V1x users employ four different models). Even the talked-about potential pairing of Tiger Woods and Bryson DeChambeau—both Bridgestone golf-ball users—would require some thought as DeChambeau plays the company's Tour B X ball while Woods prefers the spinnier Tour B XS.
Then there's Dustin Johnson and Phil Mickelson. Johnson is the lone player on the team playing TaylorMade's TP5x while Lefty is the only one using a Callaway ball, the Chrome Soft X.
A decade ago at the 2008 matches at Valhalla, Phil Mickelson summed up the players' approach given the opportunity to play a different ball on each hole. "I tee off with their ball and they tee off with my ball," said Mickelson. "Off the tee it's not going to make too much of a difference. It's the distance control and how it comes off the irons and the trajectory and so forth [that is important]. And we will be hitting our own balls with our iron approach shots."
That makes epicly good sense. Players get out of their comfort zone when the trajectory of their approach shots is off, so hitting their own ball into the greens is a good call. It's easier to make an adjustment off the tee than on the scoring shots where the ball may climb up the face a little if it's a firmer ball than they're used to. That can make a huge difference on a wedge shot, while it will make little difference off the tee.
As some clubs and course hold their own Ryder Cup-style events this fall, take this tip from the pros when playing alternate-shot matches. It might just put you 1-up on the first tee.