News
Ryder Cup 2018: No player took a longer road to France than Tony Finau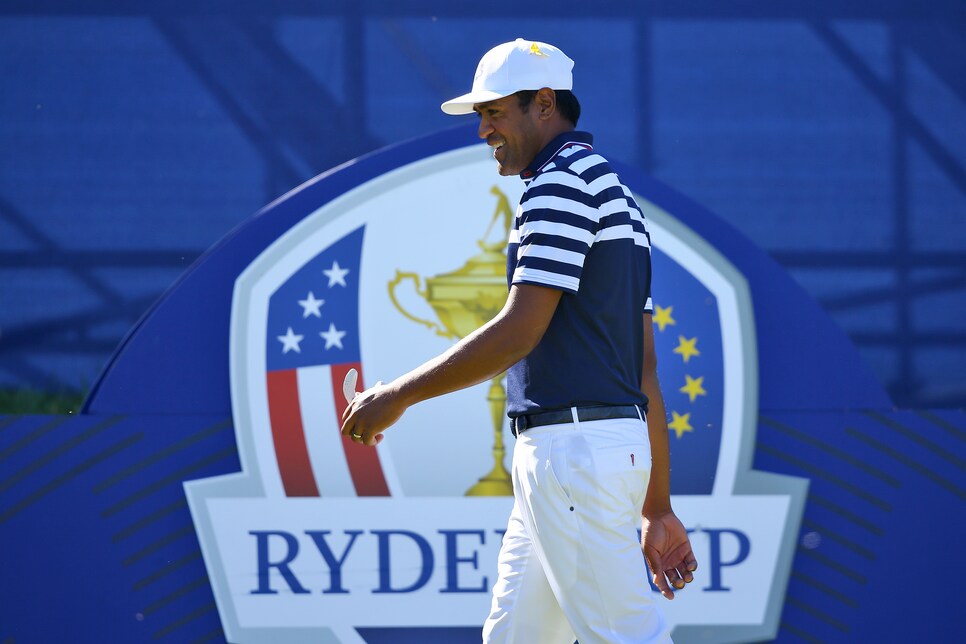 Photo By: Gareth Fuller - PA Images
SAINT-QUENTIN-EN-YVELINES, France—The first golf tournament Tony Finau watched was the 1997 Masters. He was 7, and was hooked, by the color of Woods' skin and by how cool he made the game look. The first Ryder Cup he watched was in 1999, with his dad and younger brother, as David Duval cupped his hand to his ear after thumping Jesper Parnevik, 5 and 4, and Justin Leonard improbably made a 45-footer that slammed into the cup on The Country Club's 17th hole to send everyone in red, white and blue into a tizzy and win it for the Americans.
Nearly two decades later, the kid whose success story was even more unlikely than a U.S. victory that afternoon is a teammate of Woods' on this year's Ryder Cup team, with Duval serving as an assistant captain at Le Golf National.
"It was definitely a dream," Finau said of being selected for his first Ryder Cup team by captain Jim Furyk. "For it to become a reality is pretty cool. On any level it's a cool accomplishment. It's really a cool thing for me to reflect on how far I've come in my career in a short time and how much better I've gotten. This year was a huge year for me."
And it nearly ended before it ever got going.
After making an ace on the seventh hole of the Par 3 Contest at his first Masters in April, the gangly but athletic 6-foot-4 Finau, a cousin to NBA forward Jabari Parker, sprinted down the tee box and ran backwards to soak up the adulation of the fans. That's when his left ankle buckled underneath him, sending him tumbling to the ground. The ankle was dislocated, but Finau, 29, popped it back into place and completed the next two holes.
Still, it was in doubt whether he'd be able to compete in the tournament as the ankle began to swell and turn purple.
"Once we knew it wasn't broken I knew he was playing," Finau's coach, Boyd Summerhays, said later. "After a few wedge shots, though, it was obvious he was going to have to alter his swing dramatically. So to work around the ankle that we were saying was fine and good, which was code for really jacked up but not broken, we shifted basically all of his weight on his right leg at setup, brought the ball way back from his standard position to adjust for how much weight was on his right side at setup and shifted his body aim significantly more left to allow him to still start the ball left for his fade."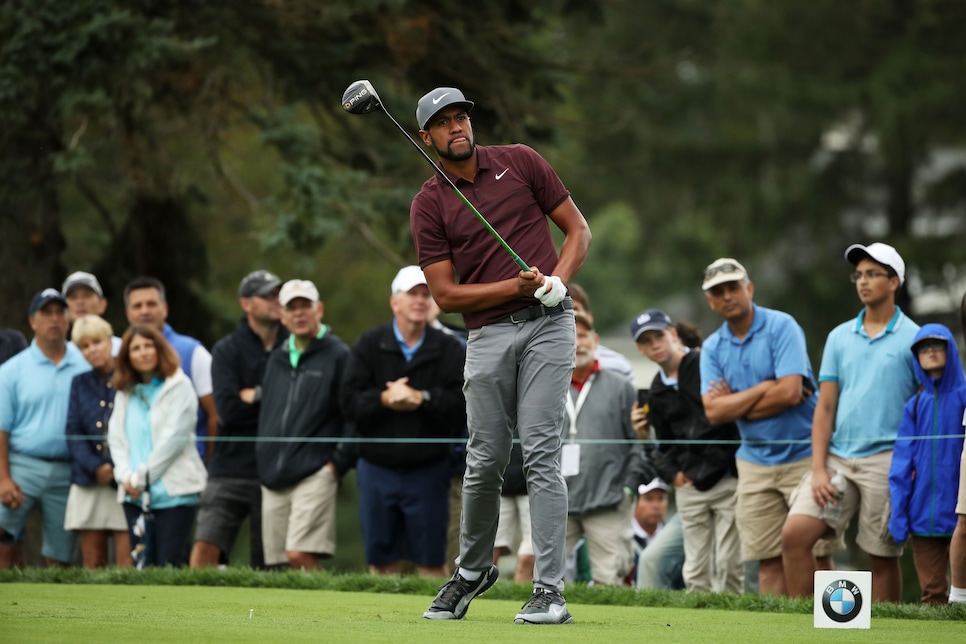 Gregory Shamus/Getty Images
"My ankle was bothering me quite a bit, but I was able to play through that pain and still prove to myself, just inside, that I had it more than physically," Finau said last week. "I was able to allow myself to continue to play and ended up having a good week because of that."
It was one of 10 top-10s on the season, with two of those coming at the U.S. and British Opens. More unlikely than his bounce back at Augusta National, however, was Finau just being on the game's biggest stage to begin with.
Ten thousand miles separate the tiny South Pacific island of Tonga, which is about a fifth the size of Rhode Island in area, and Paris. That's where Finau's dad, Kelepi, is from. Kelepi, like most boys there played rugby, cricket and football. Golf was a game for the wealthy. Kelepi lived there until 1975 when at age 11 his father moved the family of 10 to a suburb of Los Angeles.
Later, Kelepi would settle in a tough suburb northwest of Salt Lake City, Utah, and work as a baggage handler at the airport making $35,000 a year to support his own family. Unable to afford lessons for his boys when they had taken to golf, and with limited options for courses in the area, he went to the library and read Jack Nicklaus' "Golf My Way," bought a 6-iron, a putter and a small red bag for a couple of bucks at the Salvation Army, and built a makeshift driving range in the garage of the family's three-bedroom duplex, spray-painting dots on a mattress and putting it behind a net. He recorded their swings with a camcorder that he picked up at a garage sale and compared the action of his boys to other swings he'd seen.
Tony also played basketball growing up, though, and got good enough to garner some scholarship offers to play in college. But he was even better at golf, having won the prestigious Junior Worlds in San Diego at age 12 and been a two-time Junior Ryder Cup player while in high school. He decided to turn pro at age 17 and headed for the mini-tour circuit.
Then, in 2012, tragedy struck. Finau's mother, Ravena, was killed in a car accident in Nevada on her way back from a wedding in California. Months later, while still mourning the loss of his mom and struggling to get by with his own growing family, Finau developed a stomach ulcer.
On the course, however, his natural talent had begun to shine.
In 2013, Finau finished third at Web.com Tour Q school to earn his card for the developmental circuit the following year. He won the Stonebrae Classic in August 2014, finished eighth on the tour's regular-season money list and 12th in the Web.com Finals to earn a call up to the bigs. He hasn't looked back since, winning in Puerto Rico in 2016.
Though the victory remains his only title on the PGA Tour, the rest of the long-hitting Finau's game has shown dramatic improvement, particularly over the last two years.
"Tony and I know that for him to win majors he needed to improve on the greens," Summerhays said, adding that Finau had putted cross-handed since the Web.com Tour but switched to a conventional grip during last season's FedEx Cup Playoffs. "We focused all season on 10 feet and in mainly as he has always had good touch and lag putted well."
Finau went from 136th in strokes gained/putting in the 2016-'17 season to 65th this season. He also saved his best for when it mattered most. Finau was the only player to finish in the top 10 in at least three majors this year and in the first three legs of the postseason, a period when Jim Furyk was eyeing his final captain's pick, finished second, fourth and eighth. It didn't hurt, either, that Finau had racked up a record-tying 10 birdies playing alongside Furyk in the second round of the PGA Championship.
"I feel like my back was up against the wall after my first round on the PGA," said Finau, who'd opened with an abysmal 74 in soft conditions. "I felt like I had a lot to prove to myself, more so than anything else, that I can play well when it counts. The Ryder Cup team is a team that I want to be on, and it was more real, being in that situation at the PGA than ever, playing in front of the captain, showing him who I was as a player, and having him see my game up close."
And now the rest of the world, too.