News
Ryder Cup 2018: How a TV argument led to David Duval's new leadership role with Team USA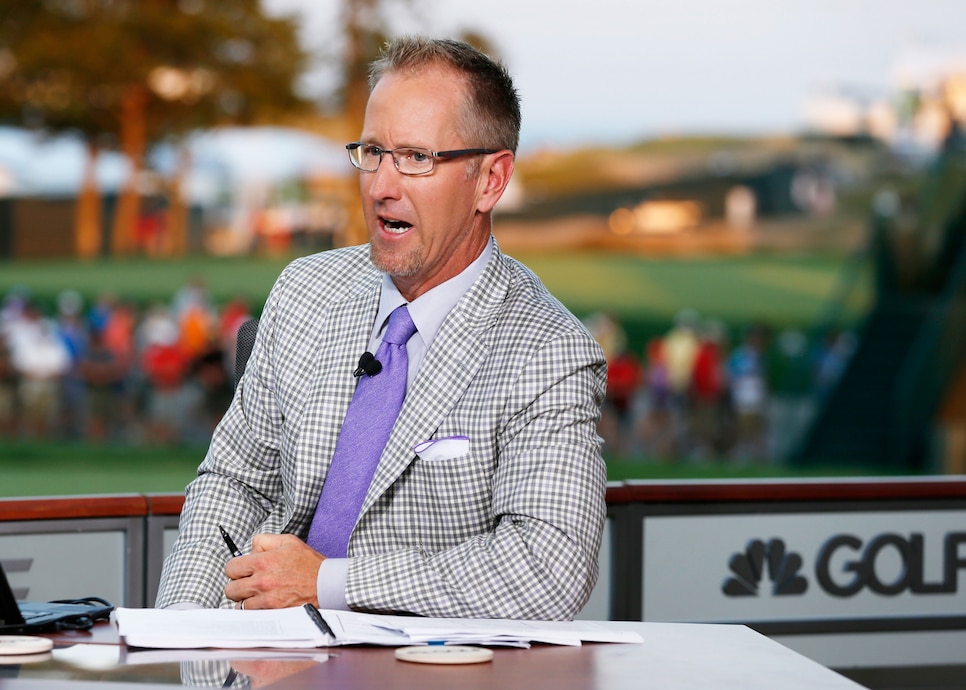 Photo By: Scott Halleran/Getty Images
Two years ago at Hazeltine National in Chaska, Minn., Davis Love III found himself already losing a grip on his spirited U.S. Ryder Cup team. And it was only Wednesday. The American captain had issued explicit instructions to ignore news coverage of the 41st Ryder Cup, but there were his players crowded around the television watching a replay of Golf Channel's studio program from the previous night.
"I said, 'Whoa, I told you guys not to pay attention to all the noise,' " Love recalls lecturing his players. "We were not going to watch the Golf Channel. But they were like, 'Oh no, we've got to watch this.' "
Word had filtered to team members about a fiery debate between analysts Brandel Chamblee and David Duval, and they wanted to see it for themselves. Chamblee had questioned the effectiveness of the putative leaders of the American side in recent years, Tiger Woods and Phil Mickelson, and how their play had fallen short relative to great players from previous eras. Duval, who played in the 1999 and 2002 matches, countered with a perspective that separated him from his colleague by more than just opinion. "Having actually been out there and done it, there's more to it than what these stats say. … The dynamic of the Ryder Cup comes into play in that regardless of who you are, there sometimes are forces more powerful going on, and it's a very tangible thing."
Love could sense that his players were eating it up. "The feeling was that David was defending us as a team," he explained. And recognizing the impact Duval was having on them, Love sought an encore, asking the former World No. 1 to address the squad.
"He comes in, tie untied, hanging around his neck, carrying his briefcase from the set," Love said. "He launched into this very passionate speech, how playing in the Ryder Cup was one of the biggest accomplishments of his career. But it was more [about the fact that] the David Duval that they just saw defending them on TV had walked into the room and was still fired up. We asked him to come back and hang out with us every night."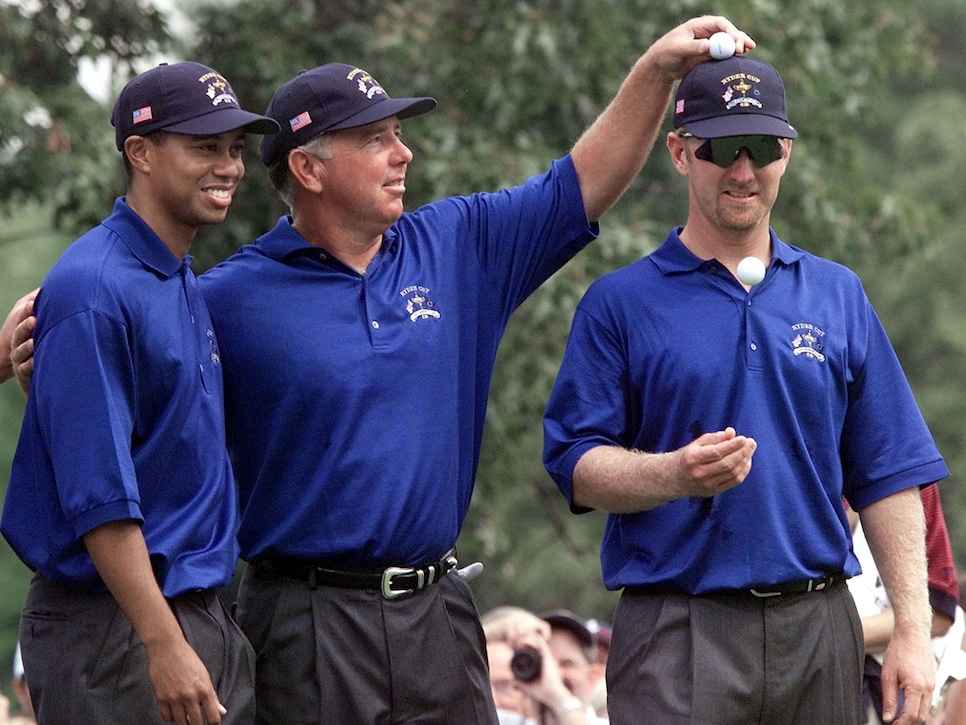 Timothy A. Clary/AFP/Getty Images
If David Duval one day takes the reins as U.S. Ryder Cup captain, that sequence of events will have initiated it. As it stands, Duval is returning to the U.S. team room nightly during next week's Ryder Cup at Le Golf National in Paris, but this time in an official capacity. When Tiger Woods segued from vice captain to one of captain Jim Furyk's wildcard picks, Furyk filled the void with his good friend and former Ponte Vedra Beach, Fla., neighbor.
The sports landscape is full of coaches who moved from the broadcast booth to the bench. It's rare in golf for an obvious reason: team events occur just once annually. The late Ken Venturi, a former U.S. Open champion who served as lead golf analyst for CBS Sports for more than 30 years, captained the winning U.S. Presidents Cup team in 2000, so Duval, who played on that team, isn't exactly breaking new ground.
But it's ground he never expected to traverse when it had been so long since he competed in the Ryder Cup.
"When you think about the period of time since I played in one, this is a surprise, but it's something that's a tremendous honor and a blessing," said Duval, 46, who went 1-3-2 in six matches, the lone victory being a win in singles during America's famed comeback in 1999 at The Country Club in Brookline, Mass. "It's something I've wanted to do, but I sort of figured my chance had passed; we were pretty far down the road. So I'm really enjoying this. Absolutely. And I'm putting everything I have into it."
Duval, who was at the Wyndham Championship in Greensboro, N.C., when Furyk called to offer him the position, had an impact on the Ryder Cup before he ever played in it. Along with Woods, Mickelson and Mark O'Meara, Duval pushed for the PGA of America to allow players to have a greater say in how the event's charitable proceeds were distributed. In a way, it was a precursor to today's organizational model, in which players and captains are more invested in the process.
"I don't know the exact numbers, but it's probably over $20 million now going to designated charities. It's made a difference," Duval said by telephone from his home in Denver. "I'm happy to have been a part of that initiative. I don't know if this is me coming full circle, if you will, but I can see how you might think that. There's no doubt that there's a different environment now, that players have a much greater role in the direction of the U.S. team."
Duval's role has yet to be defined fully, but he senses what he brings to the table.
"Jim saw in me someone who has been watching and analyzing these guys, talking about these players, maybe seeing things from a slightly different point of view," he said. "I think he knows I'm not a yes man, that I will speak up, and I will give my opinion. I am coming at it with a different mindset, if you will, whether it's pairings or what have you."
"When he speaks up, we're all listening, because he knows what he's talking about," Love said. "Tiger was really helpful in that the last few years [as a vice captain in the 2016 Ryder Cup and 2017 Presidents Cup] he paid a lot more attention to what guys were doing. He was tuned in to the game. Tiger was great at analyzing players. Duval has been sitting there watching the game as an analyst. He has a wealth of information. Plus, he's very decisive, and he's not afraid to give his opinion and speak up. He was the perfect guy to replace Tiger."
"I think David Duval might be one of the sharpest minds we can put in that team room," said Paul Azinger, who was a teammate with Duval in 2002 at The Belfry, in England, and captained the winning 2008 squad at Valhalla Golf Club near Louisville, Ky. "He's a little on the outside looking in, and that's good. It's a real signal the amount of respect and trust Furyk and the other guys have for him."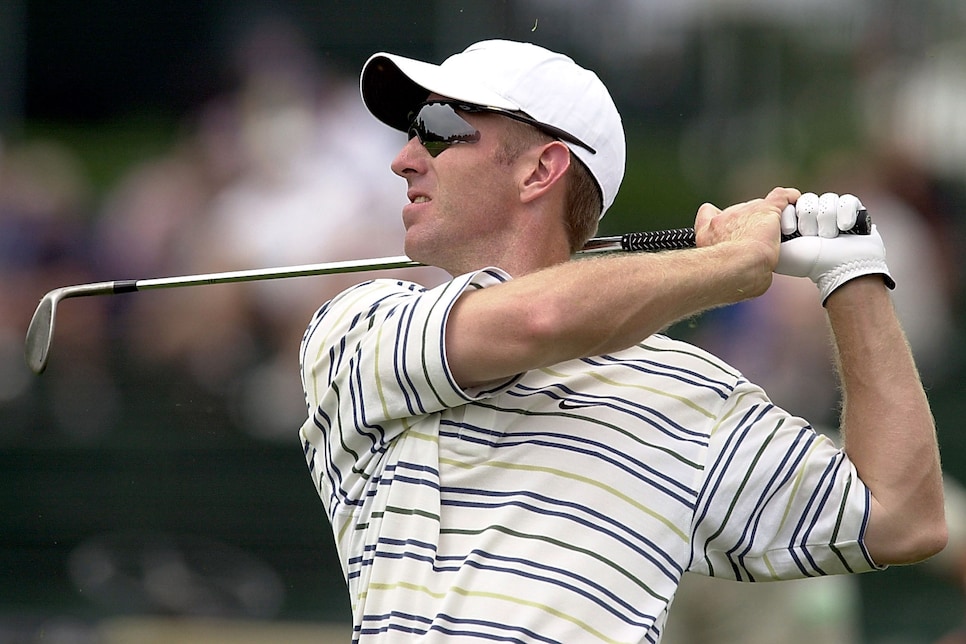 Before a series of injuries derailed his career, Duval was a force as a competitor, winning 13 PGA Tour titles from 1997 to 2001, including his only major, the 2001 Open Championship. He was ranked No. 1 in the world twice for 15 weeks total in 1998 and '99. Participating in the Ryder Cup again affords him a luxury he seldom has enjoyed since he married his wife Suzie in 2004.
"Honestly, there are a several things that excite me about doing this," he said. "One of the most satisfying has been the reception from the players and the other captains. They were 100 percent happy about me coming on board. It's been tremendous fun the back and forth among the captains, and being involved in these decisions, feeling like you're part of something cool and bigger than yourself.
"But probably the coolest thing," he added, "is that by far the vast majority of my golf success was before I met Suzie. Yes, I finished second at the U.S Open one year [in 2009], and, yes, I was second at AT&T [Pebble Beach National Pro-Am] the following year. But most of the golf we've experienced in our life together has been from the tough side of the game. To get back involved in the game in this way is very special. This is a positive. This is something we can enjoy together."
There's no way to divine if this is a one-time experience for Duval or if it's the start of a process that leads to his turn as captain. Azinger can see that happening. "He's of that generation with Tiger and Phil and Furyk with a great resume as a player," he said.
Added Love: "David being there with us in '16 was important. It set the stage for him to be part of the team this year, and perhaps for years to come."
Would Duval entertain that opportunity? Of course. But not at this juncture.
"You know, people are asking me, 'What does this mean for down the road?' I have no idea. And I don't really care," Duval said with his patented frankness. "I'm worried about this one and going over there and helping this group of players accomplish something that no American team has done for 25 years. I'm just trying to do everything I can to help the team be in a position to succeed."