News
Ryder Cup 2018: A predictable Jim Furyk has been outplayed by Thomas Bjorn's creativity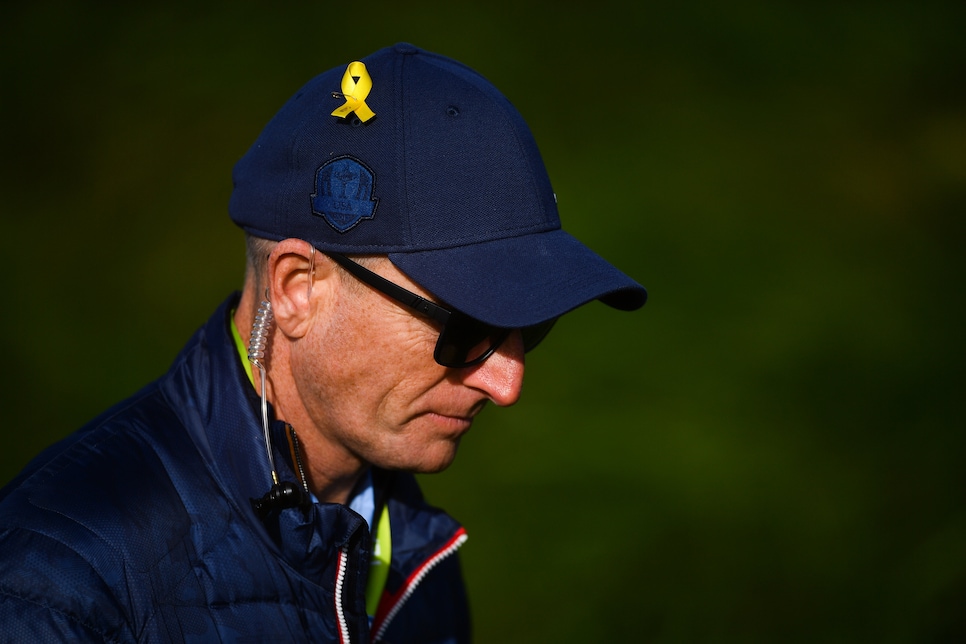 SAINT-QUENTIN-EN-YVELINES, France —There is only the trying, T.S. Eliot famously wrote. In that sense, few have tried harder than Jim Furyk, be it on the golf course in a career that has spanned three decades and one in which he has grinded out 17 victories including a U.S. Open, or in providing usually thoughtful answers to sometimes not-so-thoughtfully asked questions by the media.
It's true of his duties as the U.S. Ryder Cup captain as well. He's trying to help lead the Americans to their first victory overseas in 25 years at Le Golf National.
But trying only gets you so far sometimes.
So it is that while the players are the ones hitting the shots in the biennial competition, it has been European captain Thomas Bjorn who has been playing chess while Furyk has been stuck playing checkers.
Through the first two days of the three-day event, the astute Dane has deftly outmaneuvered his counterpart with his decision making. Furyk, on the other hand, has been about as predictable as a mailman.
Consider: In four-balls, Furyk trotted out the exact same lineup on Saturday morning as he did 24 hours earlier. On one hand, the group won three of four points in the opening session. On the other, Tiger Woods and Patrick Reed went together about as well as red wine and ice cream. On the surface, they look and taste great. Mix them together, not so much.
In their first match together, the duo went birdie-less its last eight holes after having taken a 2-up lead on Francesco Molinari and Tommy Fleetwood and ended up losing, 3&1. In other words, momentum works both ways, and it was against the two when they returned to the course on Saturday morning to take on Europe's newest supergroup again.
The outcome was even worse this time, with Woods and Reed combining for a measly three birdies. Over the first 11 holes, Woods' ball counted on nine of them. It wasn't much different a day earlier when, from the middle of the 15th fairway, Reed rinsed his approach shot to all but hand the victory to Europe. Captain America? More like Aquaman. Reed and Woods got dusted 4&3.
At least Furyk wisely benched Phil Mickelson for Saturday's foursomes. If only he'd made the same decision a day earlier when he'd paired him with Bryson DeChambeau. Mickelson, the losingest player in Ryder Cup history, is 5-8-4 in the format, compared to a much more respectable 8-8-2 in four-ball play. He didn't play in either format on Saturday.
Bubba Watson and Webb Simpson twice in foursomes? They were 0-3 in that format in the Ryder Cup when Furyk decided to send them out again Saturday afternoon. (Although that proved to work, the group 3 up through 12 holes at the time of this piece.)
Speaking of Saturday afternoon's foursomes, arguments could have been made to play Tony Finau, who struck the ball well in the morning, and Rickie Fowler, who at least has scored some points for the Americans in that format with a career 1-2-2 mark that included a big halve in his first ever Ryder Cup match in 2010, alongside Furyk.
Dustin Johnson and Brooks Koepka? One half of the Bash Bros said recently he felt bad for anyone who had to play them. Except Le Golf National doesn't reward distance as much as it does keeping your ball on a very small planet. Tee it high and let it fly is the construct of the U.S. bomb-and-gouge team, and that's a square peg in a round hole here.
Justin Thomas and Jordan Spieth? They know each other's games, personalities and play nicely together. A good move to pair them to be sure. But with the U.S. trailing by four going into Saturday afternoon, why not split them and spread the love in an effort to scratch out two points from the Americans' best players, rather than one by pairing them together yet again?
Bjorn, on the other hand, has managed his dozen beautifully.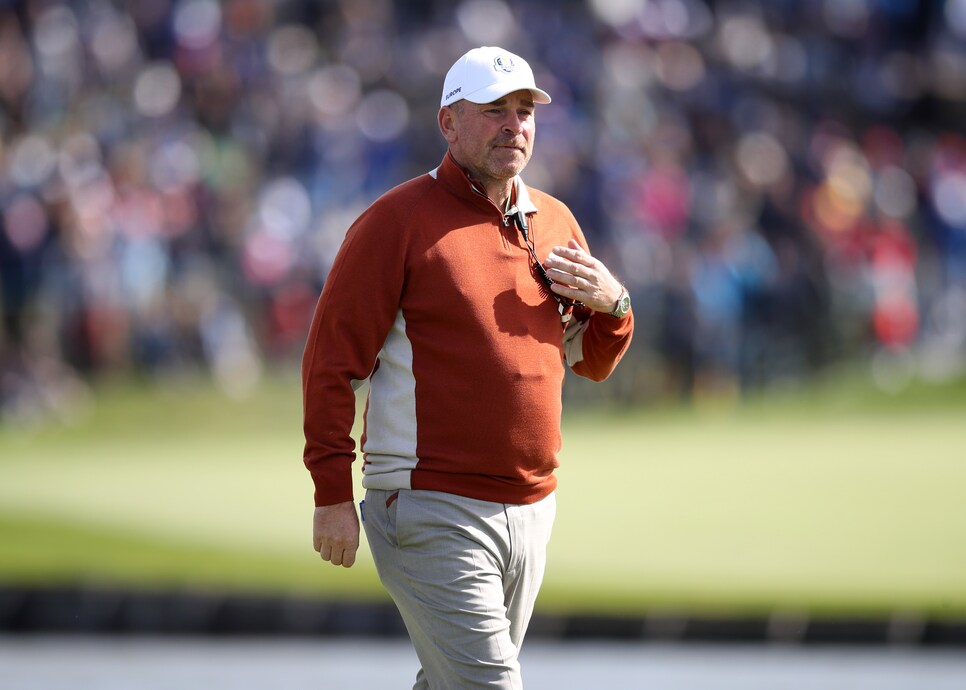 Always with a keen sense of the big picture and a master politician in European Tour circles, he knew better than to yank Rory McIlroy following a lousy four-ball session Friday morning. He put him right back out with the energetic Ian Poulter, whom he fits well with, and voila. A day later, a reinvigorated McIlroy joined Sergio Garcia in the first match out and set the tone for Europe early by racing to a 4-up lead before holding on for a 2&1 victory over Koepka and Finau.
Molinari and Fleetwood made perfect sense, too, with the former having won the Open Championship earlier this year with Woods breathing down his neck, and Fleetwood having raised the trophy at the French Open last year at Le Golf National. Both keep the ball in play, and their heavy shots cut through the wind picking up around Le Golf National like a hungry American's knife through camembert.
"I just feel the foursomes did well and they feel comfortable with each other," Bjorn said of his afternoon pairings that also included the powerful Justin Rose and Henrik Stinson leading off, and Poulter and McIlroy slotted in the anchor match of the session. "Then we go with that and look towards the singles [on Sunday]."
And at taking back the Ryder Cup, too, especially if his players keep making birdies in bunches. That goes a long way in match play, and makes Bjorn look even more brilliant.
"We'll see how it goes," he had said Friday night. "We will do anything needed to try to put ourselves in position."
Unfortunately trying isn't always enough. Dave Stockton, Ben Crenshaw and Paul Azinger tried, too, but were among the best captains the U.S. has ever had for the extras they brought to the party (see: Azinger's pod system, as the best and most well-known example).
Furyk? He won't go down as the best, or the worst, and he didn't hit a single shot. But he will go down as being outplayed by Bjorn, just like how his team was by the rest of the Europeans.