The Loop
Ryan Ruffels' agent says story recounting 'friendly wager' with Phil Mickelson was 'a bit overdone'
Newly-minted Australian professional Ryan Ruffels is only 17 and already has become involved in a minor kerfuffle over a story in the Sydney Morning Herald in which he was called in the headline "Australia's Next Big Thing."
Ruffels recounts in the story a round he played with Phil Mickelson in which he said they had a $2,500 bet, with Mickelson giving Ruffels 2 to 1 odds. Had Mickelson won, Ruffels would have paid him only when he turned professional, and a Ruffels win would have resulted in Mickelson paying him $5,000.
"I was a few down through nine but then I birdied six of my last seven to win by one shot and took his money, so that was pretty cool," Ruffels said in the story.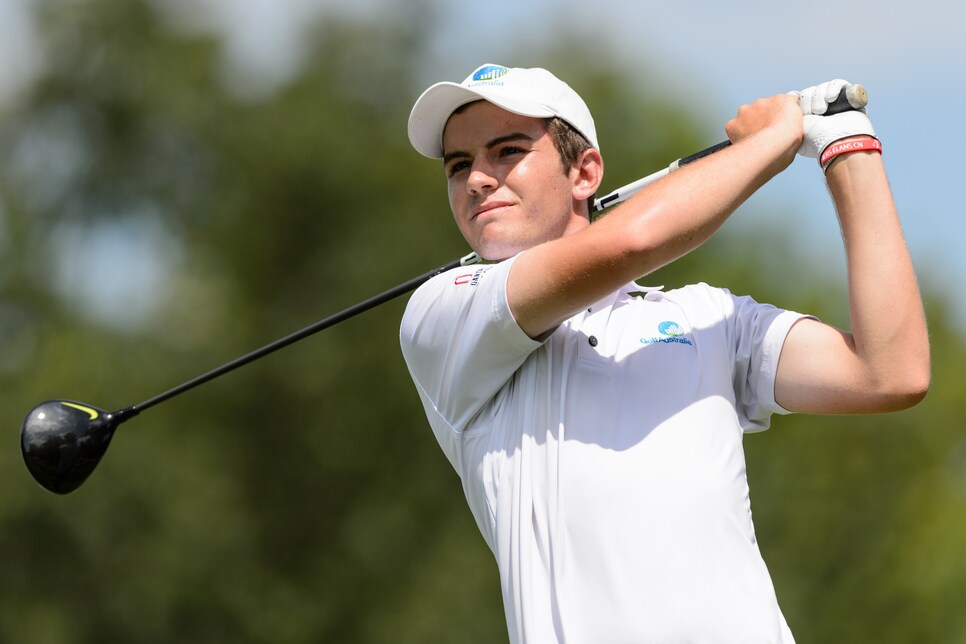 That and the fact that some inferred from the story that the round in question, which included Arizona State coach Tim Mickelson, was a recruiting effort on behalf of the Sun Devils, led to this statement released by Ruffels' agent at Wasserman Media Group:
"Upon reading the January 15th 'Next Big Thing' article in the Sydney Morning Herald and absorbing the subsequent media fallout, we wanted to set the record straight as it pertains to Ryan's December 21 practice round at Torrey Pines with Phil Mickelson and his brother Tim who is the Head Golf Coach at Arizona State University. While its no secret both Phil and Tim would love to have had Ryan attend ASU and become a Sun Devil, the timing in the Sydney Morning Herald story was off and in no way was either recruiting him to do such at Torrey Pines. Ryan had months ago decided he was turning professional at the upcoming Farmer's Insurance Open and that it would be announced yesterday in Melbourne Australia at a media conference at Victoria Golf Club Ryan's home golf course. Both Phil and Tim were well aware this was the case. As for the actual round, Ryan jumped at the chance to get in a practice round for the Farmers with one of golfs legends and a real PRO from whom young players can gain valuable experience. The 'friendly wager' and the birdie barrages' reporting is a bit overdone and becoming a media fish story but rest assured Ryan had a great time, appreciates Phil and Tim and their willingness to support him during an important step in his development and looks forward to his career as a professional which begins at Torrey Pines later this month."
Ruffels, meanwhile, reportedly posted this on Golf Channel's Instagram account: "Everyone, this is very inaccurate. There are no NCAA violations involved. At the time of the round I was already a professional, and had made it clear my intentions to not attend ASU or any college in Australia or the USA. The wager amount has also been exaggerated out of proportion. I value the relationship I have with Phil and his brother Tim and it's one that I hope to have for many years. To have so many damaging inaccuracies in this is truly disappointing."
We have reached out to the Sydney Morning Herald writer for a response and will update when we receive one.
Ruffels, who played in the Canadian Open as an amateur last summer, will make his professional debut on a sponsor exemption in the Farmers Insurance Open on Jan. 28.