News
Ryan Palmer, his health issue and wife's cancer behind him, declares 'life is great,' has chance to win Farmers Insurance Open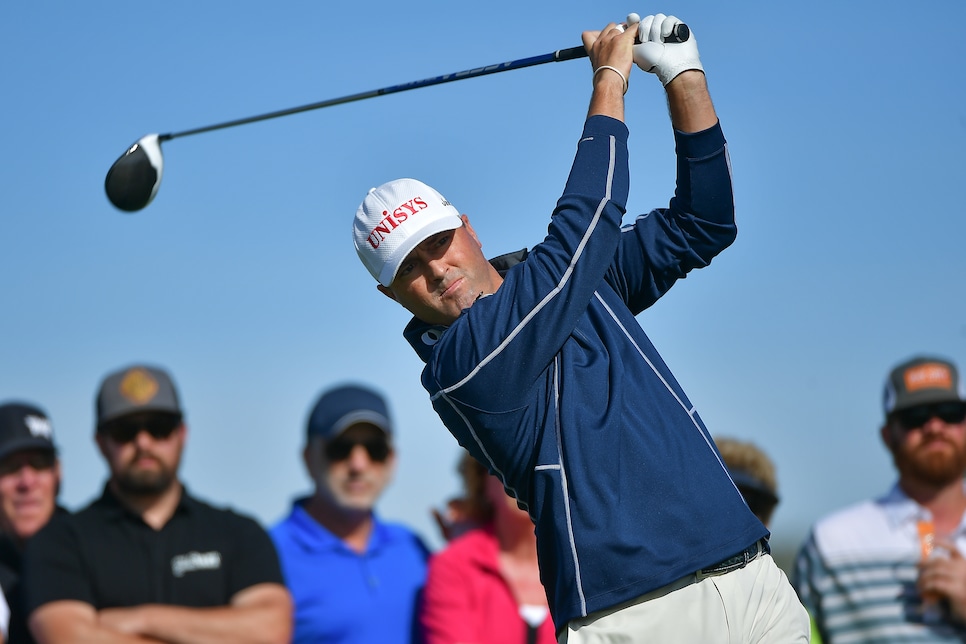 LA JOLLA, Calif. — Job security was never really an issue for Ryan Palmer, who exceeded $1 million in earnings in all but three of his 14 years on the PGA Tour. But, as he would emphatically agree, health trumps wealth.
Last year, he played only 20 events, largely the result of his wife, Jennifer, undergoing chemotherapy for stage two breast cancer. He had not secured his full exemption for the 2017-'18 season, coming up short of the requisite FedEx Cup points. To boot, he underwent shoulder surgery in October.
Palmer, 41, playing on a major medical exemption was given six events to make up the missing points. He did so via a tie for 20th in the CareerBuilder Challenge, his second event this year.
"It was something, knowing we're fully exempt the rest of the year," he said. "I came here with a lot of confidence from having that weight lifted, knowing I'm fully exempt and it kind of frees you up a little bit more.
"But I've still got work to do to get back in the winner's circle and retain my card for next year."
The winner's circle is closer than it has been for nearly six months, since he tied for ninth in the Barracuda Championship. Palmer will enter the final round of the Farmers Insurance Open in second place, one behind lead Alex Noren of Sweden.
Through 54 holes, Palmer is at 10-under 206 following rounds of 66, 67 and on Saturday a 73 on the South Course at Torrey Pines.
"After the last year and a half, we kind of feel like it's in our rearview mirror now, just with Jennifer and things we were going through with her," he said. "A lot of her scans have been clear and she's feeling great, so that's been nice coming out here.
"And obviously getting over my shoulder, I got here healthy. A lot of distractions are behind me, I think, so we're definitely playing a little more free and clear.
"It's exciting. I'm at a lot of ease and lot of peace within myself. It's hard not being home because I love watching my son play hockey and my little girl. But I know Jen's feeling great and she's at home taking care of them, which kind of eases a little stress when I'm out here on the road. I'm enjoying playing the game a lot right now. My life is great."