Rules
Tour pro survives 'insane' golf-ball rules conundrum that could have led to a DQ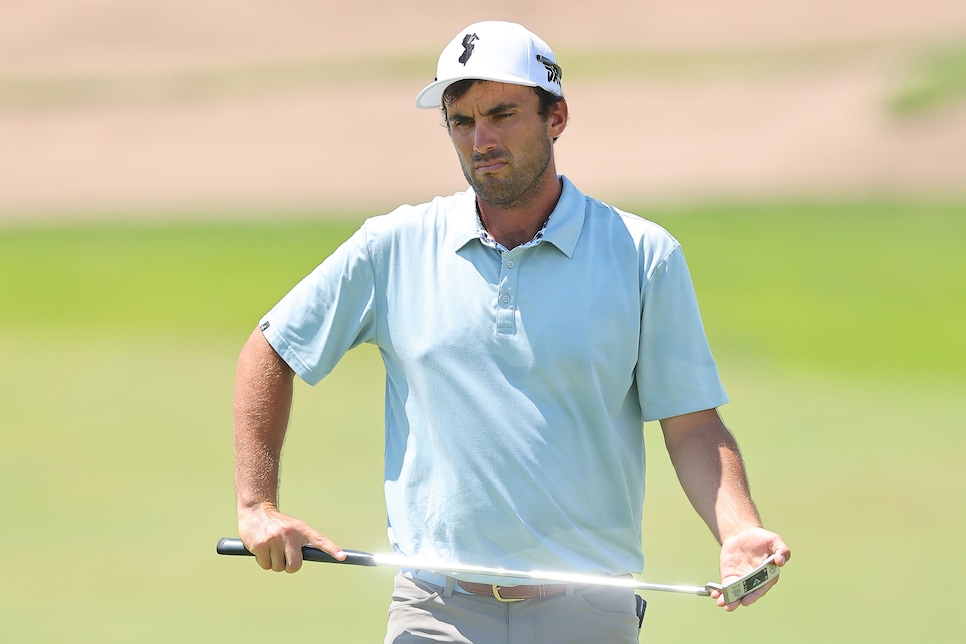 Win or lose on Sunday at the Korn Ferry Tour's NV5 Invitational, Ryan McCormick will have plenty to remember from his week at The Glen Club in Glenview, Ill. He starts Sunday one off the lead, after opening his tournament by shooting a career-best opening-round 60. After that round, McCormick talked about how he prepares for KFT events by replicating courses on the PGA Tour @2K video game, creating some intriguing social buzz.
If McCormick, 31, was ready to be labeled the "video game guy," he nearly changed the narrative entirely during his second round on Friday when he found himself in a precarious equipment situation.
On Thursday night, McCormick was working on his putting stroke in his hotel room, rolling a 2019 model of the Titielst Pro-V1 golf ball. It's not the one he plays in competition—he uses a 2023 model—but he put it his bag nonetheless as he put his clubs away for the night.
The next day at the course, McCormick wound up picking that ball out of his bag when teeing off on his first hole, the course's 10th. That created a dilemma as all the other balls in his bag were the 2023 model. With the Model Local Rule G-4—also known as the One Ball Rule—in effect, that meant McCormick could only play the older model ball during the entirety of his second round. And since he had just the one, well, he knew he couldn't lose it.
Which is what he feared he might have done on the 12th hole when he hit the ball into the fescue. "It was, like, insane," McCormick said. "I'm honestly thinking DQ'd. Like, if I don't find the ball, I'm going home."
That's when McCormick talked to rules officials to explain his situation. Luckily they found the ball, but officials then sent out word to others in the field asking if anybody had extra 2019 models that they could spare.
"I was on the range warming up, and (they) was walking on the range asking if anyone had the 2019, and I was like, 'Yeah, I've got some,'" fellow pro Trace Crowe said. "I guess I'm one of the few out here that haven't switched to the new one yet."
A handful were retrieved and delivered to McCormick.
"I owe them whatever they want," McCormick said. "It was on my mind for a solid hour to start the day … I was going to have my caddie go back to the hotel, see if I could find one. Basically like fire him, hire somebody, have him come back … we went through the whole thing. The only shot I was worried about was 18, really [a par 5 with water fronting the green]. I would have just laid up left.
"It's the most rattled I've ever been in my career … I was like, literally, if I lose this golf ball, my tournament was over. Like, I can't play, I have no more golf balls. Insane."
As it turned out McCormick never lost a ball, shooting a two-under 69. He followed that up with a 65 on Saturday to sit one back of the leader entering the final round.
Oh, and that leader? It's good Samaritan Crowe, who shot a Saturday 63 and sits at 20 under for the tournament.
"That's just the way the world works right there," Crowe said of playing with McCormick in Sunday's final pairing. "It's going to be awesome. Ryan's a great guy … happy I gave him the balls, and we'll see how happy I am tomorrow afternoon."