Rules of Golf
Rules of Golf Review: What do I do if my golf ball is stuck in a tree?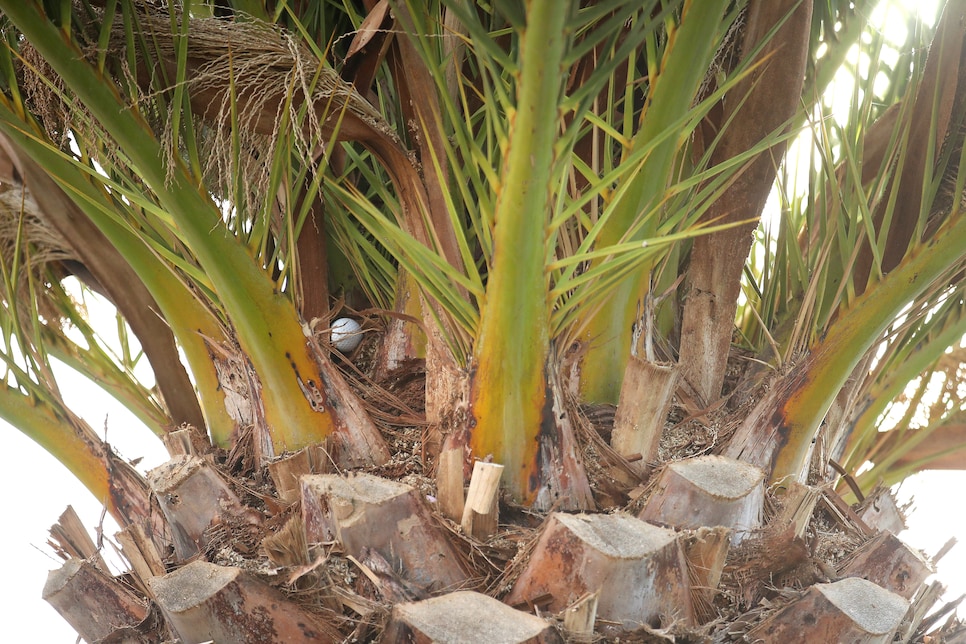 Sometimes in golf, things happen that are so strange you wonder if there is even a rule for them. Then you remember it's golf, where there is a rule and an interpretation for literally every situation you can think of.
One such situation that's among the more rare in the sport is when a player's ball ends up stuck in a tree. We say rare, although it's now happened two times in 2023, once to Patrick Reed at the Hero Dubai Desert Classic and once to Scott Stallings in the Players Championship. Both situations, however, ended very differently.
In the Reed instance, which has since become an infamous one, the 2018 Masters champ's ball clearly ended up in one of three palm trees right of the fairway at the par-4 17th at the Emirates Club. It was hard to see which one on the broadcast, but Reed used a pair of binoculars and insisted he was able to identify his ball by the marking on it (there were multiple balls stuck in each tree) per Rule 7.2. That allowed Reed to take lateral relief by using the point on the ground directly below the spot off the ball as a reference point under Rule 19.2c. He was able to drop within two club lengths of that spot, no closer to the hole, for a one-stroke penalty. He made a bogey 5 on the hole.
Stallings was not as lucky. At the par-4 12th in the third round of the Players, Stallings' ball was stuck in a tree right of the fairway, and he nor his caddie could identify it was his, even with binoculars. They actually attempted to throw things at the spot they believed it was in. That way, if it fell out, they would have been able to identify it and take relief under Rule 19.2c. Instead, because they couldn't identify it, it was deemed lost, and Stallings had to return to the tee box to reload and hit three. He eventually made a double-bogey 6.
Now, if you're ball ever gets stuck in a tree during a weekend game, chances are your buddies will let you take a free drop somewhere in the general vicnity. But if you like to play by the actual rules or you are in a real competition, you must be able to identify that it's your ball in the tree in order to take relief beside the tree. Otherwise, you have to return to the tee, or wherever you last hit from.
There is also the option of playing the ball as it lies in the tree, which numerous players have done over the years to mixed results. Most recently, Dylan Frittelli pulled off a seemingly incredible escape shot at the 2022 RBC Heritage when he batted his ball out of a tree branch at Harbour Town. Turns out, he was "standing astride" his intended line of play, which led to a two-stroke penalty.
While you never want your ball to end up in a tree, you do have some options on what to do with it as long as you can identify it. If you can't, well, then you're in (tree) trouble.
MORE GOLF DIGEST RULES REVIEWS