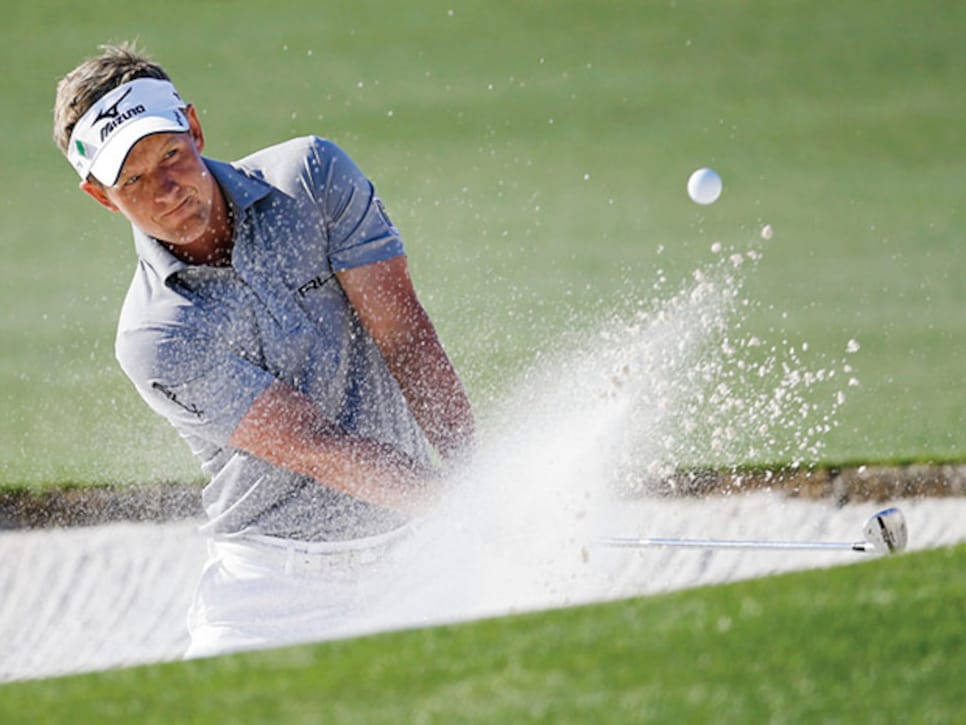 A first-learned principle in golf is to never ground your club before hitting a shot in a bunker or water hazard. In truth, the demands of Rule 13-4 are even more stringent than that, as Luke Donald learned on the par-4 ninth hole during the first round of the 2014 Masters.
Donald, a former world No. 1, found one of the left greenside bunkers with his second shot. He left the ball in the bunker on his first attempt. From there, it took him three more shots to card what he thought was a double-bogey 6.
Upon completing the round (but before signing his scorecard), Donald was reminded that he had thumped the sand with his clubhead in disgust after hitting his first bunker shot. Because his ball was still in the bunker, that's a no-no. Touching the sand with your clubhead or hand is a violation of Rule 13-4b (the penalty is two shots in stroke play or loss of hole in match play). So instead of making a 6, Donald took a quadruple-bogey 8. He signed for a 79, and, despite posting a 70 on Friday, missed the cut by one.
If your ball is in the bunker, whether you touch the sand with a practice swing or by whacking your club in frustration, the penalty is the same as if you'd grounded the club at address. You might recall Dustin Johnson was penalized for grounding his club in a bunker on the 72nd hole at Whistling Straits during the 2010 PGA Championship. He soled his 4-iron, thinking his ball was in a sandy area and not a hazard. You can ground your club in a waste area, but that spot wasn't considered one. The penalty cost him the title.
A notable exception to the rule is that you're allowed to touch the sand to keep from falling (Decision 13-4/3.5). Also, if there is grass growing within the bunker, you may whisk the top of the grass with your practice swings (Decision 13-4/4).
Donald took the incident with grace. That evening, he tweeted, "Got a 2 shot penalty on the 9th today...pretty dumb mistake...I can accept the odd poor shot but that is pretty frustrating and so unlike me."
A rare occurrence indeed, especially when you consider that Donald has led the PGA Tour in sand-save percentage for three full seasons. Although frowned upon as a violation of proper etiquette, a player is permitted to bash the sand in frustration, provided he first hits his shot out of the hazard.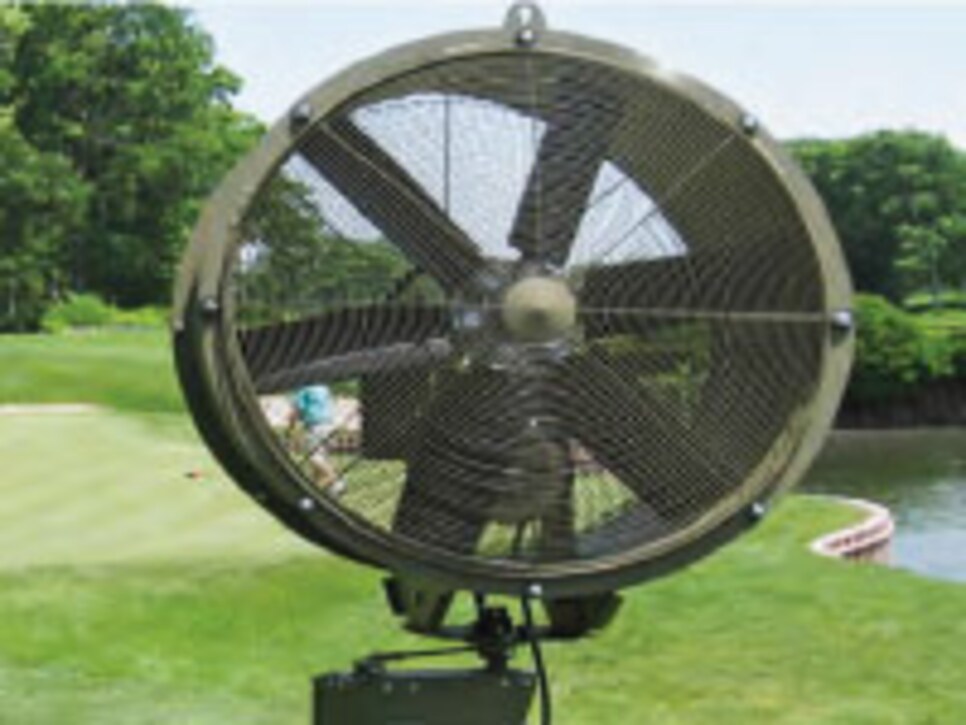 On a Friday afternoon of a PGA Tour event, you're playing golf at a nearby course when one of the game's superstars, who has missed the cut, departs on his private jet. The pilot, distraught that his client played poorly, flies a bit low, and the backwash from the engines blows your ball off a green and back into the fairway. Your opponent says that's a tough break, and you have to play the ball from its new position. Is he right?
He's wrong. Artificially propelled air is an outside agency, and anytime an outside agency moves your ball, you should return it to its original position without penalty. A more realistic example: When a ball moves as the result of wind generated from fans that are sometimes placed near the green to improve air circulation (Decision 18-1/2).
RULE 20-1: LIFTING AND MARKING
You probably already know that you can mark your ball when it's on the putting green. But when is your ball actually considered to be on the green? When any part of the ball touches the surface (Definitions: putting green). Unless you're marking and lifting a ball off the green under the Rules of Golf—such as when your ball interferes with the play of another golfer—you'll be penalized one shot if you pick it up. So it's wise to check exactly where your ball sits.