News
Ryan Ruffels, 18, and partner Kyle Stanley share lead with Jordan Spieth and Ryan Palmer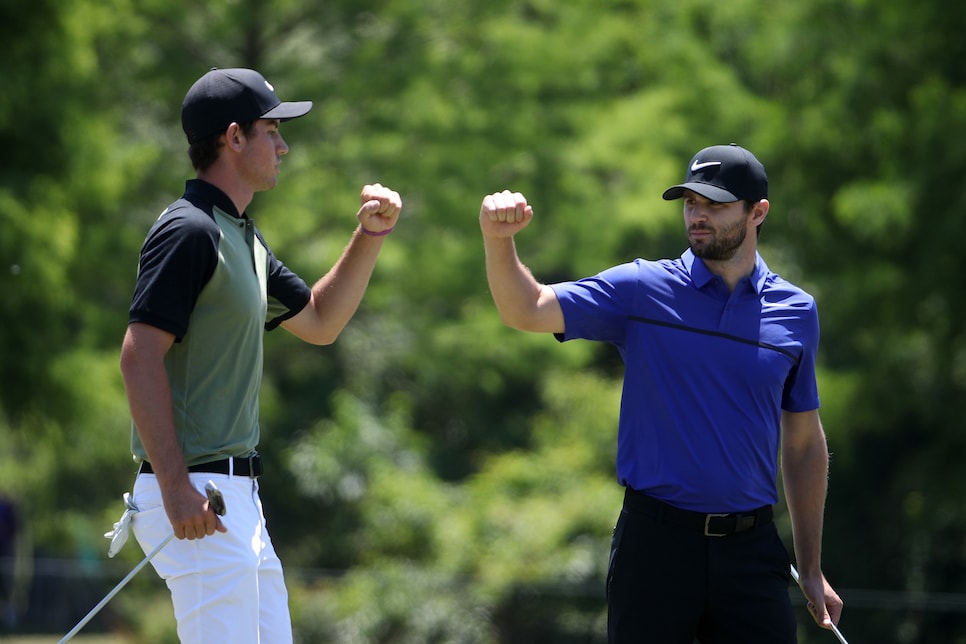 AVONDALE, La. -- Ryan Ruffels and Kyle Stanley share the lead with Jordan Spieth and Ryan Palmer at the Zurich Classic after combining to shoot six-under 66 on Thursday. Should Ruffels and Stanley go on to win on Sunday, Ruffels would be the youngest winner in PGA Tour history.
The Aussie will turn 19 on Saturday.
"If it happens this week or next week that's awesome," said Ruffels, of potentially securing a PGA Tour card for the next two seasons with a victory as well. "But if it takes time that's fine too."
It wasn't that long ago that things were moving maybe a little too fast for the former top-ranked amateur. Or at least it felt that way.
A month before turning pro in January 2016, Ruffels played a money game against Phil Mickelson. Lose, and he would owe Mickelson $2,500 when he turned pro. Beat Lefty, and he would collect a cool $5,000 from the five-time major champion.
Ruffels birdied six of his last seven holes to win by one.
Then he got a tongue lashing from Mickelson, who chided the teenager for making the story public. "He's young, and he's got some things to learn," Mickelson said at the time. "One of them is you don't discuss certain things. You don't discuss specifics of what you play for, and you certainly don't embellish and create a false amount for your own benefit. So those things right there are -- that's high school stuff, and he's going to have to stop doing that now that he's out on the PGA Tour."
When Ruffels made his pro debut at the Farmers Insurance Open, he also felt star struck by his surroundings: Practice rounds with Rory McIlroy and Adam Scott, the rich history of Torrey Pines, and the big feel that engulfs the event.
A little more than a year later, Ruffels has come a long way.
He's more comfortable in the spotlight, and his game has progressed nicely. In eight career starts on the PGA Tour Latinoamerica— essentially the PGA Tour's D-League—he has racked up four top-10s, including a runner-up and third-place finish.
Last month at Bay Hill, Ruffels was just two strokes off the lead after the opening round, and outplayed McIlroy and countryman and friend Jason Day.
Thursday at TPC Louisiana, he and Stanley combined for eight birdies in foursomes, a format Ruffels had never played before nine holes of practice with Stanley earlier in the week.
"The more you play in these, the less star struck you are," said Ruffels, who was born in Orlando, lived in Southern California and eventually Australia before moving back to Orlando last July. "There's a lot going on in these events, whether it's media or the grandstands, a lot of people around, a lot of distractions. It's not easy."
Neither is turning pro as a teenager, trying to land a tour card, or win, even if Ruffels does have good genes.
His father, Ray, was a Davis Cup tennis player for Australia and won the doubles title at the 1970 Australian Open. His mother Ana-Maria, an American, captured five WTA titles during her career in the 1980s.
It doesn't hurt to be able to lean on Day, either. They share the same manager and the elder Aussie, who also turned pro as a teenager, has been a mentor for Ruffels.
And this week Stanley—who shares a mutual connection with Ruffels through his manager, played with Ruffels in Australia previously and asked to team with him this week—has proven a good partner so far.
"To have someone like Kyle, whose got experience, he's won out here, he's played well this year," Ruffels said. "To have him as a calming influence and be with me every hole is pretty nice."
But if it doesn't come, that's OK, too.
Says Ruffels: "I'm not in a rush."