News
RSM: Hughes seeks wire-to-wire win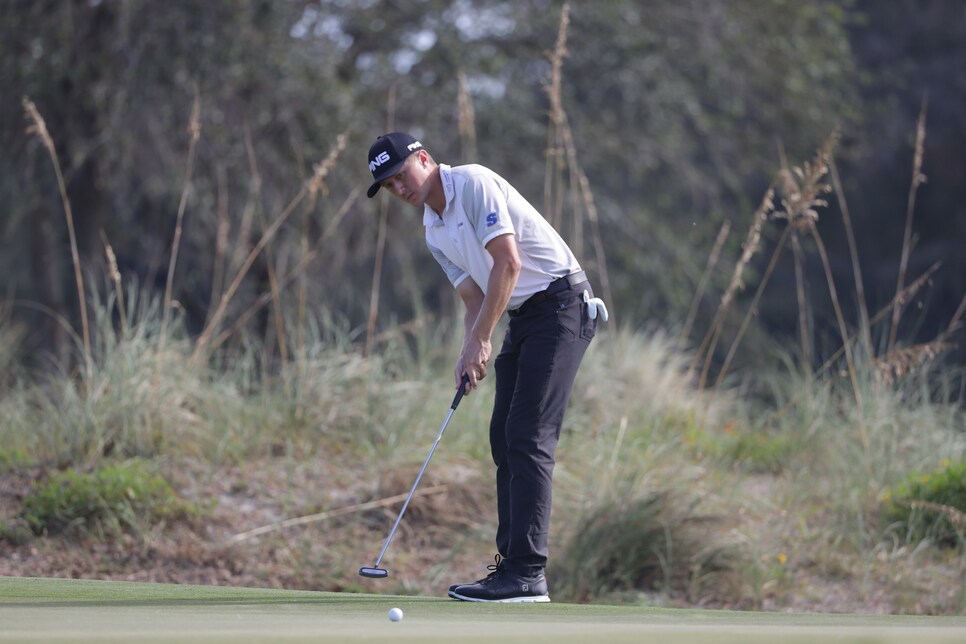 PGA Tour rookie Mackenzie Hughes overcame a triple-bogey on Saturday to retain his lead through 54 holes of the RSM Classic in Sea Island, Ga.
Hughes, a 25-year-old Canadian, made a seven on the par-4 11th hole to fall from the lead, but responded with birdies at 13, 15 and 16 to regain the lead. Hughes shot a two-under par 68 on the Seaside Course, leads by one, and has a chance to win wire to wire.
Meanwhile, two veteran PGA Tour winners attempting to get back to the winner's circle, Camilo Villegas and Billy Horschel, shot 64 and 65 respectively and are tied for second along with Cheng Tsung Pan.
Villegas, who lost his full PGA Tour exemption, birdied his final four holes to get back into contention.
"It's definitely playing a little tougher out there with the wind," he said. "But I managed it pretty good today. Obviously, my putter got hot. I pretty much made everything. The four birdies to finish he day were special. Very happy with the way I handled myself out there today and the last three days. Have to come here tomorrow and do the same thing."
Horschel, whose last victory came in the Tour Championship in 2014, played a bogey-free round that included five birdies.
"I'm hitting the ball really good, the best I have in 18 months," he said. "I was really able to control my shots. I played this course a lot during SEC championships when I was in college, and T.A. [instructor Todd Anderson] is up here, so I've seen it in a lot of conditions. I know where you can be aggressive, I know where you need to be smart. I've got control of my golf ball, so I can put it on the spots on the greens."